I was curious about this Wilson Burn 100 V5 Review since I did enjoy the previous version. This one does look better, though!
Wilson Burn 100 V5 Review
The Burn is Wilson's spin line and offers easy spin and power at a budget-friendly price. Racquets have been increasing in price recently, and the new Pro Staff has surpassed the 300 USD or EUR mark. That is why it is nice to see a new frame retailing at 179 USD.
Why is the Burn lower priced? Is it made of lower-quality materials? Not what I can understand. And it plays very similarly to the new Wilson Ultra 100 V4, which is Wilson's pure power line that is not quite as spin-friendly as this Burn. They have not made any significant tech updates to the Burn V5 over V4. It seems more like a cosmetic update. It talk about this in my Burn 100 video review.
You can purchase the Wilson Burn 100 V5 from Tennis Warehouse, Tennis Warehouse Europe, and Tennis Only. If you purchase anything using these links, we will get a small commission, which helps Tennisnerd keep going. Thanks for your support.
Other Wilson racquets to consider
Ultra 100 V4 for power
Pro Staff 97 for precision
Shift for spin and control
Blade for control and versatility
Clash for comfort and ease-of-use
Specifications
Head Size: 100 in² / 645.16 cm²
Length: 27in / 68.58cm
Strung Weight:11.2oz / 318g
Balance: 13in / 33.02cm / 4 pts HL
Swingweight: 320
Stiffness: 72
Beam Width: 23.5mm / 25mm / 23.5mm
Composition: Carbon Fiber Graphite
Power Level: Low-Medium
Stroke Style: Medium-Full
Swing Speed: Medium-Fast
Racquet Colors: Orange
Grip Type: Wilson Pro Performance
String Pattern:
16 Mains / 19 Crosses
Mains skip: 7T,9T,7H,9H
Two Pieces
Shared: 10T
The specs are actually quite similar to the new Ultra, but the beam profile is slightly different. The stiffness rating is somewhat alarming to players with a history of arm issues, but using the racquet even strung with a stiff setup such as Luxilon Alu Power 1.25 at 25 kg or 55 lbs did not bother my arm. It could be the parallel drilling tech that Wilson have used in many of their racquets that dampen some vibrations. Parallel drilling allows for more string movement, which helps you generate more spin and power, but also allows for a trampoline effect in the string bed.
How does it play?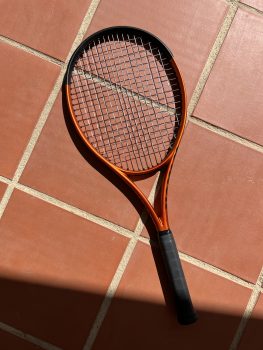 Even strung with Alu Power at a semi-high tension, the racquet explodes the ball to the other side of the court. The racquet is easy to swing and maneuver.
On serves, the extra power comes in handy. It is a very nice racquet to serve with.
I did struggle with control on my groundstrokes. The racquet had a trampolining effect, and I struggled to judge the depth of my shots. This will concern advanced players but not so much for beginners to intermediates.
At the net, it was easy to block back shots, but I again struggled to control the placement.
The racquet knifed the ball with a good, penetrating slice.
On touch shots, the Burn performed well. Not a magic wand, but relatively easy to get enough spin and "drop" on the ball.
Overall, a good racquet in most areas, but that lacks control for my taste.
Now I want to hear your thoughts about the new Wilson Burn 100 V5. Put your thoughts in the comments below.