Ferenc Ferdinand Weisz is back with a pro stock racquet review. He has tested the Wilson H25 pro stock racquet and here are his thoughts.
The world of pro stock racquets is really interesting and special. These are racquets that are different from stock retail ones but most of them are based on an older stock model. Some tennis nerds are addicted to these often hefty racquets because these rarely possess any "marketing technologies", but just include pure quality material in a nice mold. But the racquet I tested, the Wilson H25 Pro Stock racquet is a bit of an exception. It had almost typical specs. Almost…
Introduction
This racquet came to me in used condition, but not worn. The paint job was from the Ultra v2.0 series, and labeled Ultra 100 CV on the edge of the throat, but had glossy paint that the Ultra 95 Tour CV or Ultra Tour (97) have, not the rubber-coated surface like Ultra 100 CV. Yes, most of the pro stocks are glossy, because this shines on television. The Beam is not the 25mm constant box beam that I expected, this is 23-25-22mm, and between the box and rounded shape, and the throat looks massive.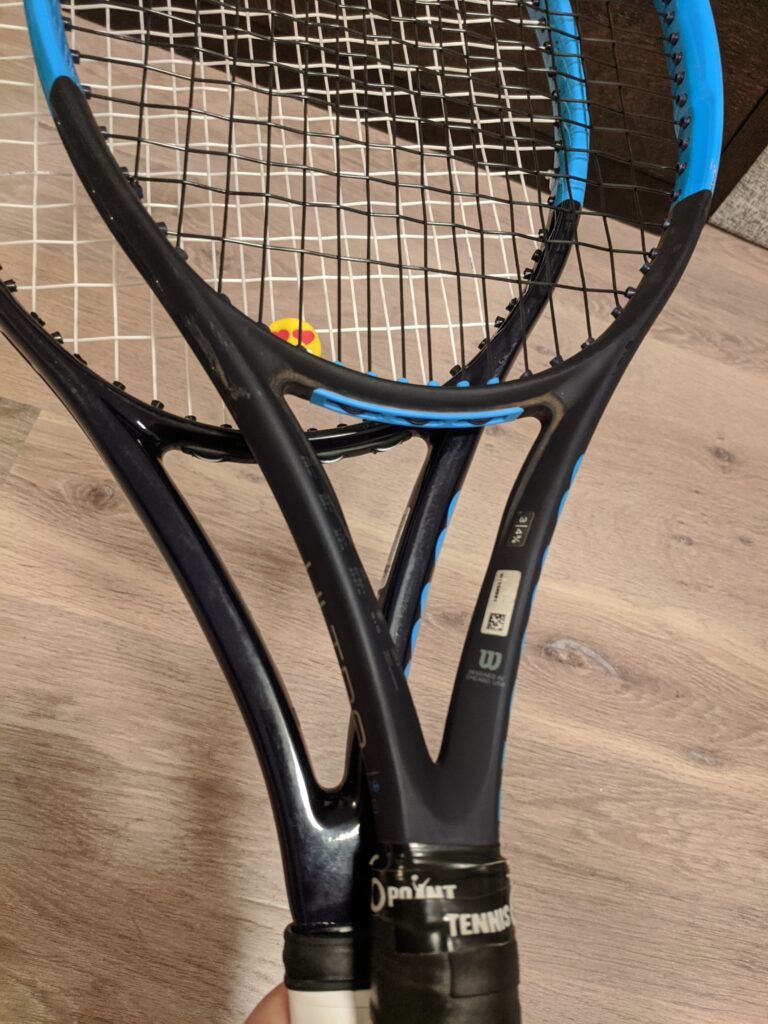 The other optical illusion of this racquet is the size, because it looks very big, particularly with white string, but it's the same size as another 100 sq inch racquet. The weight is 295g unstrung, and I found a little silicone in the handle. Balance is 315mm unstrung, with overgrip. Length is standard 27", and has a round butt cap like everything except Pro Staffs. Stiffness is RA 68 based on specs found on the web. The special part is the string pattern because 18×19 is much rarer than typical 16×19 or 18×20, but for example, used by Novak Djokovic, and also typical for Head Instinct painted pro stocks. Maybe not accidental, I found information that the H25 was based on the Head Liquidmetal Instinct series.
Preparation
I strung this racquet with Wilson Revolve
1.25mm at 24 kgs and used an ATW pattern. This racquet is relatively easy to string because the pattern is wide, it's just that the mains are tighter in the middle. The advantage of this pattern I think enables the slide and snapback of strings due to the wider crosses but adds extra control because of the thicker mains. Grommet holes are round and wide on the side, which in my opinion is not the best, because crosses are not parallel. The grip is a Wilson Cushion Pro
synthetic, not leather. I just put a white overgrip and a round dampener and went to the court.
First Round
It took me a long time to find chemistry with this racquet. Firstly, the butt cap is unusually wide for me, and I could not find the right way to play with depth, due to limited access to spin. I felt uncomfortable at first, but I thought this is only the brand new training balls. Later, when I started to feel the racquet better, there was writing on the wall. After a half-hour of slower, controlled sparring – I feel pain in my hand and wrist. I tried once more, but after one and a half sets, I also felt pain, but in my elbow, I decided to cut out Wilson Revolve, which perfectly works in my Artengo TR 990 pro which also has high RA value. Yes, RA is not everything.
Another Chance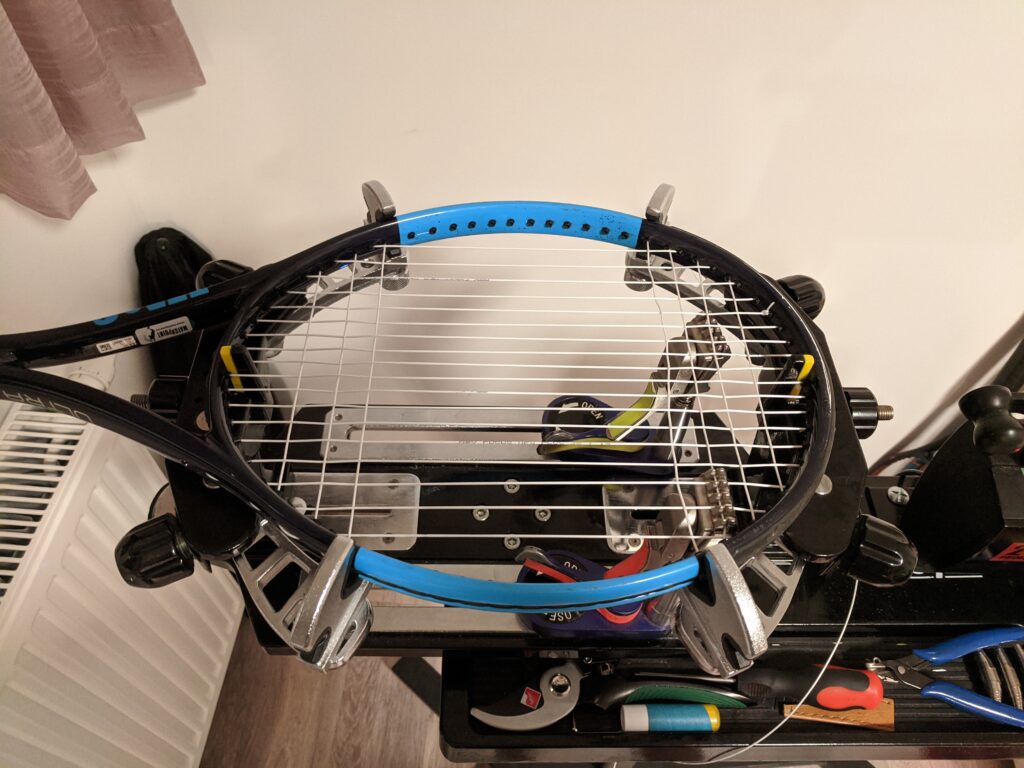 I had a remaining set of MSV Focus-Hex Plus 38 1.15
from a friend, and I strung it in this racquet. I stayed at 24 kgs (53 lbs) because I guess this softer and thinner string will be enough for added comfort. I apply a triple box pattern that has a specialty: it doesn't let two strings touch each other outside the frame.
Second Round
I didn't have any expectations after the shocking first round. With this string, it felt much better, but I continuously don't feel my dreams come true. Power and spin were increased significantly and comfort was also better. Nonetheless, the feel is continuously harsh, which I like when hitting the sweetspot, but I don't like it when I hit outside. And the sweetspot is not so big, which is an issue on weaker days.
Conclusion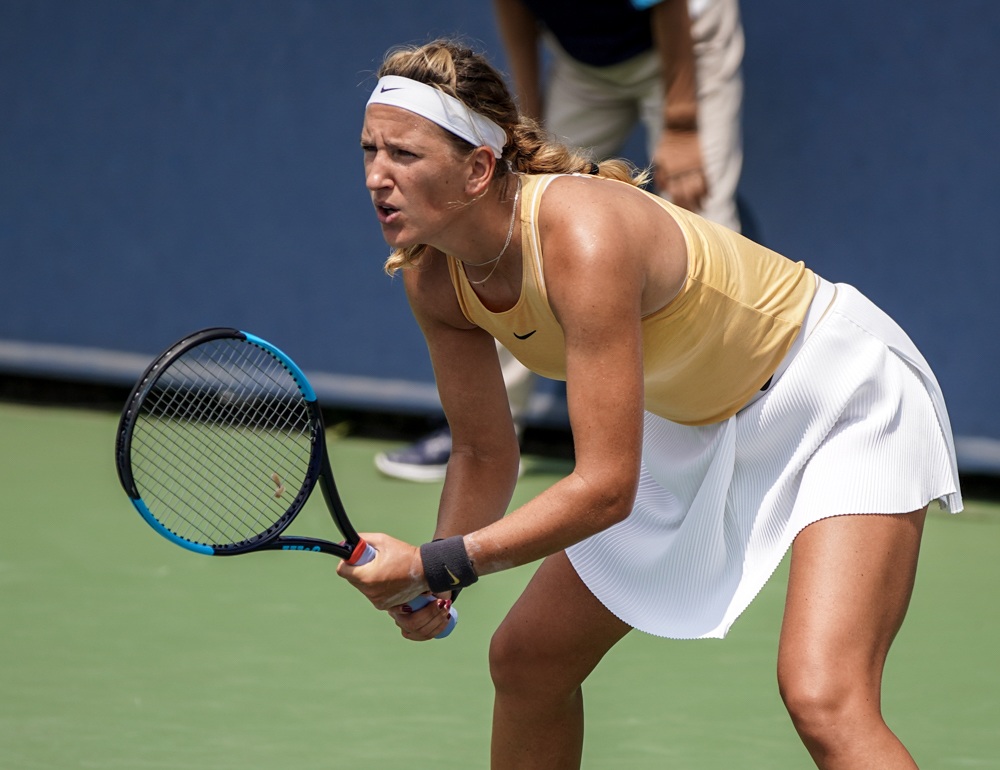 Despite, this racquet's pretty average specifications (excluding the pattern) this racquet is not easy to play. It definitely needed a hybrid stringing with natural gut or gut-like multifilaments like Isospeed Control Classic, or a special, soft poly like Luxilon M2 Pro
also will be a good idea for increased arm protection and comfort. This is a racquet engineered for professional women players like Victoria Azarenka for a combination of a forgiving 100 sq in head size, the power of higher stiffness, and extended control on the sweetspot thanks to the 18×19 string pattern. A big difference between an amateur and a pro player is the consistency of contact points which results in more hits on sweetspot and doesn't cause pain or injury for a pro. This racquet is a nice piece for my collection, but I cannot see how I am will benefit from using it on the court.