I have been testing the new 300g and 315g Xstrikes from TenX Pro for a few weeks. Here is my TenX Pro Xstrike Review.
Introduction
I got two demos for this TenX Pro Xstrike review – they have the same mold and layup, but different weights, balance points, and swing weights. The technology in the racquets is called Uniflex – meaning that the racquet flexes uniformly. You can watch the below video from the TenX website explaining the technology and the thoughts behind it.
Unstrung Specs
Headsize: 100 sq inches
Beam: 23.25/26.25 mm
Weight: 300g or 315g
String pattern: 16×19
Stiffness: 66 RA unstrung
Length: 27 inches (standard)
Composition: Carbon/Carbon Fibre
There is no balance point listed on the frames or the website, but based on my readings it is supposed to be 7 pts HL or 32 cm unstrung.
I think it would have been interesting if they offered more of a difference between the two models. If you are a player who wants a 315g unstrung weight, you are likely also open to customizing the 300g. My suggestion would be to do one 295g and one 310g, where the heavier one is called Xstrike Tour or Pro and has an 18×20 string pattern or a thinner beam. Just to create more choices available to the consumer.
Strung Specs
I tested the Tenx Pro Xstrike 300 strung with the Tenx Pro poly string Atomic Force 1.23 at 24 kg or 53 lbs and the Tenx Pro Xstrike 315 with Solinco Hyper-G Soft 1.30 at 25 kg or 55 lbs.
That made the strung specs (without overgrip):
Tenx Pro XStrike 300 – 323g, 33.3 cm balance, 330 SW
Tenx Pro Xstrike 315 – 342g, 32.7 cm balance, 343 SW
Pretty hefty specs! The tolerance given on the racquet says the specs can vary +- 4.4 grams (.15 oz). My 300 was a little bit above that at 308g, so that is something to look out for.
Quality and Design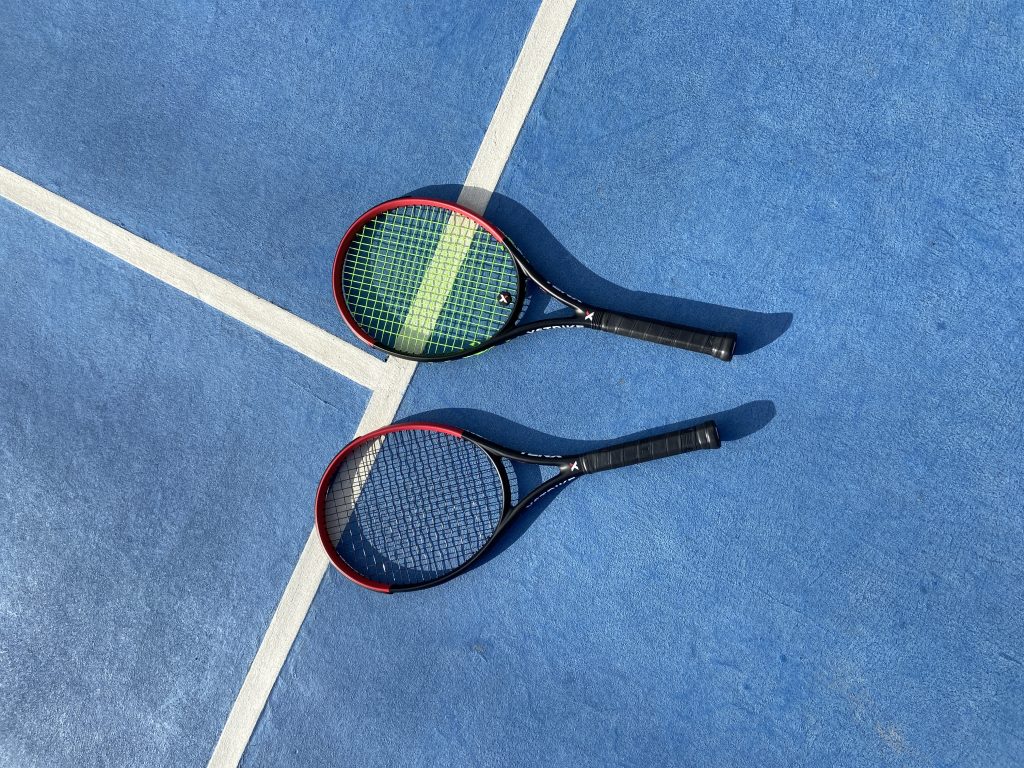 Tenx Pro is a pretty new brand and a small, family-run company. The racquets they produce are of high quality. The paint is durable and the overall composition and construction of the frames competes well with large-scale brands.
The racquets come with a synthetic grip. Another thing to point out is that the butt cap doesn't have a trapdoor for easy weight customization. I think that's something to look into for the future.
The black/red paint job is the same for both the 315 and 300.
Pricing and where to buy
You can buy the Tenx Pro Xstrike racquets from the Tenx website. They offer really good value for money at approx 155 USD or €142 per frame.
Player profile
The Tenx Xstrike racquets are for players looking for some free power and spin, but with a bit more control and comfort than what is currently most common in the market.
If you are a beginner or an under-13 player, I would consider the 270g or 285g versions they have on the website. The 300g option is suitable for intermediate to advanced players and the 315g would only be suitable for high-level competition players with excellent footwork, physique, and technical abilities.
These racquets are best for aggressive baseliners who like to control the point from the back of the court. You need to hit with a decent amount of top-spin to get the most out of these racquets.
How do they play?

First of all, I want to point out that I appreciate the lower stiffness rating of the Xstrikes. This is not something you find in a Babolat Pure Drive, Dunlop FX 500, or Wilson Ultra for example. I had no arm issues playing with each of these racquets and that's a good thing for a so-called power/tweener frame.
The power level is not quite as high as the racquets mentioned above, but I think it is sufficient for most players. If you want more power or depth on your shots, you can always string with a hybrid or a softer poly at a lower tension.
The spin potential is very good with these frames as the pattern is quite open. They remind me of the feel and performance of the first edition of the Babolat Pure Drive that was released in 1997 (this is a good thing). I hit a flatter ball and like to get to the net, so they have a bit too much launch for my liking. But if you enjoy Pure Aeros or HEAD Extremes, you should definitely give the Xstrike a try. As it is a more comfortable racquet but competes well with both of these racquet lines.
Stroke by stroke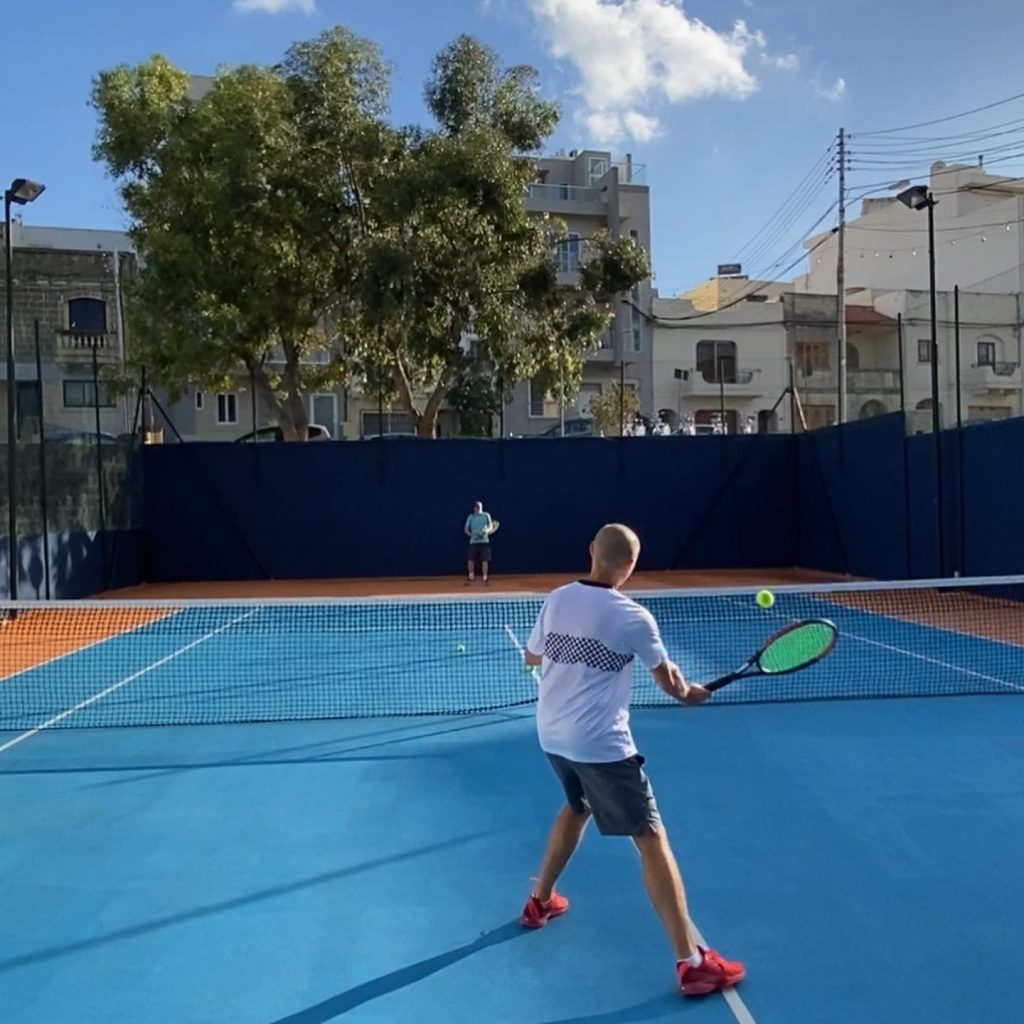 Groundstrokes – Nothing to complain about really. Easy depth, plenty of spin, nice comfort. If you're a flat hitter you might struggle with control due to the open pattern.
Volleys – The specs were pretty high on my racquets so both frames are ultra-stable on volleys. I prefer a bit less power though, but that's a personal thing.
Serves – Not quite Pure Drive-Esque, but easy power and spin on serves. The 315 was tough to whip up enough racquet head speed with. But you should only consider that racquet if you are a serious competition player.
Returns – Easy to block back shots with good depth. A bit sluggish on full swings.
Slice – A little floaty due to the open pattern, but you get nice weight behind your shot.
Characteristics
Power level – High. Not the most powerful frame in the world, but enough for most players.
Spin potential – High. You can spin to win with this frame. Flatter hitters should look elsewhere.
Comfort – Relatively high. Better than most racquets in the category. The Clash beats it, but the Xstrike has a better feel.
Maneuverability – Okay. My specs were a little heavy for this type of frame, similar to what I experienced with my recent Pure Drive review.
Touch – The feel is nice and relatively plush with these frames, I prefer it over most tweeners I've tried.

Pros and cons
+ Good power, but not too much
+ Very nice for topspin players
+ Above-average comfort for this type of racquet
– A bit heavier to swing than what most people like (mine was over spec)
– The string pattern suits top-spin players more than flat hitters
Summary
This Tenx Pro Xstrike Review was generally a positive experience. This racquet does not suit my playing style or preference really, but it compares really well with most frames in this category. If I was a baseline player looking for a racquet to give me spin and power, this one would be a the top of my demo list along with the Dunlop SX, the Pure Aero and the HEAD Extreme line.
There is no doubt that Tenx Pro create nice frames. There is nothing in the experience with these frames that would be substandard to any other brand out there. Still, their racquets retail at a significantly lower price. So for players looking for a racquet to give them some free power and spin but without the arm issues that sometimes follow thick-beamed and stiff racquets, the Tenx Pro Xstrike is definitely worth considering.
I was a big fan of the control player-oriented Tenx Pro Xcalibre and that frame suits more my game and preference. But for players who like to take big cuts at the ball from the baseline, the Xstrike is the way to go.
Do you have any experience with the Tenx Pro Xstrike racquets?