The new Wilson Ultra V4 tennis racquet is on the way. Or should we say racquets because there are also lighter models of the 100 and an 108.
WTA star Maria Sakkari has been chosen as the main ambassador for the new Wilson Ultra V4 tennis racquet. She will be endorsing the model, but likely, like with most pro players, using something else under the cosmetic. Sakkari still had this to say about the racquet according to this Forbes article:
"It fits my game," Sakkari says. "It is a great racket for my game, so, for me, it is the perfect racket. Being a professional tennis player at this level, you really notice all the small changes, the differences. It is very important that if you don't feel like it fits your game or your technique, you should try and adjust. I feel like I never had that issue with the Ultra."

– Maria Sakkari, #3 on the WTA Tour
This is what Wilson themselves had to say about the new Wilson Ultra V4, which will be available on Wilson.com from tomorrow and from larger retailers like Tennis Warehouse from September 14th.
"The core tenant in all our development is based around creating a racket that provides easy power," he says. "The way we define that is with a minimal amount of effort, the maximum amount of energy returned back into the ball."
– Michael Schaeffer, Wilson senior product manager for rackets
What's new with the Ultra V4?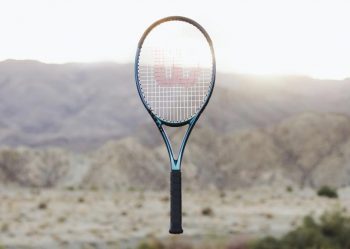 I reviewed the previous Wilson Ultra (V3) here and in short, I wasn't very impressed by it. Wilson collected feedback from players and play-testers that the racquet was a bit "clunky" and slow. This is now adjusted in the latest Ultra.
The new Ultra V4 has a redefined cross-section (beam), which has decreased the width by 20% (a good idea, at least on paper, if you ask me.). They have increased the sweet spot channel to increase the string movement and spin potential.
Wilson has included 45 braid technology (like their other racquets) in the new Ultra, which is supposed to improve dampening and allow the racquet to be stiff yet comfortable.
I think it's fitting to end with another quote from Schaffer:
"If you were to sum it all up, the Ultra V4 is faster through the air, much sleeker, has increased power, increased stability and added comfort. It is a little bit of a paradox to have all of those in one, but because we were able to engineer that, the playtesting has been off the charts."
Sounds a bit too good to be true? Yes. But my friend and fellow tennis nerd, Henrik Wallensten, has been play-testing the Ultra and from what I've heard it is his current favorite power racquet (and he tests everything). I hope to get a review sample from Tennis Warehouse Europe soon.
Lighter or Larger?
At first look, I thought Wilson would bring out an Ultra 98 to compete with  powerful 98 sq inch racquets like the Yonex Ezone 98, the Babolat Pure Drive VS, the HEAD Boom Pro and the Dunlop FX 500 Tour. But, as a fellow tennis nerd cleverly pointed out, it's actually a 108. Meaning with the family of Ultra V4 racquets, you can either go lighter (L or UL) or larger (108).
Are you excited about the new Wilson Ultra V4?