Novak Djokovic came back to the tennis stage in fine form when he beat Dominic Thiem 6-1 6-2 at the Kooyong Classic. He showed up with a slightly different serve motion, new Asics shoes and desire to play tennis. Still the same racquet though.
There was some speculation about a potential racquet chance when Djokovic was seen practicing with Agassi with a new HEAD racquet with 18×19 string pattern, but in the Kooyong Classic he was using his standard PT113B pro stock strung with Luxilon Alu Power Rough
and natural gut
.
Then there was also talk about the lingering elbow problem that made him postpone his season slightly. But yesterday, despite rust, he overcame top 5 player Dominic Thiem (read about Thiem's racquet here – he's testing new strings, the Babolat RPM Blast Rough
) and looked not like the Djokovic of the dominant years, but still played really well and didn't give Thiem much for free. What was noticeable in Djokovic's game was that he has shortened his service motion slightly, possibly just an improvement in terms of power, but potentially a way to save him from more elbow issues.
This is not the first time Djokovic is fiddling with his serve in a bigger way. Back before he his best years, ex-player Todd Martin was trying to improve his service technique, but it didn't show in the score sheets and he later went back to his old serve with excellent results. Will this new motion work for him? Only time will tell, but it did look remarkably effective in the match against Thiem.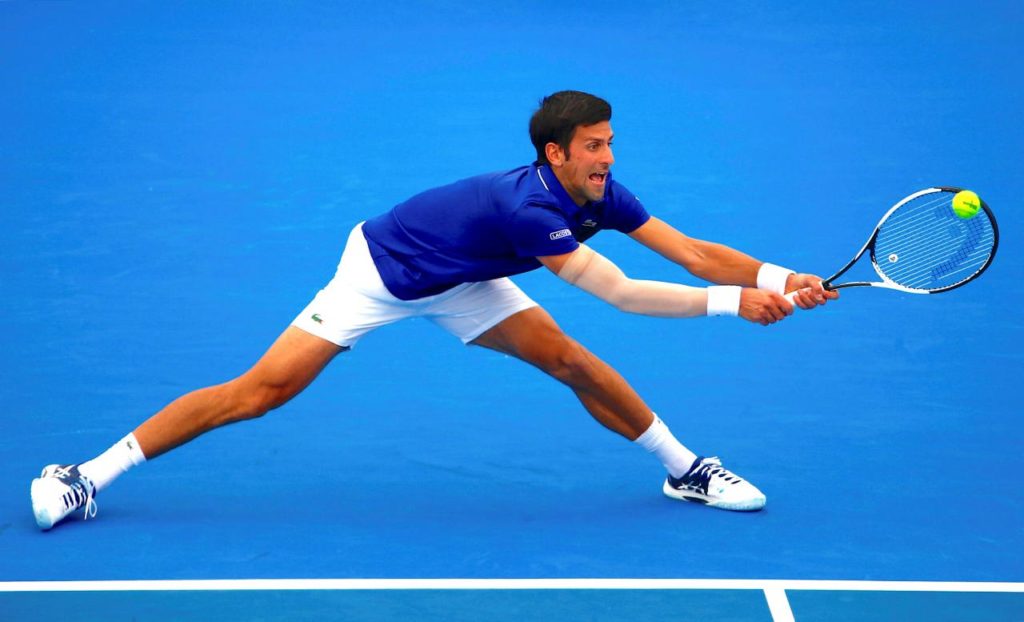 We of course have to remember that the Kooyong Classic is an exhibition tournament where players are not giving it a hundred percent, but I think the scoreline shows that Djokovic is physically ready to compete in the Australian Open. What it means for Thiem's form is another story. The Austrian wunderkind hasn't shown his best game since the 2017 clay season and it will be interesting to see whether he can step it up in 2018. The Australian Open surface should set him well for a hard court.
Back to Djokovic and his new sponsorship agreement with Asics. Djokovic has been quite active when it comes to sponsorship changes in his career, but that Asics is trying to take marketshare on the ATP World Tour with Monfils, Goffin, Johnson and a bunch of other players should not have escaped the tennis nerds. Djokovic recently switched to Lacoste for apparel and know Asics for shoes. I don't think we will see him switching racquet brand however.
I'm personally a fan of Asics shoes from both a comfort and durability perspective so I have nothing negative to say about this change. Will be exciting to see if he can be even faster and smoother in his movement with his new tennis shoes in 2018.
What do you think of Djokovic's sponsorship, technique changes and chances in 2018? Can he come back to dominate or will it be an uphill battle for him? Please comment below.
***
Do you like Tennisnerd? Don't miss a word or video by stalking us on social media. Every like and follow is appreciated!

YouTube
Instagram
Twitter
Facebook Page
Amazon Influencer
Buy tennis gear
EU
Racquet Depot
Pro Direct Tennis

USA
Tennis Express
Do It Tennis
Amazon.com
Racquet buying guides
Here is a great racquet buying guide to get you started.
What tennis racquet should I buy?
Top tennis racquets to buy right now
The Gear of the Year 2017
The Gear of the Year 2016
Tennis racquets for juniors
Tennis racquets for kids
Popular posts
What the ATP pros play
Questions about pro stock tennis racquets
Is a pro stock racquet better than a retail one?
Do professional players change racquets?
Racquet Commitment Issues