Many club players use stiff polyester strings, while they would be better off with multifilament or gut. The key question is: do you break strings?
Most pro players use some form of a polyester string in their racquet. Either in a full bed or as a hybrid. They hit the ball hard and with a lot of spin and break strings every two hours.
Club players might put a poly string in their racquet and the string never breaks. They are playing with a dead string in their racquet for a long time, risking their arm health and not getting the best out of their equipment.
Do you break strings? If not, consider using a multifilament string or at least a hybrid instead of a full bed of polyester strings.
The pros and cons of multifilaments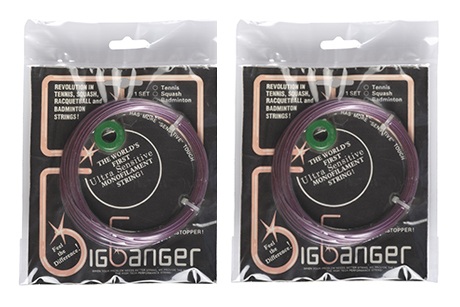 The polyester string is a great innovation for the sport. When Guga Kuerten started using Luxilon Big Banger Alu Power in 1997 (the string was released in 1994), it inspired a huge change in the industry. Suddenly you could hit as hard as you wanted and the ball would land in! Andre Agassi said that the "new strings felt like cheating."
There are obvious benefits to using a polyester string. You get better spin and control over gut or multifilament strings. But this difference is most notable when you "move the strings". In other words, you hit the ball so hard, and at such an angle, that the strings move. Before pros were using polyester strings, you could see them spending their time in between points, moving the strings back in place.
If you are not moving the strings when you hit, you might be better off using a multifilament string.
Pros of multifilament strings
Better feel
Better comfort
More power
Cons of multifilament strings
Lower spin potential
Less control
Less durability
The current trend – in-betweeners
The current trend in the string market is that polyesters and multifilament strings are getting closer. The polys are going softer and the multifilaments are becoming more durable and controlled. There are more strings on the market and more choice for the consumer.
We see it with durable multifilaments like Tecnifibre HDMX
, HEAD Velocity MLT
, and Wilson NXT
. But we also see it with softer polys like Solinco Tour Bite Soft, Luxilon Smart, and String Project Magic.
You can now use a full bed of poly without it being stiff as barbed wire. Still, you might not need to. If you're not breaking strings frequently, a more resistant multifilament might do the trick. You might even prefer natural gut (still holds tension the best) for the ultimate feel or a power string like Tecnifibre X-One Biphase
, if you don't care much about spin.
The options are endless. My advice, take a long hard look at your game and ask yourself what you need and like. Maybe it is time to let go of that stiff poly and try something else? The Tennisnerd consultation service is here if you need help.