His form wasn't great going into the tournament, but I had expected more. Thiem loses in the first round of the French Open to Andujar.
All kudos to Pablo Andujar though, a 35-year-old tennis fighter who had the biggest win of his life two weeks ago when he beat Roger Federer at the Gonet Geneva Open. Andujar is in the form of his life and has shown that also players that are lower on the ranking list (Andujar is a solid top 100 player though) can trouble the top players when they're playing well. So Thiem loses in the first round of the French Open 2021, which begs the question: what's next for Dominic Thiem? He hasn't found his form yet in 2021 and the grass-court season is not usually the time where he does it.
Is this still a "hangover" from winning his US Open grand slam win? Did that win soak up some of his desire to win and work hard? He has talked about seeing tennis a little bit differently after that win, but that can go two ways: to become more relaxed and winning more on a higher level, or to get a bit complacent, and when the results go south: start doubting yourself. Let's hope Dominic finds his way again, but he might need a mental reboot of some kind. Not sure what that would be. Maybe he should take a tennis break, but on the other hand, he has been away due to injury recently, so that's perhaps not what the mental doctor orders.
You can read this post about how Dominic Thiem fell into a hole during the 2021 season.
The importance of mental strength in tennis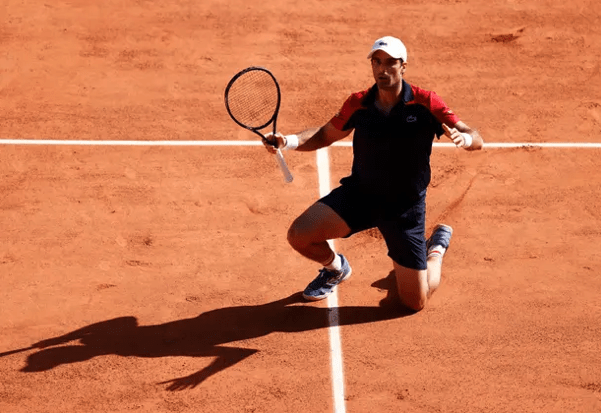 Andujar's win over Thiem shows how important mental strength is in tennis. You can listen to my podcast with Filippo Gioello about this interesting topic. It was clear that Andujar relaxed after being two sets down and started playing his best tennis, while Thiem went the other way and as soon as he started playing less good – his confidence went straight out of the window.
Andujar took the next two sets and played brilliantly. The wind was a factor in this match (they call it the great tennis equalizer) and Andujar seemed to time his shots better than Thiem during the tough conditions. In the final set, Thiem was broken quickly but came back and the match looked to be turning again. But Andujar buckled down, it some fantastic returns, and showed no nerves in closing out the match.
An impressive performance from the Spaniard leaves some unsettling question marks around Dominic Thiem. How can he get back to winning ways?