The French Open Draw 2021 is out. The three GOATs: Federer, Nadal and Djokovic are in the same draw on the men's side.
Tennis fans the world over are getting excited for the second grand slam of the year that starts on Sunday. The French Open Draw 2021 on the men's side looks like this:
Top half of the French Open Draw 2021 (Men's side)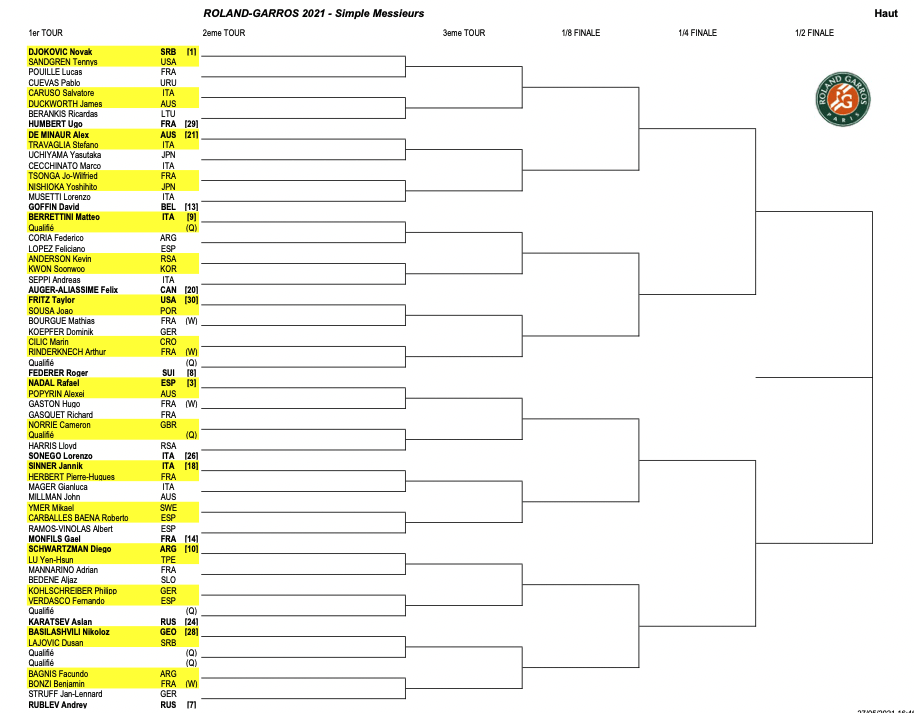 Many players will predict a Djokovic vs Nadal semi-final. After all, even Federer has said that he doesn't feel like a threat to the title and that he's playing to build up some match experience ahead of the grass-court season. For that to happen, he needs to win a few matches, which is definitely not a given considering how little competitive tennis he has played.
What do you make out of the draw? They break it down on the official ATP Tour website here.
French Open Draw 2021 – Second half of the men's draw
The second half of the men's draw is a lot more open. I am going to curiously watch how Dominic Thiem deals with his recent spell of bad form and if he can right the ship, just in time for his favorite slam. Tsitsipas is the player alongside Rafa that has looked the best on clay in 2021. Can he win the title?
Casper Ruud has shown that he is a force in the game on this surface. How far can he take it? I don't think anyone is safe against his monster of a forehand.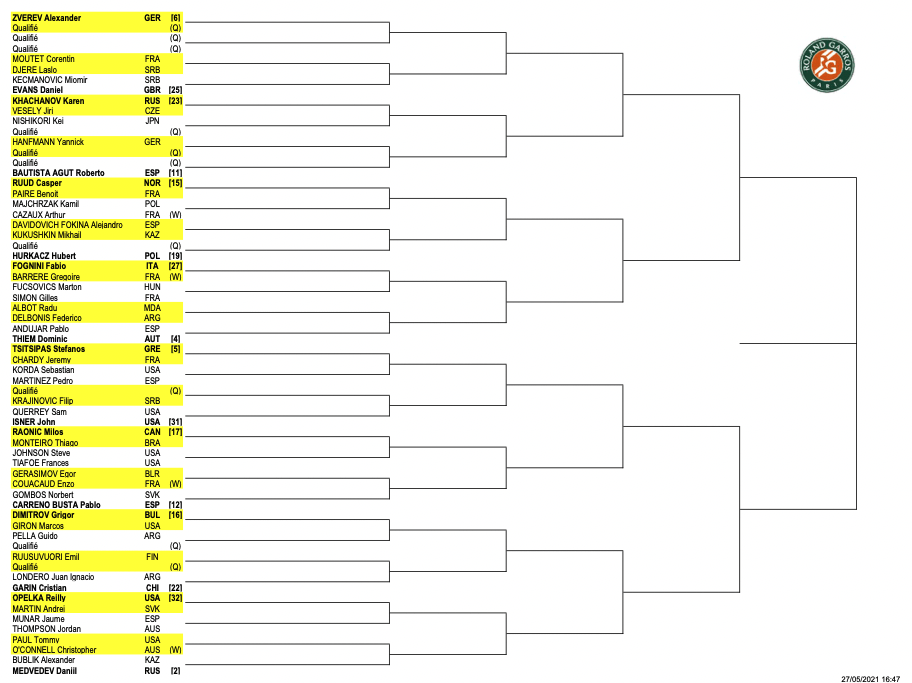 The Women's Draw
I have speculated on Iga Swiatek's chances of winning the event in the absence of Simona Halep. Naomi Osaka doesn't seem to be the most confident right now and is not a huge fan of the red dirt. Maybe an outsider like Coco Gauff can be a threat? After all, she has won 15 out of 21 matches on clay in 2021.
And what about Sabalenka? When she is on, who can really stop her? No Grand Slam prediction on the WTA tour is complete without asking the question of whether Serena will reach 24, but her preparation for the event has been minimal.
If you want to dive further into the Women's Draw of the French Open 2021, there is an excellent draw analysis on the WTA Insider page.
Below you will find the two halves of the draw. My prediction on the women's side goes to Ash Barty.