Matthew Cassar Torregiani has written an excellent write-up of the US Open Men's Semi-Finals predictions. Who do you think will win?
US Open Men's Semi-Finals Predictions
After ten days of high-quality tennis and great matches, we've finally reached the long-awaited Men's Semi-Finals matchups. Given Novak Djokovic's absence from the tournament, injuries, and an extremely underwhelming US hard court swing hampering Nadal's preparation, this year's US Open was always going to be more open compared to recent Grand Slams.
As Tennis Nerds, you'd be aware that there is a lot more on the line besides a maiden Grand Slam Title for all of players left in the draw – either Carlos Alcaraz (ATP 4) or Casper Ruud (ATP 7) both have a shot at becoming World No 1 – ending Medvedev's 10 week stay at the top of the rankings.
Favorites toppled on the way to the semi's
It's fair to say that some big-name players expected to progress deep into the tournament did not live up to expectations. Nadal never seemed to manage to reach top gear, dropping sets in the opening two rounds to Hijikata and Fognini. Despite fighting (as expected) against Tiafoe, he was outplayed by the American handing the Spaniard his first defeat in Grand Slams this year, with Nadal being unable to keep up with Tiafoe's aggressive game style and big serves on the clutch points.
Kyrgios was the next favorite after Nadal. Playing the tennis of his career catapulted him to a Wimbledon Final, winning the ATP 500 in Washington, and beating Medvedev in Montreal. It seemed as though the stars were aligned for Kyrgios to win his first Grand Slam. However, an impressive serving and mental display from Khachanov meant that the wait for Kyrgios has to go on, after being beaten by the Russian in 5 sets.
Giant-killers
Two of the giant-killers and both semi-finalists, Tiafoe and Khachanov, have had relatively average years, winning no ATP titles, with Tiafoe having a 2022 win/loss record of 21/18 (54% win ratio) and Khachanov having a 2022 win/loss record of 26/20 (56.5%). The furthest Khachanov has progressed in a tournament this year has been the finals and semi-finals of the ATP 250 in Adelaide and Belgrade (where he lost to Monfils and Djokovic). His progress at Grand Slams was limited due to tough draws, losing to Nadal in Australia and Alcaraz at the French Open. Tiafoe only made one final in 2022, losing to Sebastian Baez in straight sets in Estoril. Tiafoe had some excellent wins at Wimbledon, beating Bublik to reach the 4th round. However, he lost in the second round of the Australian and French Open.
The other participants in the Semi-Finals have had much better years, putting them in prime position for the number one spots. Casper Ruud has won 3 titles this year (ATP 250s) and reached the final of Roland Garros. Both Ruud and Alcaraz are favorites to progress to the final. Alcaraz's year needs no introduction; winning four titles, including the Masters 1000 at Madrid and beating Ruud in the final of the Miami Masters 1000.
Mouthwatering Semi-Finals
We have some mouth-watering semi-finals on Friday, with three of the four players debuting at the semi-final stage of a Grand Slam. At the time of writing, the order of play has not been released, however, given the fact that the battle of the future stars, Alcaraz and Sinner finished at a record-breaking time for the US Open (2:50 am), the expectation is that Khachanov and Ruud will kick off proceedings.
Karen Khachanov v. Casper Ruud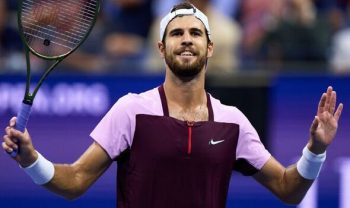 Karen Khachanov's racquet
Casper Ruud's racquet
Having played in the Davis Cup in the same division as Casper Ruud in 2015, he always impressed me, even at a young age. Despite not being the tallest of persons, his power on the serve and forehand is impressive. This, coupled with being one of the best movers on tour makes him an extremely tough opponent to play against. He is consistent enough to get most balls back yet still has the firepower to hurt you.
Khachanov, however, has one of the bigger games on tour. A big serve backed up with a strong forehand means that on his day, he can beat anyone. He always is a threat in tournaments. However, he sometimes makes too many unforced errors or breaks down in the clutch moments, resulting in him not maximizing his potential. The key for Khachanov is to find the right balance between keeping Ruud back, forcing errors, especially on the Ruud forehand, which can break down (Roland Garros Final) and keeping his unforced errors low. Khachanov isn't the best of movers, so Ruud has to make the game physical and break down Khachanov's game – give him no free points and make him crack.
Prediction: Given Ruud's solid game and the year he's had to date, my prediction is that Ruud will win in 4 sets, with Khachanov taking the second set.
Carlos Alcaraz v. Frances Tiafoe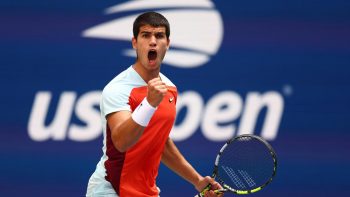 Carlos Alcaraz racquet
Frances Tiafoe's racquet
Tiafoe has played the tournament of his life. Playing in his home slam and with the backing of the US crowd, could it be a fairytale slam for the American? Over the past few days, Tiafoe has been speaking about what an incredible journey it's been for him, with his parents putting everything on the line to allow him to pursue a career, either through a Pro Player route or through the less risky US College route. Despite only averaging 50% first serves against Nadal and Rublev, he was only broken two times over the seven sets. Besides the strong serving, he's backing it up from the back of the court, hitting some bombs from both ends and keeping the unforced errors low – (49 winners and 20 UE against Nadal and 46 winners and 38 UE against Rublev). He's approaching the net at smart times, making it more challenging for opponents to defend against him – winning 76% and 71% of net points against Rublev and Nadal, respectively.
Given the current form, I believe that Alcaraz will be a different kettle of fish to Nadal and Rublev. His speed, movement, and ability to attack and defend from both ends would put more pressure on Tiafoe. The key in this match depends on who can control the points better while keeping unforced errors low. Tiafoe will need to take advantage of the Alcaraz serve, probably the weakest area of Alcaraz's game. Alcaraz tends to go through swings in his matches, so the outcome of this tie will heavily depend on how long Alcaraz can maintain his aggressive brand of tennis without any errors.
It feels like a coming of age for Alcaraz. With the big guns out and him tipped to be the next big player for the sport, I expected him to grab his opportunity, win in 4 sets and go on to win the title.
Prediction: Alcaraz in 4 and Alcaraz to win the title.
What are your predictions? Let us know in the comments or on Social Media!