How important is racquet design when it comes to your racquet purchase? Is it all about feel or performance?
I find this question interesting, because in recent years the number of designs and graphical updates for tennis racquets have increased a lot. Sometimes it's hard to know whether there is something new in terms of playability and specifications, or if it is just a design update. Wilson offers their Custom program, where you can choose your own design, while both HEAD, Babolat and Wilson offers certain limited edition designs for grand slams or collaborations. How important is racquet design to you? Does it have any weight in your racquet purchases?
The importance of design

My personal take has always been that it's all about playability and I will play with whatever racquet helps me perform and feel good on the tennis court, no matter how it looks. But I know that some players just can't stand a certain color, for example a bright yellow or red. Then there are other players who look for more out-there, artistic designs that you can see in the Britto x Wilson header image. If you want to check out all the articles in the Wilson x Britto collaboration, go to the official website.
It's hard to argue that design is not important, when we know it influences decisions and emotions in every aspect of our lives. We're visual creatures and react emotionally to how things look. Still, when you're actually playing tennis, I doubt that many think of design.
What designs do you like?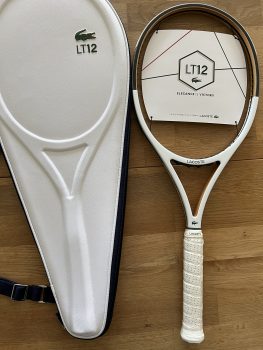 I'm also curious to hear what designs you like. Do you prefer more blacked-out designs like the HEAD Extreme Nite racquets? Or do you like the classic predominantly white design of the Tecnifibre TF40, do the Wilson Roland Garros racquets appeal to you? Maybe you'd prefer to create your own design with a company like Unstrung Customs? Why not go deeply old-school with the Lacoste LT12?
Please let me know what designs you like in the comments below!