HEAD has recently launched the HEAD Graphene Touch Prestige line of racquets and at the end of July it is time for the new HEAD Graphene 360 Speed racquets. This is the line endorsed by Novak Djokovic and Alex Zverev to name a few.
The new HEAD Graphene 360 Speed racquets will have a new paint job (see an idea of how it will look above) and slightly different specs. Not sure why the release date is set by the end of July and not in time for Wimbledon, but that is up to HEAD to answer.
As I mentioned above, the HEAD Graphene 360 Speed racquets are endorsed by Novak Djokovic (read what racquet he really uses here and about his new setup here) and Alexander Zverev (read about his racquet here) and also racquet switcher Fernando Verdasco (read about his racquet here) but neither of them are actually using the actual HEAD Graphene 360 Speed mold. Like so many ATP professionals, they are using HEAD pro stock racquets.
New HEAD Graphene 360 Speed Racquets – Let us look at the specs
This table is copied from a brochure so perhaps not the most easy to read, but I think it should work as a decent overview of the different racquets available in the new HEAD Graphene 360 Speed racquets line. Do not bother with the crossed-over racquets, they should also be available.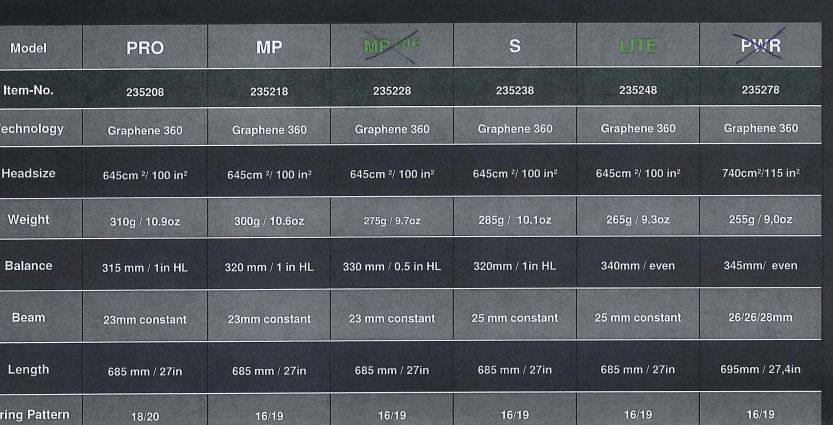 So what is new with the new HEAD Graphene 360 Speed racquets compared to the previous HEAD Graphene Touch Speed line? Well, for one, they have a thicker beam. From 22 mm to 23 mm for the Pro, MP and MP Lite models. There are no RA numbers in the above image, but I guess the thicker beam will mean slightly different racquets. Since this is quite fresh information I have no idea what the Graphene 360 is and if it is intended to mute the racquets even more than the Touch. I hope to review the Graphene 360 racquets and give a better idea of how they play.
New HEAD Graphene 360 Speed Racquets – Are they "new" enough?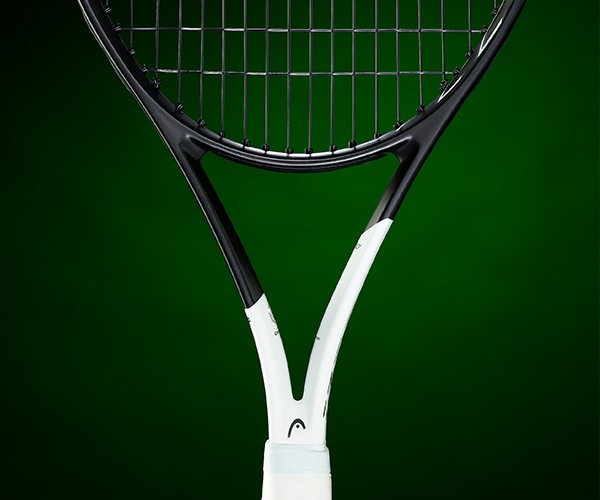 When it comes to the head size it is pretty much 100 sq inches all across the board. This has definitely become the new standard in tennis racquets, with 97-98 being more control-oriented and above 100 being player improvement racquets. The Pro is suitably heavier at 310 grams but slightly more head light and the MP is ten grams lighter but more head heavy to compensate. There is nothing ground-breaking or very different here compared to earlier versions of the HEAD Graphene Speed line, so it will be interesting to know how the Graphene 360 affects the playability.
The buzzwords in the HEAD marketing materials for the new Graphene 360 Speed racquets state:
Providing great stability and optimized energy transfer.
Denser mains and wider cross strings for more control and spin generation.
Strengthened shaft and shoulder area for more stability.
I will give you more information about the new HEAD Graphene 360 Speed racquets as soon as I have it. Are you curious about this line? What do you think about the Speed racquets in general? Please comment below.
***
Do you like Tennisnerd? Do not miss a word or video by stalking us on social media. Every like and follow is appreciated!

YouTube
Instagram
Twitter
Facebook Page
Amazon Influencer
Buy tennis gear
EU
Racquet Depot
Pro Direct Tennis

USA
Tennis Express
Do It Tennis
Amazon.com
Racquet buying guides
Here is a great racquet buying guide to get you started.
What tennis racquet should I buy?
Top tennis racquets to buy right now
The Gear of the Year 2017
The Gear of the Year 2016
Tennis racquets for juniors
Tennis racquets for kids
Popular posts
What the ATP pros play
Questions about pro stock tennis racquets
Is a pro stock racquet better than a retail one?
Do professional players change racquets?
Racquet Commitment Issues