I wrote a preview about the new Tfight 305 ISO racquet a few weeks back. Here is my Tecnifibre Tfight 305 ISOFLEX review.
Tecnifibre Tfight 305 ISOFLEX Review
Daniil Medvedev is endorsing the new Tecnifibre Tfight 305 ISOFLEX racquet but is using another model, click here if you want to find out about Daniil Medvedev's racquet.
I wrote this in my preview.
What is new in the Tecnifibre Tfight ISO 305 compared to the Tfight RS 305 model it replaces? Thanks to the ISOFLEX system it utilizes a variable beam stiffness to create a more forgiving and consistent string bed. The RS beam is still there and like other Tecnifibre racquets, the Tfight ISO 305 is injected with foam for more comfort and stability.
Technologies: ISOFLEX, RS Section Beam, Foam
Buy: the Tecnifibre Tfight ISO 305 from Tennis Warehouse
You always get my first impressions on Patreon.
Specifications
Head Size: 98 in / 632.26 cm
Length: 27in / 68.58cm
Strung Weight:11.3oz / 320g
Balance: 13.12in / 33.32cm / 3 pts HL
Swingweight: 335
Stiffness: 64
Beam Width: 23mm / 23mm / 22.5mm
Composition: Dynacore HD/Graphite
Power Level: Low-Medium
Stroke Style: Full
Swing Speed: Fast
Racquet Colors:White
Grip Type: Tecnifibre Synthetic
String Pattern:
18 Mains / 19 Crosses
Mains skip: 8T,10T,8H,10H
Comments on the specs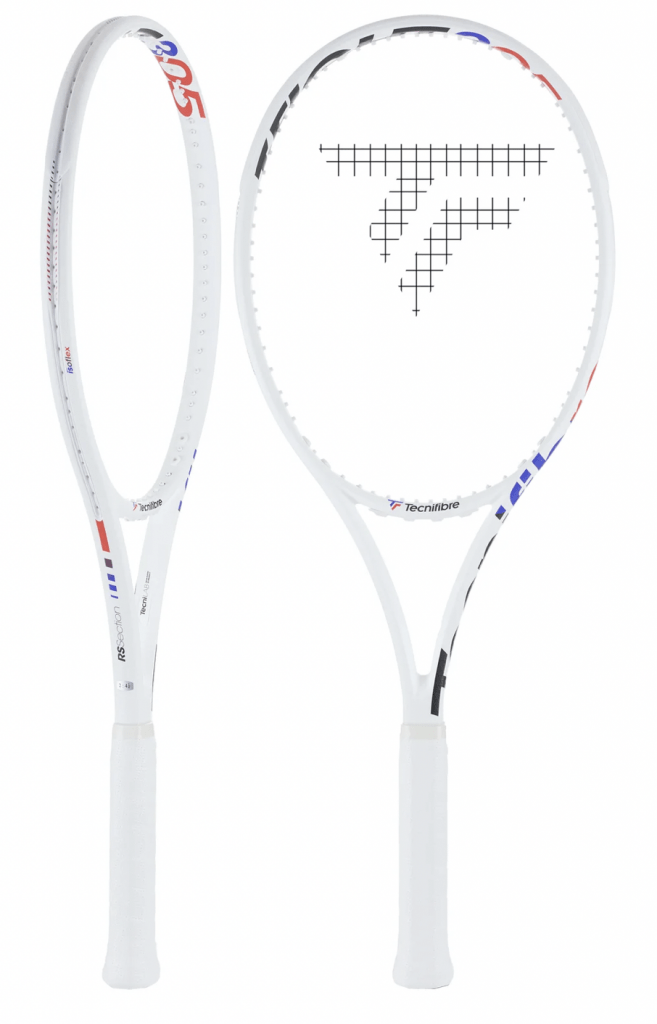 The swing weight looked high on average and my racquet was no different. It was actually higher in swing weight than the Tennis Warehouse Europe average. I measured mine at 342.5 strung with Tecnifibre Razor Code White 1.25.
That's a bit much for most players and explains the feeling I had of the racquet being a sledgehammer.
Why is the swing weight so high? The issue with foam-filled racquets is that they are even more difficult to quality control. Most racquets come with a quality control guarantee of +-7 grams and +-0.7 cm balance point. That is also the Tecnifibre QC standards. I think this is too much of variance in a sport that rely on grams and millimeters. After having play-tested hundreds of racquets over the years, I can adapt to a racquet after a while, but it's also difficult to review a racquet that is far off spec since another person might get a completely different specification. I think one of the biggest steps forward for racquet manufacturers would be to get this issue down to a much lower variance. If there was a promise of the swing weight being within 5 points, we could live with it. But no manufacturers really list swing weight (Prince used to, not sure if they do anymore), which is, in my opinion the most important parameter. Of course they all matter, but if I could only know one metric about a frame, that would be it.
Okay, enough ranting. The fact of the matter is that my frame had a very high swing weight but remained within parameters in terms of weight and balance.
How does it play?
The racquet plays with great precision from the 18×19 string bed, offers good plowthrough (the high swing weight creates a heavy ball) and an overall solid and stable feel. It's not as plush or comfortable as the Tecnifibre TF40, which I prefer, but it offers a bit more precision and hits a bigger ball if you can maneuver it. A lot boils down to the swing weight of course, which is higher on average for the Tfight.
I think this racquet appeal to advanced players who want precision and a crisper feel. I use the word crisp as meaning stiff, but not harsh. The ball simply doesn't stay as long on the strings as with the TF40. Some players like that, some won't. If I would compare these racquets to other brands, the Tfight is more like a Pro Staff or Pure Strike, while the TF40 is a bit like a Blade or a Radical.
Players with arm issues would get more comfort from the TF40, but aggressive players who like to attack the net, might prefer the Tfight due to its direct feel and precision.
Summary
The Tecnifibre Tfight 305 Isoflex is a solid racquet with a capital S. To me it played a bit like a sledgehammer with a lot of weight centered towards the head. This made it difficult to maneuver but nice when you managed to contact the ball well. Overall, I still prefer the TF40. The RS version played better for me thanks to the lower swing weight mainly, otherwise I imagine they would play quite similar. If you like the RS, I'm not sure this is worth the update, but I would be keen to listen to players who hit both side by side. To me the Isoflex felt a bit more stable and perhaps playerd with a tad more control, but the swing weight made it difficult for me to make a direct comparison.
It's worth a demo for advanced attacking players looking for a precise weapon, but most other players would be happier with the TF40 in my opinion.
Keen to hear what you think, if you have tried the new Tfight ISOFLEX.
Buy: the Tecnifibre Tfight ISO 305 from Tennis Warehouse or Tennis Warehouse Europe