Sometimes it makes sense to revisit racquets after some time has passed. My Wilson Clash 98 Review is a great example.
I am a fan of the Wilson Clash series. Power and spin in a comfortable package. What can go wrong with that? Yet, I never grooved with the 98. Until now. That"s why this Wilson Clash 98 Review Revisited was important to make.
My reviews of the Clash 100 and the Clash Tour (now Pro) were overwhelmingly positive. I have always been a fan of racquets that focus on arm comfort and I thought the Clash had managed to marry that with stability and a good delivery of power and spin. Yes, there were some inconsistencies at times from the string bed, but it didn't bother me enough not to give a positive review.
But there was something about the Clash 98 that didn't feel quite as good. I missed the power and stability from the 100 Tour.
One issue the first time I tried the Clash 98 was that it was badly under spec at 305 SW strung. I did try to lead it up, but still couldn't find my way with that racquet.
This time around, something had changed. It could partly be my game, which has improved since I first reviewed the Clash 98 or it could be that I find a spec and a string that suits me better.
At the time of my first review, I was heavily into racquets that are quite demanding to use. I have since realized that I get a bit more for free with other racquets and I have learnt to better control the power they give me. 
How does it compare to the Clash 100?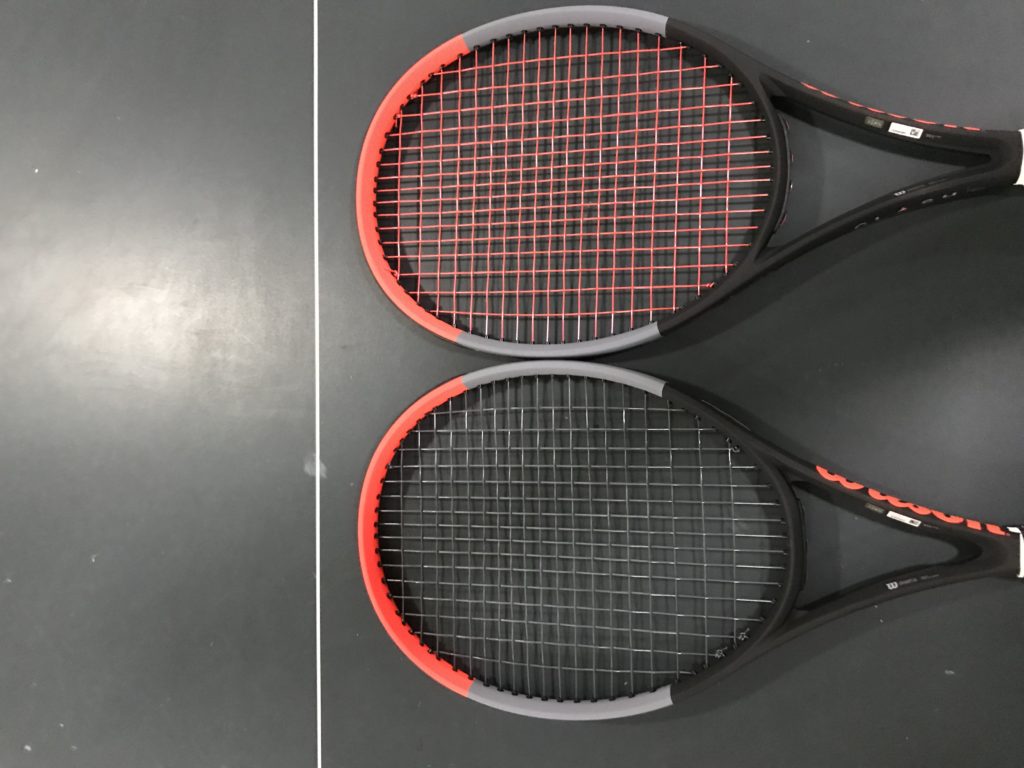 The Clash 98 is the most control-oriented racquet in the Clash line-up. It offers the same comfort and low flex rating, but a smaller head size and a slightly thinner beam. The idea is to achieve more control and it works. The Clash 98 handles flatter shots much better, but doesn't give you the free power of the 100 and 100 Pro. Still, for advanced players who can generate their own pace, the Clash 98 makes more sense.
I wasn't as impressed by this effect before, but now I appreciate it a lot more. I feel like I can more confidently hit through the shot with the Clash 98 compared to the 100 Tour. At times it can give me a slightly surprising result (where the ball doesn't go where I intended it to after hitting the ball well), but it's not as drastic as with the Clash 100 racquets.
String setups
I tried the Clash 98 with three string setups:
Dyreex Cube 1.24 – a four-sided, spin-oriented string at 50 lbs
Yonex Poly Tour Rev 1.25 – a coated, softer poly at 48 lbs
Solinco Hyper-G Soft – 1.20 – a softer poly at 49 lbs
The Dyreex Cube held tension best, which meant that it lasted four 90-minute sessions before it had lost its spring and had to be replaced. It's the most control-oriented and likely stiffer string of the three I tried, but it deadened the response from the string bed enough for me to really enjoy the Clash (which I think can sometimes launch the ball a little bit, especially with softer strings).
I am a fan of Solinco Hyper-G Soft in general, but it felt a bit too lively for the already energetic string bed of the Clash 98.
Specs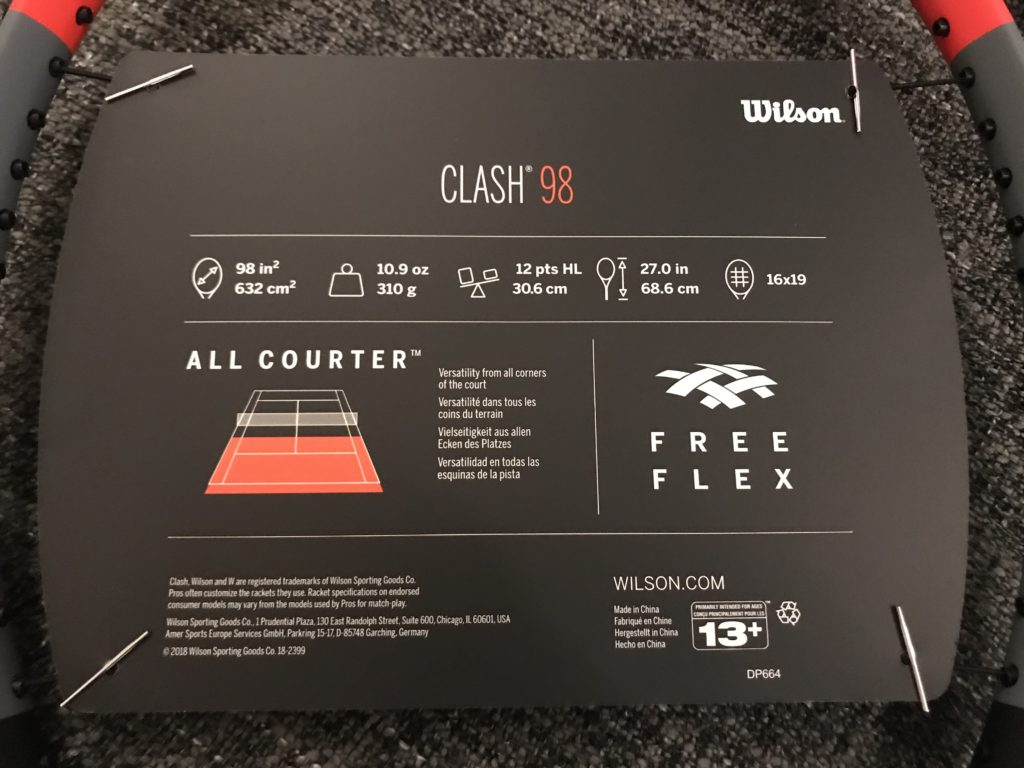 The Clash 98 weighs 310 grams unstrung and is in many ways similar in specs to the Tour 100, but with a smaller head size.
Despite having a slightly higher swing weight than the Pro, I still felt like it needed a bit of weight to get it closer to 330 to increase the stability and plow-through. The Stable Smart technology works well in that its remarkably stable for such a low stiffness, but the smaller head sizes makes it naturally less stable than the Tour.
Head Size:
98 in² / 632 cm²
Length:
27in / 68,5cm
Strung Weight:
326g / 11,5oz
Unstrung Weight:
310g/10,9oz
Balance:
31,5cm / 9 pts HL
Unstrung Balance:
30,6cm/12 pts HL
Swingweight:
326
Stiffness:
55
Beam Width:
24mm / 24mm / 24mm
Composition:
Graphite
Racket Colours:
Black/Grey/Red
Grip Type:
Wilson Pro Performance
String Pattern:
16 Mains / 19 Crosses
Mains skip: 7T,9T,7H,9H
Tension:
21-26kg / 48-58lb
My specs
My specs with overgrip, dampener, 2 grams of lead at 12 and Dyreex Cube Strings were:
335 grams, 31.4 cm balance and 332.5 SW.
I found this setup to be solid, relatively easy to swing and quite user-friendly for a player racquet.
You get ample spin from the open 16×19 string pattern, but it's tighter than the 100 which allows more confidence on flatter shots.
That's the reason I found the Clash 98 to work better for my game this time around.
Who is it for?
If you're into the pinpoint precision of HEAD Prestige's or old Pro Staffs, this racquet is not going to be for you. The Clash 98 is made for the modern game, with a grip shape that is more accommodating towards Semi-Western to Western grips, a launch angle that requires you to hit with more top spin and a lively feel that is not the most synonymous with control.
Still, the Clash 98 marries these elements together to create a spin-friendly racquet for players who want a mix of everything, but value control.
It's one of the most comfortable racquets on the market, so players with arm issues should give it a demo. The flexy feel is not for everyone, but if you like it – the Clash 98 is a winner.
Have you tried the Clash 98? What are your thoughts?