Tennis players always look for the latest and greatest equipment to give them an edge on the court. So what about Luxilon Eco Power?
Luxilon Eco Power
Luxilon, a leader in the tennis string industry, has created Luxilon Eco Power with sustainability in mind. The string is made with upcycled nylon, meaning it's created from waste material (a combination of 90% recycled PET bottles and other plastic packing materials) that would otherwise end up in landfills. This makes Eco Power an environmentally friendly option for players who want to reduce their carbon footprint.
Eco Power has a hexagonal shape with grippy edges for extra spin. The string is ranked as medium on the firmness scale and is not for players with a tennis elbow history, but for hard-hitting attackers.
You can compare it to strings like Solinco Hyper-G and HEAD Lynx Tour.
I have a few test sets of this string in Spain and will start testing it when I return from Malta. I talk about this string in my recent Mixed bag video because I also have loads of other gear to test besides this string.
But I am curious if a sustainability-themed string can meet playability demands. If you have tried Eco Power, please feel free to comment on your experiences below.
You can check out Luxilon Eco Power at Tennis Warehouse and Tennis Warehouse Europe. If you use my links to purchase anything, Tennisnerd gets a small commission at no extra cost to you. If you want discounts with specific brands or products, check out our Tennisnerd Deals page.
Upcoming reviews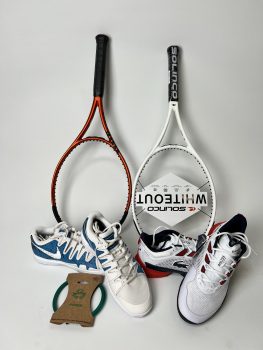 Besides Eco Power, I also have the following upcoming reviews:
Nike Vapor Tour 9.5 returns
Wilson Burn V5
Tecnifibre Razor Soft
Nike Vapor 11
Lacoste AG 23
Solinco Whiteout 18×20
Toroline Wasabi
Grapplesnake Neon Dust
Babolat Pure Drive 98
And probably more stuff that I forget at the moment.
Stay tuned! And make sure to subscribe to our YouTube channel for daily videos.