If you are a player looking for some extra spin on your shots, you should check out my top 3 spin strings. Spin-friendly polyester strings.
A word of warning before I dive into my top 3 spin strings, if you are suffering from elbow or wrist pain, these strings might be too stiff for you. You can then choose to use them in a hybrid setup with a softer string or go for a multifilament string. If you want recommendations for your game, check out my racquet and string consultation service.
Spin Strings = Medium-Stiff Polyester Strings
If you are looking for a spin-oriented string, your best bet is a medium-stiff polyester string. Some strings are shaped to generate extra bite on the ball; others use a coating to move on impact with the ball and then snap back into place.  There are also softer polyester strings that are lively and spin-friendly. We will get to them in another post.
Solinco Hyper-G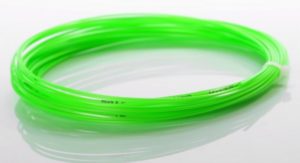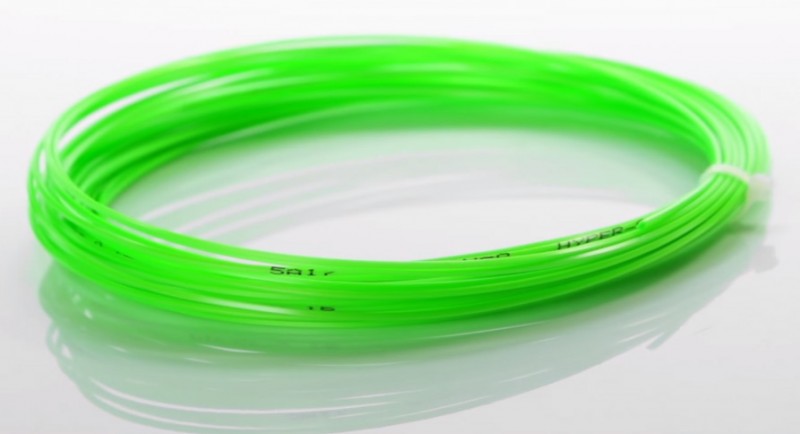 Solinco is one of my favorite brands of strings. They are relatively new to the market compared to brands like HEAD, Wilson, and Babolat, but they make great products.
Solinco Hyper-G really stood out for its color when it was released. That was a clever move. It made the string noticeable at a time when there were not many lively-colored strings on the market. It offers a medium-stiff and crisp response, but a nice feel in the string bed. The spin generation is not the highest on the market in terms of RPMs, but overall, it is one of the best in the category.
You can read and watch my Solinco Hyper-G string review here.
Buy Solinco Hyper-G from my buddy at All Things Tennis and get a 5% discount with the code TENNISNERD
You can also buy Solinco Hyper-G
from Amazon and a small commission goes to Tennisnerd.
Weiss Cannon Ultra Cable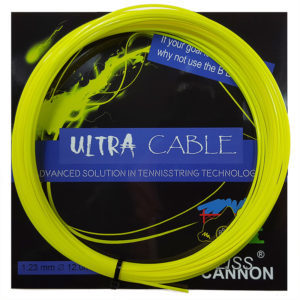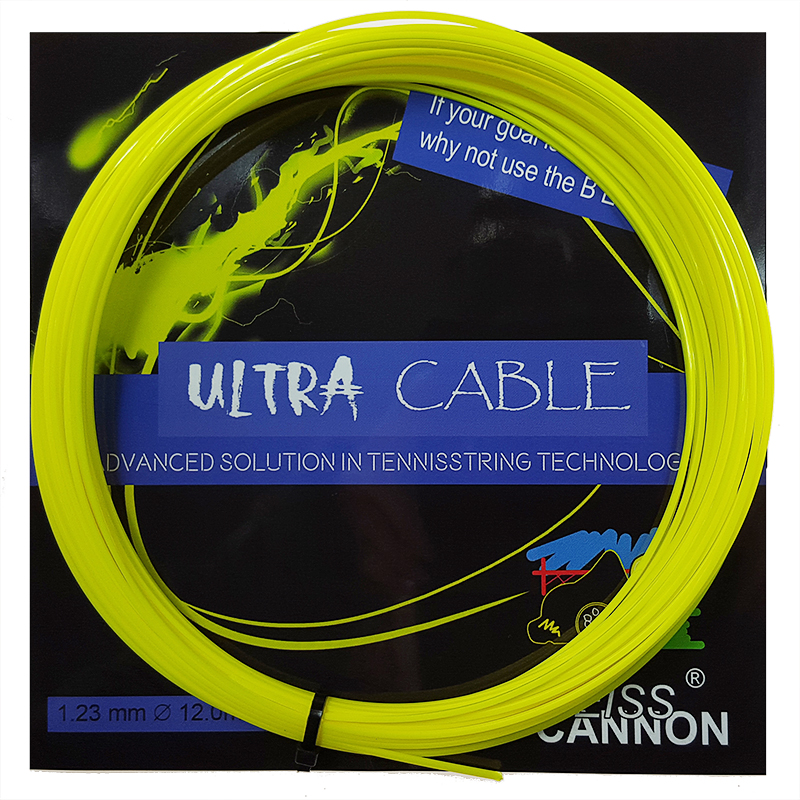 If you are all about spin, Weiss Cannon Ultra Cable brings it. It is one of the most spin-focused strings I have ever used. It has four edges and a slippery coating for the snapback, so the spin generation is off the charts. Yes, durability suffers a bit with this string, but if you are looking for massive rotations on your shots – look no further.
Weiss Cannon is a relatively unknown brand, but they make some quality strings. I also enjoy their Silver String, which is a budget version of Alu Power.
I realize I haven't reviewed Weiss Cannon Ultra Cable properly, so that goes on my to-do list. A truly fun string to hit with. Great if you want to make a tight string bed more exciting.
Buy Weiss Cannon Ultra Cable on Amazon.com
Mayami Big Spin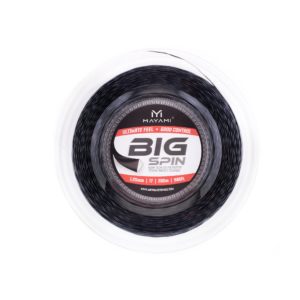 Some smaller brands are popping up on the increasingly competitive string market. Mayami has made a splash with their impressive strings Magic Twist and Tour Hex.  But the true spin monster in their line-up is the aptly named Mayami Big Spin. It is a "triangular contorted string" which really grabs the ball on impact.
One of the more regular Tennisnerd contributors, Ferenc Ferdinand Weisz, reviewed the string here.
Check out Mayami Big Spin and other strings on their official website.
Summary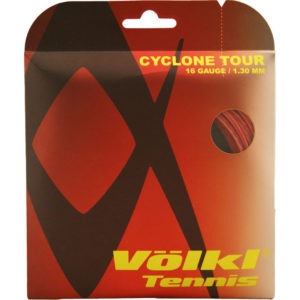 These are other spin strings I really like as well, but these three stand out to me. Volkl makes some really good spin-friendly strings like Cyclone
and V-Square
. I would also mention Tourna Big Hitter Black 7
. And if you like options from bigger brands there are Wilson Revolve Spin
, Babolat RPM Blast Rough, and HEAD Lynx Edge
. So the string market is really packed with options for spin-doctors. Please remember though that the most effective way to generate spin is with the right technique!
What is your favorite spin string?