Can Felix Auger-Aliassime win the US Open 2020? After watching his last two matches it looks entirely possible.
I think this question might belong in the "too much, too soon" department but you can't help but be swept away by FAA and his dominant wins over Murray and Moutet. He seems to have found a new level of aggression and pace that his opponents have not been ready for. His forehand is compact and efficient as a killer weapon and he moves like a cat on the prowl. Many players are hyped when they arrive on the scene, FAA might be the guy who deserves it the most. But can Felix Auger-Aliassime win the US Open?
His next match is the first real test. If he beats Thiem, then I think the answer is yes, although as we know, Djokovic seems unbeatable.
Let's have a look at the second week of the US Open. If you're interested in what racquet and strings Felix Auger-Aliassime uses, click here. There are also some court level highlights from when I watched him at the Mercedes Cup on my YouTube channel.
US Open Second Week
It's starting to get really interesting at the US Open 2020, but this part of the draw is still pretty straightforward. If I would try to make some predictions at the top part of the draw it would be that Zverev plays Djokovic in the semi-final (not a very gutsy prediction, I know).
Let's look at the second half of the draw instead.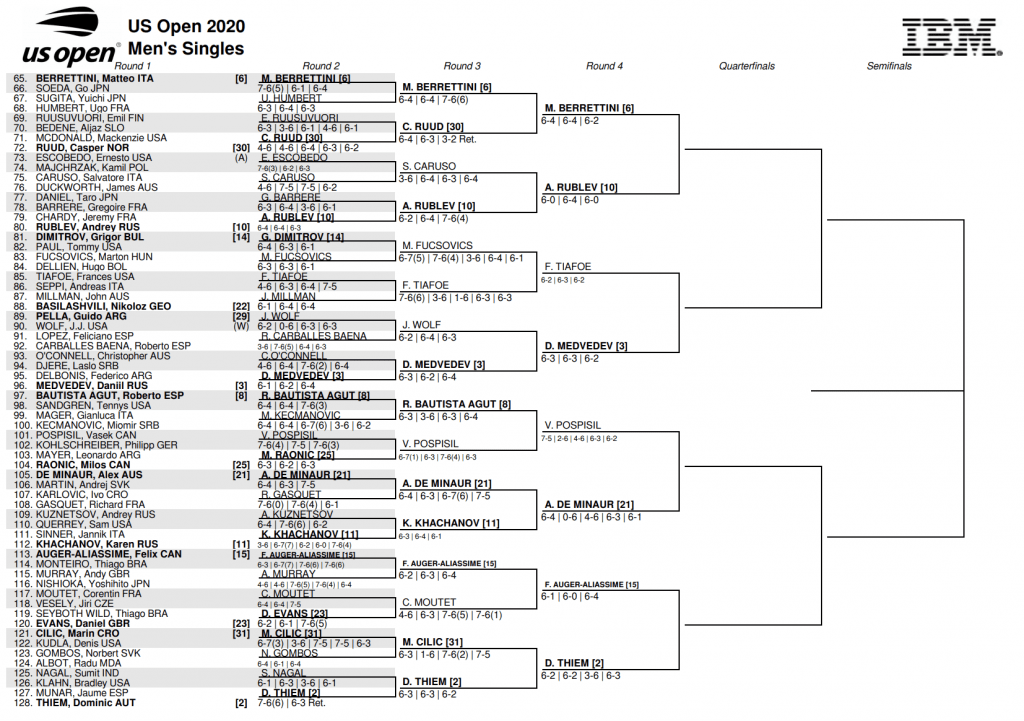 There are several "popcorn" matches here. FAA vs Thiem is a blockbuster. I think Thiem will prevail there in four.
Berrettini vs Rublev is a competition of who can hit the hardest. The way Rublev has been playing makes me feel he can take that one in five sets.
Can Tiafoe outfox Medvedev? I think that will be tough. Medvedev seems to be in great form and as we know, he loves New York (crowds or no crowds).
I think De Minaur outruns Pospisil in the end, but it will be a fun match with a lot of aggression and netplay from the Canadian and many passing shots by the Aussie.
In the end, I see Thiem vs Medvedev in the semi-finals. That is a very tough one to predict, but I stand by my prediction of Djokovic vs Thiem in the US Open 2020 final.
What are your predictions for this stage of the US Open?