The Ymer brothers have had their best tennis week of all time so far. They are both in ATP semi-finals, Mikael in Montpellier and Elias in Pune.
The Ymer brothers, Mikael and Elias Ymer, are Sweden's best tennis players since Robin Soderling retired in 2015 after struggles with mononucelosis and depression. Older brother Elias has been just outside the top 100 at best, while Mikael is currently ranked at 83 ATP.
Sweden has a strong history in tennis with players like Borg, Edberg, Norman, Wilander, Gustafsson, Johansson and Soderling to name a few, but it's been tougher to produce talent since the glory days of the 80s and 90s. Swedish tennis fans are now happy to see the Ymer's making strides on the men's side, with Rebecca Peterson already having won two WTA titles and been inside the top 100 for a while.
The Ymer Brothers and their racquets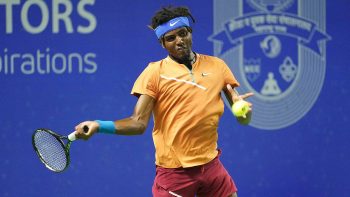 The interesting nerdy part of the Ymer story is that they have relatively recently both changed racquets. Elias has gone from a Wilson H22 pro stock (same mold as the Wilson Blade Pro) to a Babolat Pure Aero VS. The VS has become quite popular among top players with Alcaraz and Rune switching to it recently (Auger-Aliassime uses an older version of the racquet).
Mikael, on the other hand, has gone from his Babolat Pure Drive to a Wilson Blade 98 V7. As far as I've heard he is testing both the 16×19 and the 18×20 pattern. These are both painted retail racquets, so no pro stock stuff.
The racquet changes are definitely not the whole story about their recent success, but it can make a difference. Sometimes it's not physical, but just a mental thing. You feel better (whether it's imagined or not) with one racquet, so you play better.
Maybe the Ymer's can revitalize Swedish tennis with some more success? Time will tell!