I was invited by Desai Devang and Simon Bushell to talk about tennis gear and go through the 1997 French Open final on their Open Era podcast.
I really enjoyed the conversation on the Open Era podcast, which lasted for about an hour. We went through the 1997 French Open final between Gustavo Kuerten and Sergi Bruguera and discussed their different gear. One of the key things about that match was that Kuerten used Luxilon Big Banger Alu Power
strings. At the time he was one of the few players using polyester strings and it was clear that the technology gave him an advantage in the match. He could hit out more freely while Bruguera, who naturally plays with even more topspin than Kuerten, struggled with his full bed of multifilament strings in his Yonex RD7.
If you want to listen to me talking on the Open Era Podcast, the episode can be found on this link or you can play it in the embedded player below.
Listen to "52. The Evolution of Racquet and String Technology" on Spreaker.
These days polyester strings are the norm on the tour and among most club players. They are stiffer, will move, and then snap back into place for more spin potential and offer better durability than natural gut or multifilament strings. Poly strings are stiffer and can cause arm issues for some players, but used correctly they can give big-hitting players a lot more control than softer strings. Especially on clay courts, where there are more wear and tear on the balls and the string beds than on hard courts.
Luxilon Alu Power Changed the Game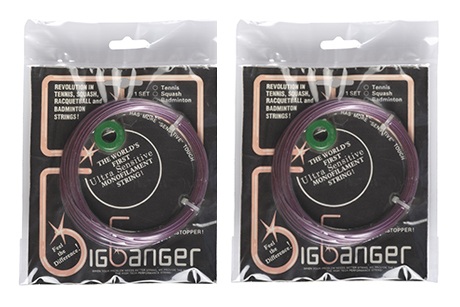 So the Luxilon Alu Power Big Banger string really changed the game and brought in a new era of polyester strings. Today there are countless brands, types, gauges, colors, and shapes which gives the player a sometimes overwhelming choice of what string and tension to use in their racquet. Choice can be good in moderation, but there is literally a jungle out there right now. If you need help choosing the right racquet, string, and tension for your game, check out my popular racquet consultation service.
You can also read more about tennis strings in the posts below.
Comfort strings
Control strings
Spin strings
Hybrid strings