In light of my recent racquets for beginners post and video, I wanted to defend old-school racquets. Can you use a classical racquet today?
I've been a fan of older racquets for a long time. My fascination with how different racquets affects your tennis is one of the reasons I started Tennisnerd many years ago. But tennis is getting faster and faster as a sport and it's becoming increasingly difficult on the higher levels of tennis to use low-powered racquets with small head sizes. You don't have enough power or margin for error to stay competitive. This is true for most players on a higher level, but that doesn't mean old-school racquets won't work on any level below the pro tour. So my answer to the question: "can you use a classical racquet today?" is an overwhelming YES!
I've created a video comparing the type of ball you're hitting with a classical racquet, such as my favorite the HEAD Pro Tour 2.0, the Wilson Blade 98 V8 or the new HEAD prototype tweener style racquet. Just hitting a few shots, will give you a completely different sensation and experience of power/control/spin/feel.
What is the difference?
If we compare these three racquets, most players will instantly notice a vast difference in the type of ball each racquet produces and how it affects your swing, your confidence, and how you play tennis.
Starting with the classical racquet, the HEAD Pro Tour 2.0 (still for sale at Tennis Warehouse and still a bestseller, 30 years after its initial release). Playing with the HEAD Pro Tour, you will know exactly where the ball goes at all times. Playing well is all up to you, nothing comes for free, but the feeling of ultimate control is quite addictive. That's why I can't let go of this beautiful racquet.
The Wilson Blade 98 V8 16×19 is still a very controlled racquet compared to most "tweeners", but it does give you a bigger sweet spot, a little more pace and depth at the cost of a little less control compared to the HEAD Pro Tour. It lands in the middle of the three frames and that's a reason it's seen as a versatile frame that many players like.
At the other end of the spectrum (there are more powerful racquets, of course, but this is the most common type of modern racquet on the market) there is the HEAD Prototype tweener that will be HEAD's new "power line" of racquets. I have tested the MP model and it gives me a high launch angle and ball trajectory, good depth despite having to hit the ball particularly hard, but on the other hand, it's a little "wild" and difficult to control.
Summary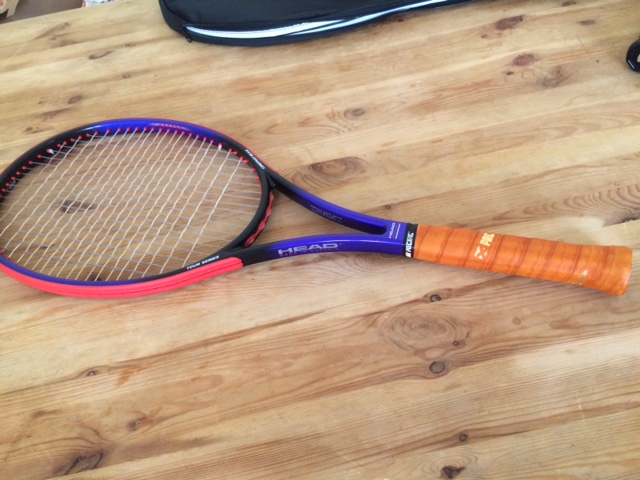 What racquet will work best for you? It depends on many variables. What's your playing style? Do you have any arm problems? What is your playing level? And most of all, what do you want from your racquet?
If you want help to achieve good depth on your shots as well as height over the net, the tweener style power racquet is the way to go. If you want a little bit of help, but can still produce good power/depth and play tennis on an intermediate to advanced level, the Blade 98 might be a good option for you.
The smallest target group of players is the ones wanting to use a racquet like the HEAD Pro Tour. It requires excellent footwork, a good swing speed, and the ability to create pace and depth with your technique. It's a demanding racquet and most players are probably doing themselves a disservice using such a difficult frame. But on the other hand, maybe you're not playing to maximize your competitive results, maybe you just like hitting the ball, getting good exercise, and prioritize the sensation of hitting a tennis ball, then a racquet like the HEAD Pro Tour might still work for you.
That's why it's good to get a good understanding of who you are as a player and what kind of racquet you enjoy the most. Remember that there are all kinds of racquets in between too.
Where are you on the spectrum of tennis racquets? What kind of racquet do you enjoy and what do you play your best tennis with?