It's the last day of the year and time to get excited about the new one. Let's look at some new racquets coming in 2022.
I honestly and obviously don't know all the new racquets coming in 2022, but I have some information and some educated guesses. Let's start with saying that the new Yonex Ezones 2022 and the new HEAD Boom racquets will be released in January.
I've heard that the new Wilson Clash racquets (Clash 2.0) will be released in early 2022. But I have yet to see any pics or hear anything about demo possibilities from Wilson. As soon as I know more I will update my patrons first and then also Tennisnerd and my YouTube channel of course.
What else can we expect?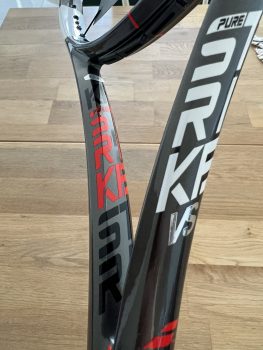 The new Dunlop SX racquets, I've already written about. The Pure Strike VS is under review. Does the new Pure Strike VS mean that there will new Pure Strikes in 2022? Babolat usually releases their racquets in 3-year cycles and the gen 3 of the Pure Strike came out in 2019, so maybe we can expect new Strikes in 2022. I guess they would like Dominic Thiem, who is their key ambassador, to be back in full flow before they release new racquets. There are also issues with shortages and factory delays worldwide due to the pandemic, so we can probably expect further delays for racquet launches.
What about the Pure Aero? Isn't it due an update? Well, they released the Rafa cosmetic in 2021, so not sure they have a new technology up their sleeves just yet. It's definitely overdue since the current Pure Aero was released in 2018.
HEAD is the most active company when it comes to racquet releases. Can we expect more than Speed and Boom in 2022? Gravity 2.0? The Gravity was updated in 2021, but only cosmetically. The Extremes might get the new Auxetic tech. Radicals came out in 2021, so a bit too soon. Best guess is Speed, Boom and Extremes then.
Yonex will likely not bring out any more lines than the Ezones for 2021. Unless they have something new cooking in the kitchen. But they seem to focus more on simplicity with fewer choices, so I don't think so.
What about Wilson Ultras? Time for a refresh? Possibly.
I know Tecnifibre has something planned soon that I will soon reveal on Patreon/YouTube. Prince will release a Twistpower X100 Tour that I'm curious about and their other Textreme Tour racquets are also due an update.
Is there a racquet you would like to see in 2022?
What would be your dream racquet release for 2022? Do you have a racquet that you would love to see released? Let me know in the comments below.
And most importantly, Happy New Year! Exciting stuff to come, I'm sure.