Wilson Tennis has become the king of limited edition paint jobs. Here are the new Wilson Clash Silver racquets.
I've previously written about Wilson Britto x racquets, Wilson Minions' racquets for kids and Wilson Roland Garros ltd edition racquets, and the popular Wilson Custom program, which I will review myself in a near future. Now the time has come to a new fresh paint job for the bestselling Clash line. Here are the Wilson Clash Silver racquets.
Three Wilson Clash Silver racquets
For now, there are three racquets to choose from in the Clash silver line-up.
You can buy the Wilson Clash silver at Wilson.com or Tennis Warehouse, Tennis Warehouse Europe, or Tennis Only (AUS). Any purchase sends a small commission to Tennisnerd, for which I am eternally grateful.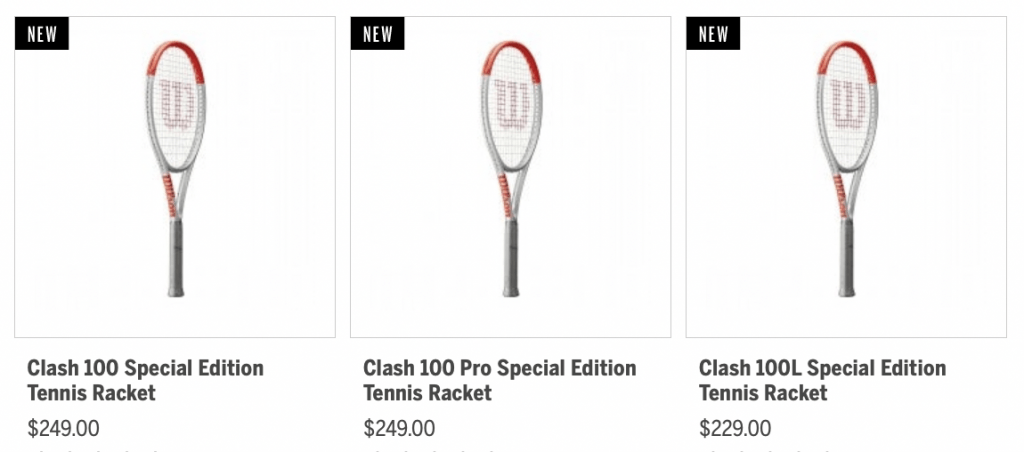 These are likely the three most popular Clash racquets, so it makes sense, but I would personally like to see the Clash 98 in this new fresh-looking paint job. Maybe it will come at a later date.
Besides the new silver paint, the racquets have the same specs, so if you already have a Clash 100 and want to mix it up looks-wise, this is an interesting option as the price is the same as the regular paint. It's a metallic silver paint that is rare to see these days (it was more popular at the time of vintage racquets). I think it's a great idea for Wilson to introduce new paint jobs because their current line of racquets (click the link to watch my post about Wilson tennis racquets) is pretty spartan in its design theme. Mainly black with accent colors. It makes the work well together, but it can be hard to tell apart the Wilson Burn 100 V4 and the Clash 100 for example.
Which one of the current Wilson paint jobs are you keen on? The Britto line, the reverse paint jobs, the Minions, the Roland Garros, the Silver or would you design it yourself in the Wilson custom program? I am going to give it a try now and see what I end up with!