I think it's time we take a look at the racquets of the top 10 ATP players and what racquets they use. I compiled a video below.
I have done separate videos about almost all these players, but I think this video titled racquets of the top 10 ATP players will condense the information in a better way.
As you know, pro players rarely use the racquet they endorse. Most common is that they use their old frames, just painted to look like the latest version by their sponsor. The reason is simple: to sell more racquets. Nowadays, it's pretty widely known that this happens and manufacturers are forced to write "endorses" and other disclaimer texts in their marketing. Still, if you're not in the know, it can be misleading.
I hope the video below clears up some confusion around what the top 10 ATP players use. After that, it might be time for a video about the top 10 WTA.
What racquets do the top 10 use?
The video deals with the top 10 at the time of writing (the week of April 11). You can see the rankings below.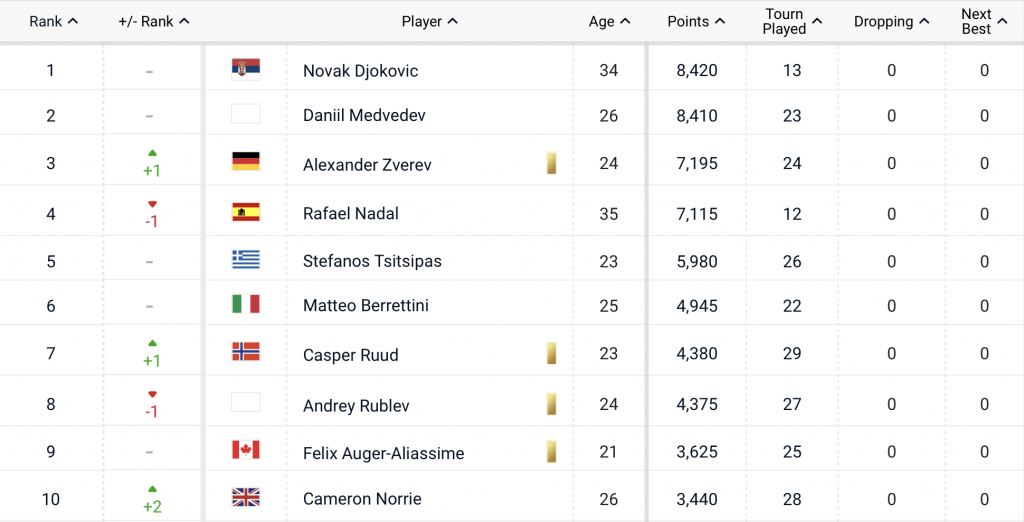 What does the gold icon next to their name mean? That is the TopCourt icon, meaning that these players have video courses on the pro player platform TopCourt. I use it from time to time and you can get a free 14-day trial on the platform using my TopCourt link.
You can find individual articles about every player below.
If I got something or missed certain specs, let me know in the comments or message me on Instagram. If you want to get more content like this and support Tennisnerd, join my Patreon.
Is there any racquet spec among the top 10 that might work for a recreational player on a intermediate-advanced level?
In my opinion, many players do the mistake (check out the 8 most common racquet mistakes here) to play with a racquet that is too difficult for them. In most pro player cases, the racquets simply have a too high swing weight, which will make them difficult to swing and control.
The two racquets here that I think could work for advanced rec players is Cameron Norrie and Felix Auger-Aliassime's racquet, while Tsitsipas frame is heavy but not impossible. Still, I would argue that one of the best control racquets on the market, or the best spin and control racquets or the best 100 sq inch racquets, will likely be even better for your game.