Donnay is aiming to be one of the arm-friendliest racquet companies on the market and with each update to their lines, the RA is going down. Here is a Pure Drive-inspired racquet with a stiffness in the high 50s. How does it play? Read this Donnay Formula 100 Hexacore Racquet Review to find out.
I have been reviewing a couple of Donnay frames recently and what is obvious with their line of racquets is that they are lowering the stiffness rating with every single generation. The Formula racquet, which is basically a Pure Drive imitation with a thick beam, has gone from an RA rating of 69 in 2012 to 57(!) with the Hexacore edition. There are not many racquets on today's market with a stiffness under 60. So I was happy to do this Donnay Formula 100 Hexacore racquet review.
The risk with reducing the stiffness so much is that the racquet becomes anemic and doesn't give the player any extra power. Somehow that is not the case with the Formula 100 Hexacore. It plays more like a stiffness around 62, which lands in Babolat Soft Drive territory (one of my fave frames as you might remember) and I feel that the racquet offers me really good control for a 100 sq inch racquet. The power level is not that of a Pure Aero, but for me, that is a good thing.
Donnay Formula 100 Hexacore Racquet Review – Specs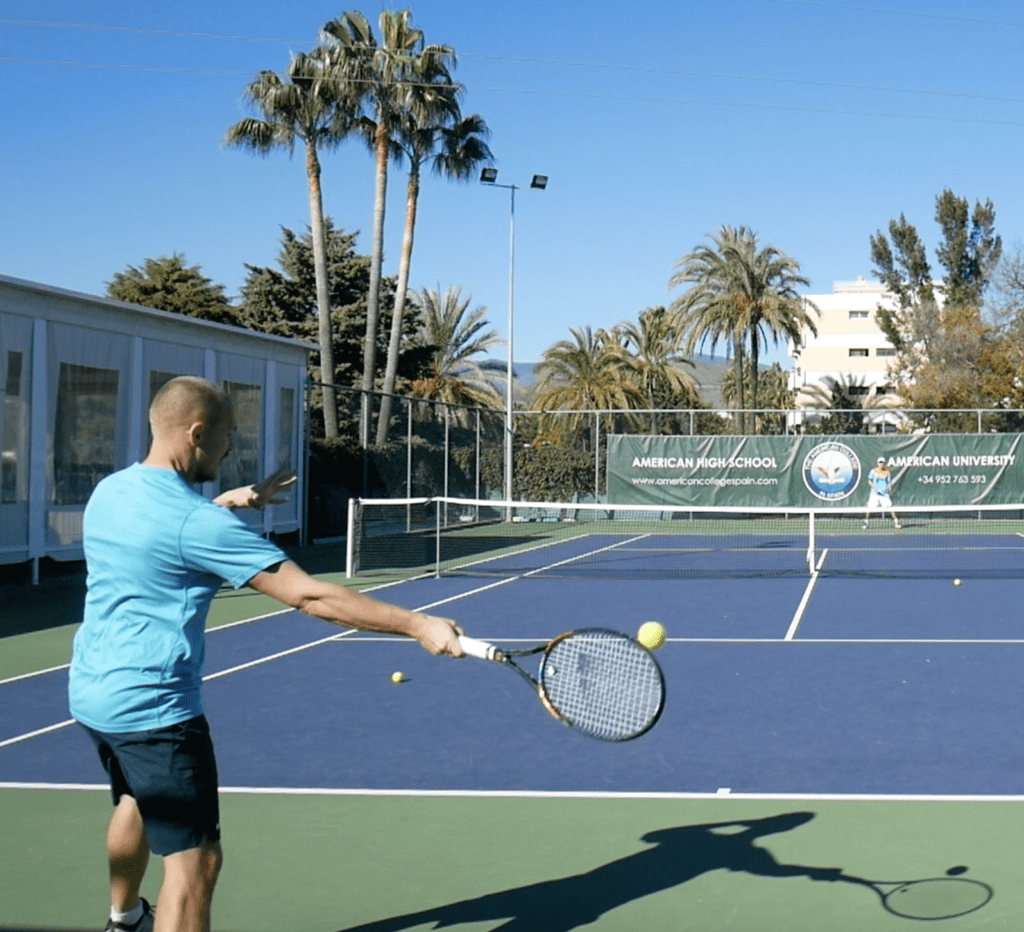 Head size: 100sq"
Unstrung Weight: 300g
Unstrung Balance: 320mm
Strung Weight: 314.6g
Strung Balance: 3 Points HL
Strung Swing Wt: 320
String Pattern: 16×19
Stiffness (RDC): 57
Grip: Cushion
Rec. String Tension: 45lbs (+/- 10)
Beam Width: 20/27/24mm
Length: 27
Technology: Hexa XeneCore™
The racquet plays quite well in stock form, but you can order a heavier (+10 grams) butt cap to make it more head light and increase the weight a bit. I added two grams of lead tape at 12 o' clock and it played quite stable and with a bit more power. The racquet came to me strung with MSV Focus Hex Ultra, a poly that I really enjoyed when I reviewed it last year. Donnay recommends to go low on the tension for their racquets, but I went with my standard of 23 kg and it played just fine.
What I like about this racquet is that since it does not have the same power of the Pure Drive, but is very forgiving and easy to swing, is that I could hit flatter with more control than I get from Babolat's power racquets. I think it is a shame that these racquets seem to stay in the high 60s with their stiffness ratings, the racquet gets a lot more controlled in a lower 60, high 50s. I really appreciate this and I think a lot of players would deem that an easy trade-off for all the free power. More comfort and control also in 100 sq inch frames, please!
Donnay Formula 100 Hexacore Racquet Review – Performance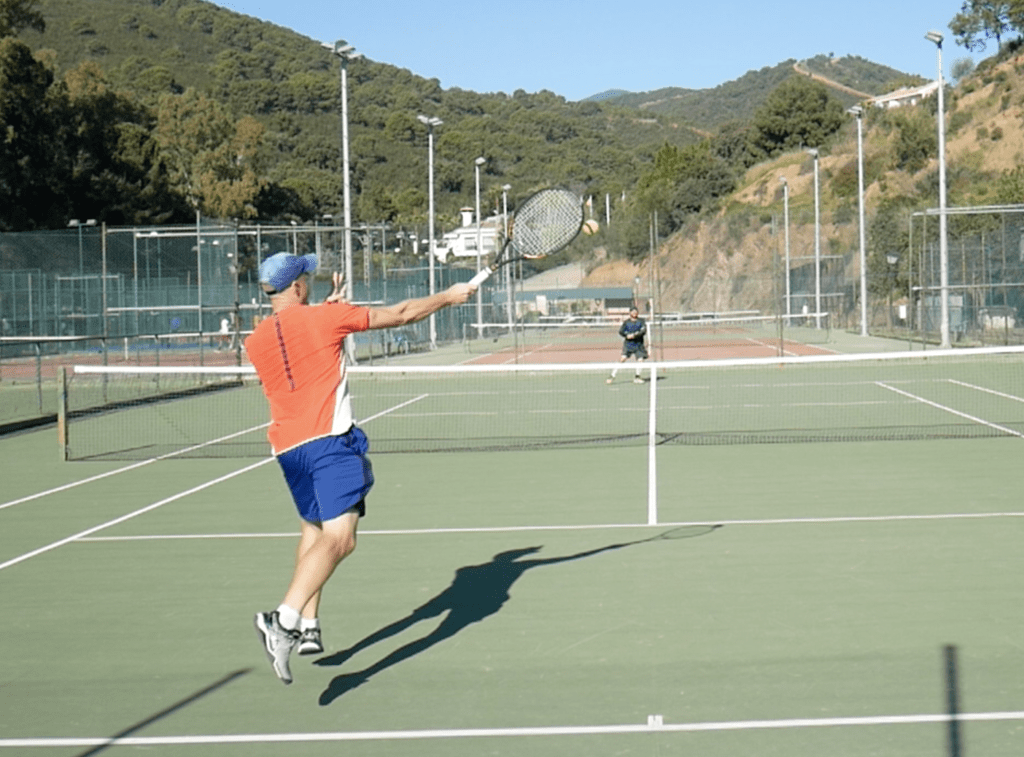 Like I wrote above, the Donnay Formula 100 Hexacore is not packed with power such as the Pure Drive. It was noticeable especially on the serve where the Pure Drive usually shines. The racquet is great for spin, it is maneuverable and easy to use, but it is not a serve weapon. So no rockets…
Groundstrokes are a joy to hit with the Donnay Formula 100 however. You get a good blend of control, spin, and some power and the string bed feels responsive, meaning you know where you hit the shot. I also enjoyed the control aspect of this racquet on volleys. It was relatively easy to caress a drop volley for a winner with this frame. Really offers a good balance on all shots and not bad on slice either. It is not a knife by any means, but you could hit some low, skidding slices with this stick with the correct preparation.
Donnay writes on their website: "Similar in specs Babolat Pure Drive and Aero Pro in head size and shape, stationary weight, balance and beam width in specifications, but the real difference is the plush feeling of wood at the core." I know what they are trying to do with this marketing, but I still feel that the power level and launch angle is higher with the Pure Drive/Aero. So if you crave extra power and spin, check out the new Pure Aero or HEAD Extreme Pro – click the links for my reviews of those racquets.
Donnay Formula 100 Hexacore Racquet Review – Summary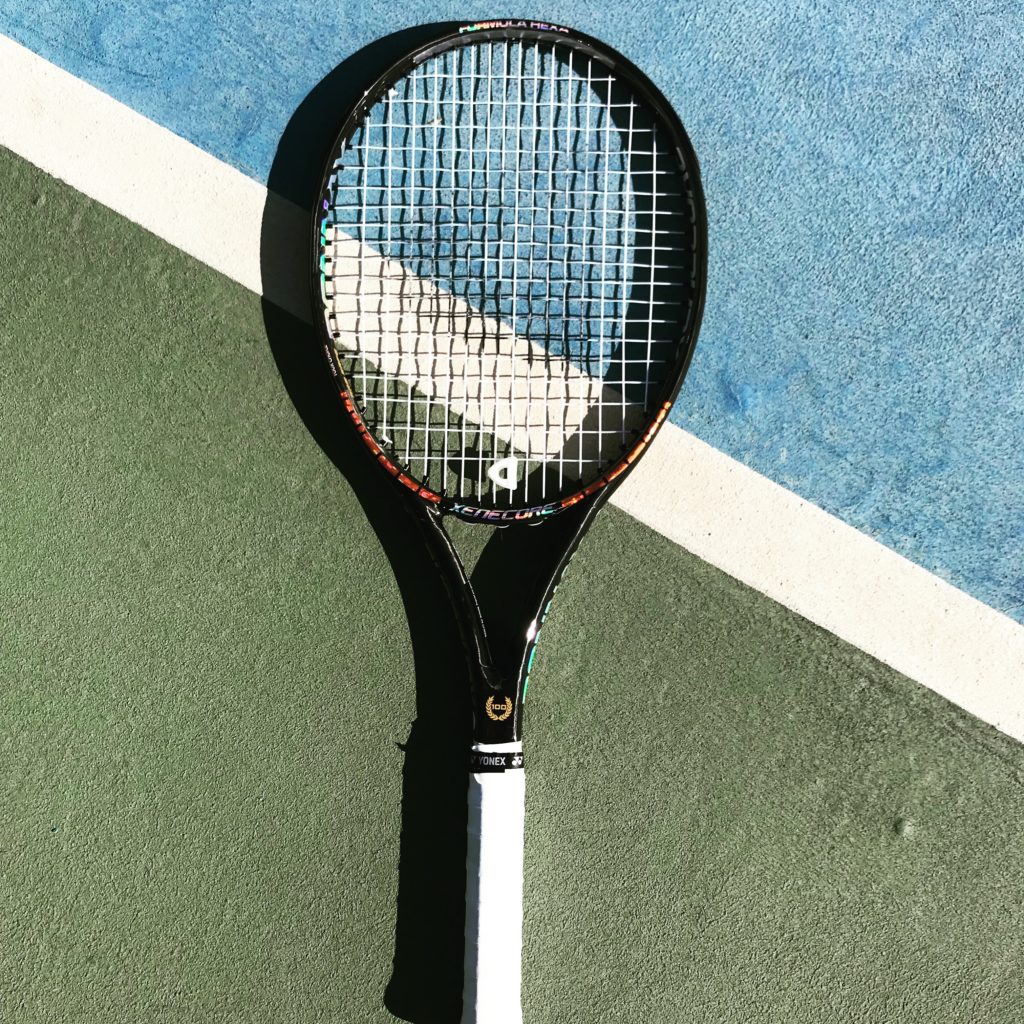 I was really surprisingly impressed with the Donnay Formula 100 Hexacore. I have tested quite a few Donnay sticks by now and although I do appreciate their focus on arm-friendliness, sometimes the string bed gets too mushy and it is hard to generate enough power to be effective on the court. The Donnay Formula 100 Hexacore is my favorite Donnay racquet so far. It just offers a really nice blend of control, spin and power and I would not hesitate to take the racquet into a tournament. It reminds me of my Soft Drives and that is high praise indeed.
So if you are looking for an arm-friendly, forgiving, 100 sq inch racquet that still offers some power and spin – check this one out. Comparing to the recently reviewed Wilson Clash, I would say this one has a slightly lower launch angle, but both are very close when it comes to comfort and power levels. Really happy to see at least two good, arm-friendly (yet not anemic) modern racquets on the market! Well done, Donnay.
Donnay Formula 100 Hexacore Racquet Review – Video
PS. One issue I have found with some Donnay racquets is that the general quality of the products seems to be lacking in some respects. I have heard of players who have received racquets with loose butt caps for example and the general feeling is that there is something to be desired when it comes to manufacturing and quality control. This was not the case with my Formula 100 Hexacore, but just good to keep in mind if you are in the hunt for Donnay racquets. DS.