Today we have a guest post from Colan Surratt about the pains of racquet-holism. I think many of us can relate to Colan's journey.
Hi all, my name is Colan. I'm a tennis player and coach from the US, and I have racquet-holism. I love trying different racquets and am chronically switching frames. I've used players' sticks, tweeters, and everything in between.
I grew up playing with Head Liquidmetal Radicals and Babolat Pure Storms. In my late teens, I switched to the Pure Storm Tour and used those racquets for six years in total. The later iterations (Pure Control and Strike VS) just weren't the same for me. Since then, I haven't found anything that feels quite the same. I crave the old-school crispness, control, and stability, but the effortless power and spin offered by some of the newer frames on the market is just so enticing.
Modern vs Old-school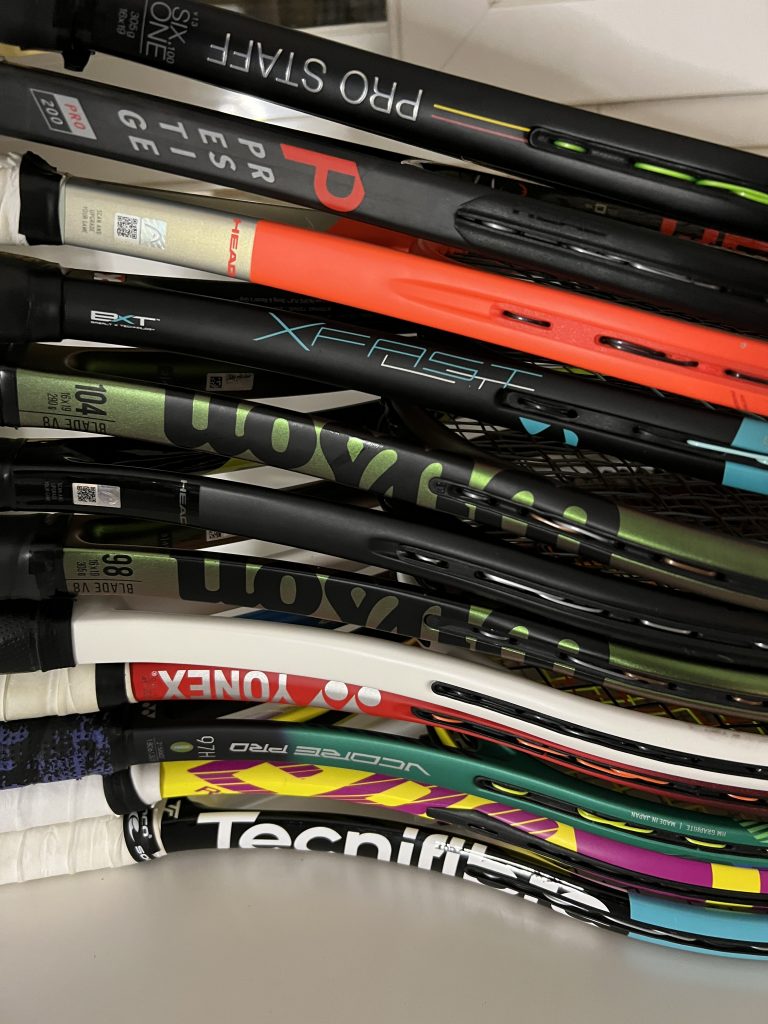 What I've found using more "modern player's" racquets is that something is always off: I sail random rally balls, get too much or not enough spin on serve, lack plow on my slice backhand, or my wrist and thumb start aching. Sometimes I just don't like how it feels. So, I've wound up on this endless quest for the perfect racquet.
Over the last couple of years, I've used the Head Speed Pro, Head Radical Pro, Wilson Blade Pro, Wilson Blade 98 pro stocks, Wilson Clash 98, Yonex VCore Pro HD, Dunlop CX 200 Tour, and a 62 RA prototype of the Solinco Whiteout 98. This list doesn't include all of the other frames I tested over shorter periods. I play fine with everything, but I'm always finding myself searching for more. It's a vicious cycle of love, pain, and eventual goodbyes for every racquet in my bag.
Lately, I ended up with one of the 2022 Yonex EZone 98s. I slapped a trusty leather grip on it and went to work on the demo. It's muted but not dead. Power on tap when you want it – though not constantly like a pure drive – and a spin monster. Comfort is good, and plow-through is better than the 317 swing weight would suggest. Do I love the feel as I do with a Blade pro or CX200 Tour? No. Is it as rewarding as playing my best tennis with a PT57A or H22? No.
So, the process isn't as enjoyable as using the heavier, thinner, more old-school frames. But damn, it's easy to hit the ball well day in and day out. My game is more effective when I'm feeling sluggish or am without rhythm. I don't get as tired throughout a match. And, I generally just hit the ball bigger and better from all areas of the court. This leads to better results. I'm getting similar vibes from the v8 blade – I finally like the feel AND it gets along with my wrist injuries.
Summary
Through this whole experience, I've figured out that I can play solid tennis with just about any racquet, especially specialized to specs that you like. But, I will pick frames that I play the best with rather than one that makes the process the most enjoyable. I still keep my blade pros and other fun frames in the office, but the Ezone 98 will be my favorite stick for the foreseeable future – at least until the honeymoon wears off and something "better" comes along 😉
Thanks Colan for your thoughts on racquet-holism. I've suffered from it for most of my adult tennis life. This has led to Tennisnerd, but for the most part it hasn't been useful for my tennis improvement. I have had a lot of fun (and frustration) testing a lot of racquets though. Now I'm keen to hear about your racquet journeys. Do you have similar stories? Are you still searching? And if not, where did you end up?