Look at what's out! A Wilson Blade 100 V7. It's a Tennis Warehouse exclusive and something many players have been asking for.
The Wilson Blade 98 is a true player frame. Quite demanding, nice feel, smallish sweet spot, great control. But what happens if you add two sq inches to the frame to increase the size of the sweet spot and the forgiveness of the racquet? Well, you have to ask Tennis Warehouse, because based on popular demand, they have requested this racquet as a special from Wilson Tennis! You can check the Wilson Blade 100 V7 out on Tennis Warehouse.
The Wilson Blade 100 intrigues me. The Blade 98 is excellent, but I find it a bit too much for me at times. The 100 could be a happy medium where a player frame meets a "tweener" and ends up finding a good balance.
100 sq inch racquet most often have higher stiffness ratings and thicker beams, but that's not the case with the Blade 100.
Wilson Blade 100 V7 Specs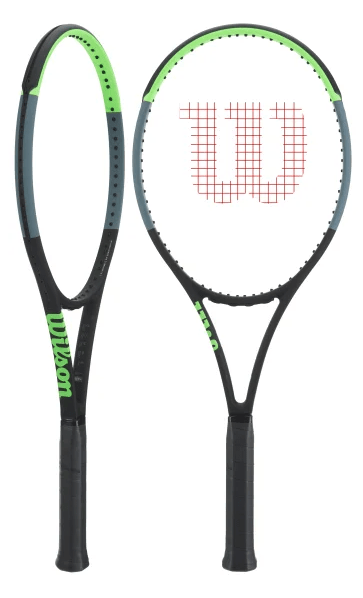 Head Size:100 in / 645.16 cm
Length:27in / 68.58cm
Strung Weight:11.2oz / 318g
Balance:13.18in / 33.48cm / 3 pts HL
Swingweight:329
Stiffness:62
Beam Width:22.5mm / 22.5mm / 22.5mm
Composition:Braided Graphite/Basalt
Power Level:Low-Medium
Stroke Style:Medium-Full
Swing Speed:Medium-Fast
Racquet Colors:Black/Green/Silver
Grip Type:Wilson Pro Performance
String Pattern:
16 Mains / 19 Crosses
Mains skip: 8T,8H
One Piece
No Shared Holes
String Tension:50-60 pounds
The swing weight is still pretty beefy to make sure the frame remains stable and powerful despite the thinner beam and lower flex. Some players will enjoy that (I'm one of those players), while others might feel it's a bit too much. Compared to racquets like the HEAD Instinct MP and the Yonex Ezone 98, the swing weight of this racquet is significantly higher, more similar to the ProKennex Ki Q+5 300.
Looking at the specs, I think this is yet another 100 sq inch racquet offering good arm comfort for players with a tendency towards tennis elbow, sore wrists, or a bad shoulder. Other 100 sq inch comfort frames:
Wilson Clash
Prince Phantom
ProKennex
Angell K7 Cyan
HEAD Gravity
I really think this is a step in the right direction. Forgiveness, some power, but maintaining the comfortable and plusher feel.
Wilson Blade 100 V7 Review?
Will I review this frame? I hope so. Since it's a Tennis Warehouse exclusive, it might not be easy for me to get my hands on though. I live in Europe and get most of my demo racquets from Tennis Warehouse Europe. Sadly, they don't stock this racquet at the moment and I need to resort to the Wilson Blade 100L, which is not quite the same.
Let's hope that the Blade 100 becomes a big success and becomes available also outside the U.S…
I'm also keen to see if this racquet model will be included in the Wilson Blade V8 🙂
If you get your hands on a Wilson Blade 100 V7 – please let me know how it plays below.