This is one of the most popular racquets by advanced players on the club level. Here is my Wilson Pro Staff 97 Racquet Review.
If you go to any club in any country, you will likely see a few players using the Wilson Pro Staff 97. Either the all-black version, which I review here or the one with the white on the sides. The racquet I review (a very late review that I never got around to) is the Pro Staff 97 without countervail. The so-called CV all-black version
looks very similar to this frame, but has red text on it with the word "countervail".
Countervail is a dampening material that is supposed to limit shock and harmful vibrations to the arm. I was never a huge fan of this tech as I thought it dampened the racquets too much, so now I am looking forward to the new Pro Staff 97 (which should be released during summer) with the same tech as in the Wilson Blade 98 V7 (FeelFlex).
But let's first dive into this Wilson Pro Staff 97 racquet review.
Tech and Specs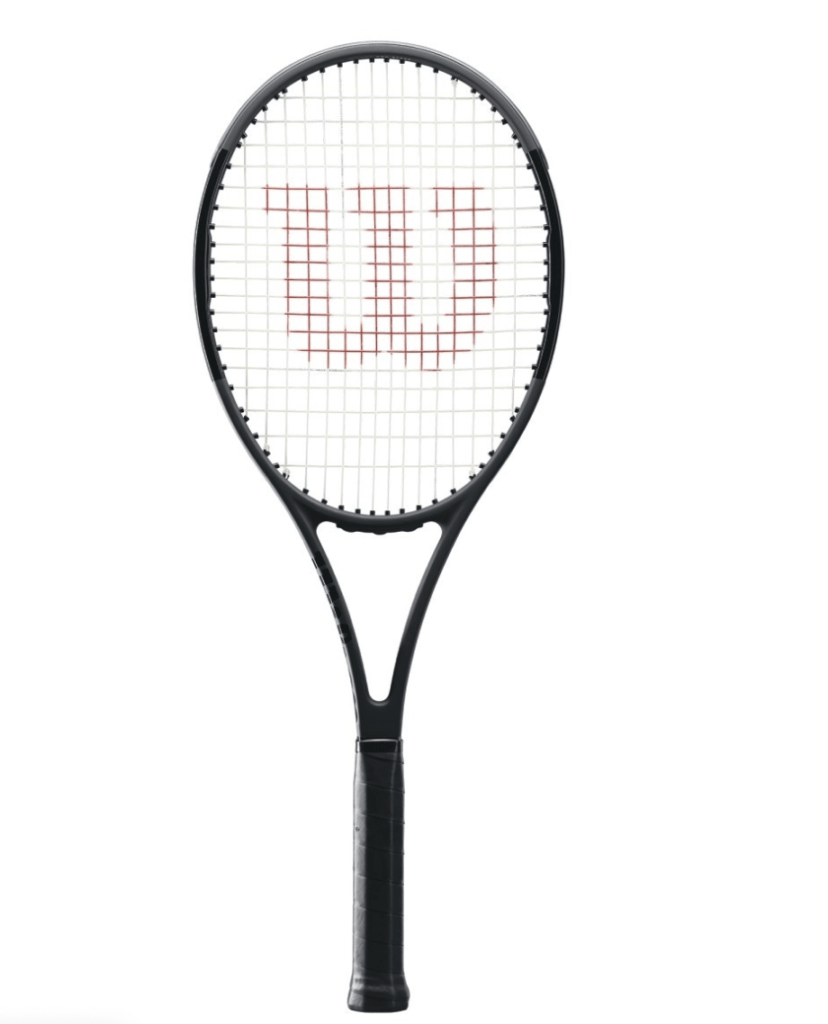 The Wilson Pro Staff 97 is hugely popular due to a few factors:
Roger Federer uses the heavier RF97 Autograph version. I have reviewed this racquet in various paint jobs such as the Laver Cup edition and a customized Ring&Roll edition.
It looks great in its all-black paint. Most players seem to love minimalistic blacked-out paint jobs.
It offers a nice blend between power from high stiffness and control from a smaller head size (97 sq inches).
The unstrung specs of the Pro Staff 97 are:
21.5 mm beam
97 sq inch head size
16×19 string pattern
66 RA strung stiffness
standard 27 in length
315g unstrung weight (11.1 ounces)
31 cm balance (10 pts HL)
I strung it up with Luxilon Alu Power
1.25 gauge at 23.5 kg and added an overgrip. That gave me the following strung specs:
336g strung weight (11.85 ounces)
32 cm balance (7 pts HL)
334 swing weight
Wilson doesn't list swing weight on their products, but TW listed theirs as 324 so quite a difference. I don't mind a higher swing weight and thought the racquet was pretty maneuverable, but that is my personal preference. For a lot of players, 334 will be high.
How does it play?
As you can see in the video above, I really enjoyed hitting with the Pro Staff 97. It did not carve the slice quite as brilliantly as the RF97A and I did lack some plow-through and stability compared to its big brother, but in turn, it was a lot easier to swing, even despite the swing weight.
The foam-filling of the RF97A makes the racquet feel really solid, but I often find foam-filled racquets to be a little sluggish when swinging them. The favorite part of the Pro Staff 97 was that it felt pretty effortless to swing.
I liked it from pretty much anywhere in the court. It was easy to get racquet head speed on serves, control on groundstrokes and although it was not as pinpoint as the HEAD Pro Tour 2.0, it offered a nice balance between power and control.
I can see why this racquet is so popular out there. My only real downside, which is what a lot of players have reported to me via personal consultations, is that it is a bit stiff on the arm. I did feel some tenderness in my elbow after playing with it with a full bed of poly. I would definitely recommend trying it with a softer string setup, perhaps a hybrid with natural gut
or a multifilament in the mains and a poly in the crosses.
Summary
If you are an advanced level player rated 4.5 or higher, you should definitely demo the Pro Staff 97. But not if you have arm issues. The smaller head size, paired with the higher stiffness can create problems for your elbow or wrist. For players that don't suffer from these ailments, this racquet can be a real winner. I have plenty of high-level playing friends (5.5-6.5 NTRP) who use this racquet with great success.
Read more about the racquet on Wilson's official website.