Here is part 2 of the Gear of the Year covering the Best Strings of 2020. In the video below, I also talk about some string trends.
In 2020 I mainly tested polyester strings, which is by far the most popular string on the market right now. And my "Best Strings of 2020" are all poly strings. But in the video below, I have also included some of my favorite multifilament strings. I also comment a bit on natural gut, because recently I have been testing Luxilon Natural gut in a couple of hybrid setups.
I have also included some string stats and info from Andreas Bergen (Global Product Manager of Luxilon), who I interviewed in one of my recent podcasts. It's interesting to watch how trends in tennis strings develop and I'm not surprised to see that the average tension among pro players has dropped quite significantly in the last ten years.
The Best Strings of 2020
This is a subjective list of course and I'm keen to hear about your favorite strings in the comment below. I have a couple of go-to-strings and I tend to fall back on Luxilon Alu Power 1.25 (Amazon) (perhaps in a hybrid with Element in the mains), but now I have a few interesting and colorful options to that.
Strings of the year (I mainly tried polys)
Solinco Hyper-G Soft 1.20
Toroline Caviar 1.20
Mayami Tour Hex 1.23
HEAD Lynx Tour 1.25
Babolat RPM Power 1.25
String Project Magic 1.25
Solinco Confidential 1.25
Excellent multifilament strings (the thicker the better)
Tecnifibre Triax 1.38
HEAD Velocity MLT 1.30
Wilson NXT Comfort 1.30
Tecnifibre X-One Bi-phase 1.34
Kirschbaum Gut Feeling 1.30
And you must try natural gut!
String trends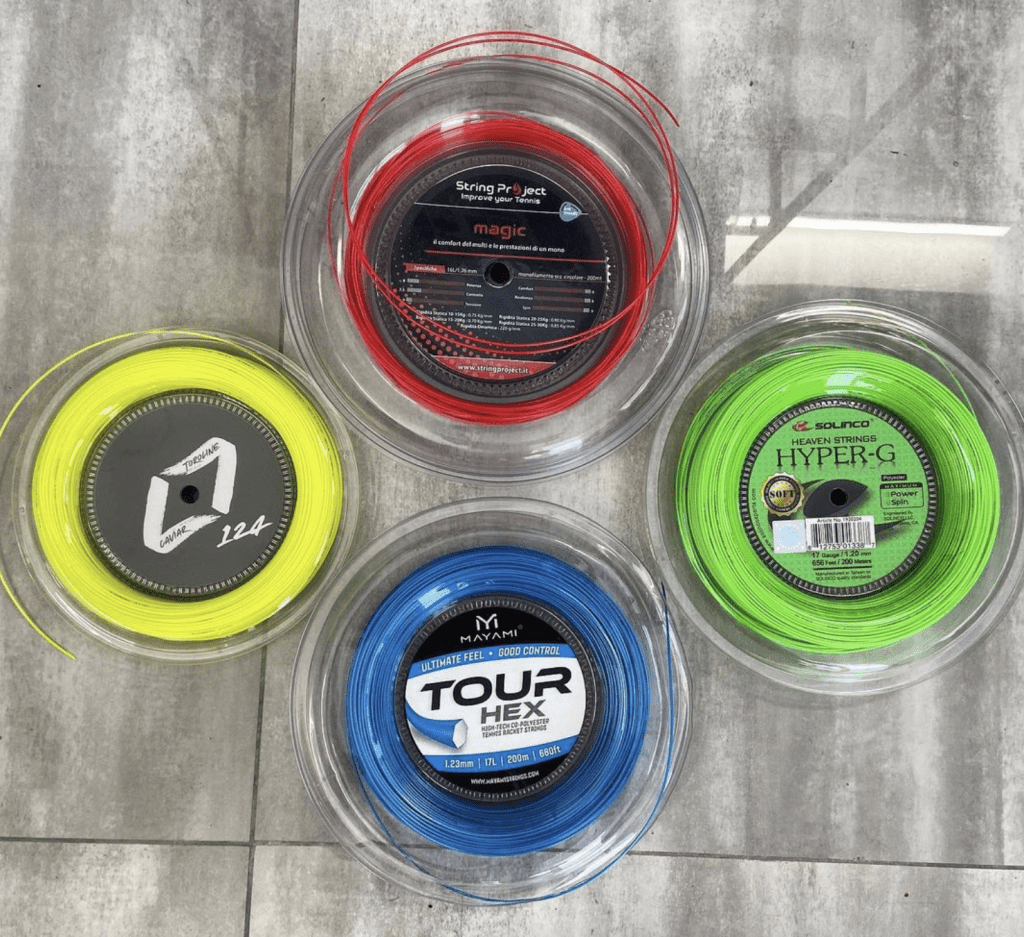 There are some key takeouts from what's going on in the string industry.
We're seeing thinner and thinner gauges. 1.15 is more playable than you think unless you're a string breaker!
Tensions are dropping. 48 lbs is the average tension in the top 100 ATP and WTA according to research by Luxilon.
Hybrids with two different polys are becoming more popular.
Natural gut (in hybrids) is still around after all these years.
But in the end, it all boils down to personal taste and what you're looking for in a string.
Some strings work great in one racquet, but not so well in another. One player might love a string and one might hate it.
It's always best to try and see what a certain string or tension can do for your game.
What's your favorite string right now?