It's over. Carlos Alcaraz and Iga Swiatek are US Open Winners 2022 after two spell-binding weeks of tennis.
Carlos Alcaraz and Iga Swiatek US Open Winners
How fitting to have the players winning the final grand slam of the year to also be world number ones. Swiatek was at the top of the rankings of the WTA Tour before the tournament, while Carlos knew that if he won it, he would be the youngest ATP world number 1 in the history of the sport. Utterly impressive and exciting for the sport.
Alcaraz at the top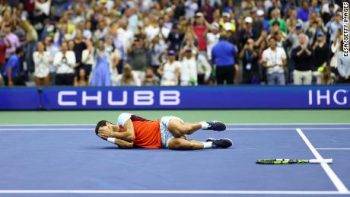 The atmosphere at the US Open was electric and I'm sure an exciting and dynamic player like Carlos managed to acquire a lot of new fans during his marathon run to the title. He spent the most time on the court in Grand Slam history, 23 hours and 39 minutes. It shows the physical and mental prowess of the new champion.
But the final against Ruud did not only show "Carlitos" in the best of light, but it's fair to say that Ruud also dazzled the crowd with some spectacular points and a powerful tennis game. He took it to Alcaraz and made it a real battle that ended 6-4, 2-6, 7-6(1), 6-3 in Alcaraz's favor. It's clear that Ruud's game has improved a lot in 2022, and with two grand slam finals and a new world number 2 ranking, he is destined to achieve great things in the sport.
What a treat this final and the tournament was for tennis. I think most tennis fans have been worried that as soon as the big three retires, tennis will face some tough times. But at the time of writing, the future of the sport looks pretty bright.
Carlos Alcaraz racquet, the Babolat Pure Aero VS (to be called 98) has already become a modern classic in the hands of the 19-year-old Spaniard. And I'm sure Casper Ruud is helping the sales of plenty Yonex Ezone 100 or even 100 Plus.
Swiatek shows determination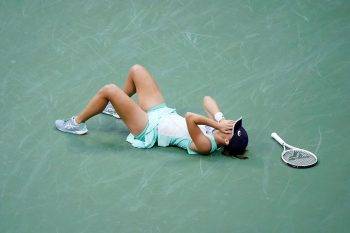 Despite being in so-so form, Iga Swiatek pushed herself through the draw and defeated her possibly strongest rival, Ons Jabeur, 6-2 7-6 in an exciting final. One of those matches made you think women's grand slam matches should be the best of five, at least from the quarter-finals.
Why? Because Swiatek started in her usual bulldozing style and won the first set comfortably. But despite being up 3-0 and the match looking over, Jabeur came back to fight in the second set. In the end, she lost it in a tie-break, but you felt like if there was the possibility of five sets, Jabeur might have taken it there. Five sets are physically grueling but always open up more exciting storylines in matches.
What was most impressive about Swiatek's performance during the fortnight was how she kept calm even when playing below her usual high standard. She stayed focused and managed to grind out matches where you thought she might lose. This is part of what makes her a true champion.
Heartbreak for Jabeur, but I'm sure she will pick up a Grand Slam trophy in the near future if she keeps working hard.
Read more about Iga Swiatek's racquet, the signature Tecnifibe IGA Tempo 298.
Ons Jabeur uses a Pro Staff 97, not sure exactly which generation, but the latest one is a good option both as 97L and 315 grams.
Summary
It was a great US Open with plenty of spectacular action. Dennis Timar and I will try to summarize it in our upcoming podcast.
Do you have some favorite moments from the fortnight?