Which are the best racquets of 2022? We're getting closer to summarizing the year and I'm keen to hear your favorites.
Which are the best racquets of 2022?
I have done this summary for several years. I call it the Gear of the Year. You can see previous editions below.
Gear of the Year 2016
Gear of the Year 2017
Gear of the Year 2018
Gear of the Year 2019
Gear of the Year 2020
Gear of the Year 2021
I already made a video of one of the racquets that should be mentioned on the list in 2022. You can check out my written review of the HEAD Speed Pro here or watch the video below.
Can you really talk about "the best racquet"?
What works for one player doesn't necessarily mean it works for another. But some racquet models are very popular for a reason. They are high-quality racquets with a wide appeal. Still, you need to play with something that works for you.
So although it might sound a bit silly to call something "the best", it's the term used for ranking pretty much any product. I will focus on the strongest releases in different categories of racquets. The Speed Pro is a racquet for an advanced player who likes to hit aggressively from the baseline (there are obviously exceptions to this, but that is a general idea). Intermediate players should consider a slightly lighter racquet like the Speed MP or MP L.
For more racquet recommendations, check out my online resource, The Road to the Right Racquet.
What other racquets should be considered?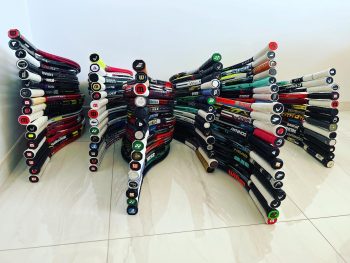 There were some impressive releases in 2022. I have also really enjoyed the new Babolat Pure Aero, which I think was a strong upgrade. But there were some other excellent racquets in 2022. These are all my reviews for 2022. Do you have a favorite racquet or racquets on this list? At the time of writing, it's the end of October so there might be some more releases before we close the year, but I don't see more than one or two reviews beyond this list.
Yonex Ezone 98
Yonex Ezone 100
Yonex Ezone 98 Tour
HEAD Extreme MP
HEAD Extreme Team
HEAD Speed MP
HEAD Speed Pro
HEAD Boom MP
HEAD Boom Pro
Babolat Pure Aero
Babolat Pure Strike VS
Dunlop SX 300
Prince ATS Tour 98
Wilson Clash V2
Wilson Ultra 100 V4
Artengo TR 960 Control Tour
Angell Asi 2.0
Tecnifibre TF40
Tecnifibre Tfight ISO 305
Tecnifibre Tempo IGA 298
Prokennex Ki 10 305
Donnay Unibody
Toalson Forty-Love
FT Saber
Solinco Blackout 300
Have I missed any exciting releases in 2022? Let me know in the comments!