Without wanting it to sound too much like a clickbait article, I wanted to list my top ten tennis racquets right now since a lot of people have asked for it. I've tried to separate them into categories that make sense and with relevant links to my reviews.
In the jungle of tennis racquets that are released yearly, can you really make a list with the Top Ten Tennis Racquets Right Now? Well, I will try. A racquet is a very personal thing and the idea is for the racquet to become an extension of your arm. I would say finding that "holy grail" is the key quest for us tennis nerds. After testing hundreds of racquets and strings over the years, I hope I've managed to understand what racquet suits a certain player and what doesn't.
If you're interested in what racquets pro players such as Rafael Nadal, Roger Federer or Novak Djokovic use, click this link or browse the pro player racquet category. If you want some more guidance in choosing the right racquet, check the links at the bottom of this article.
Top Ten Tennis Racquets Right Now – Power racquets for beginners, intermediate players and up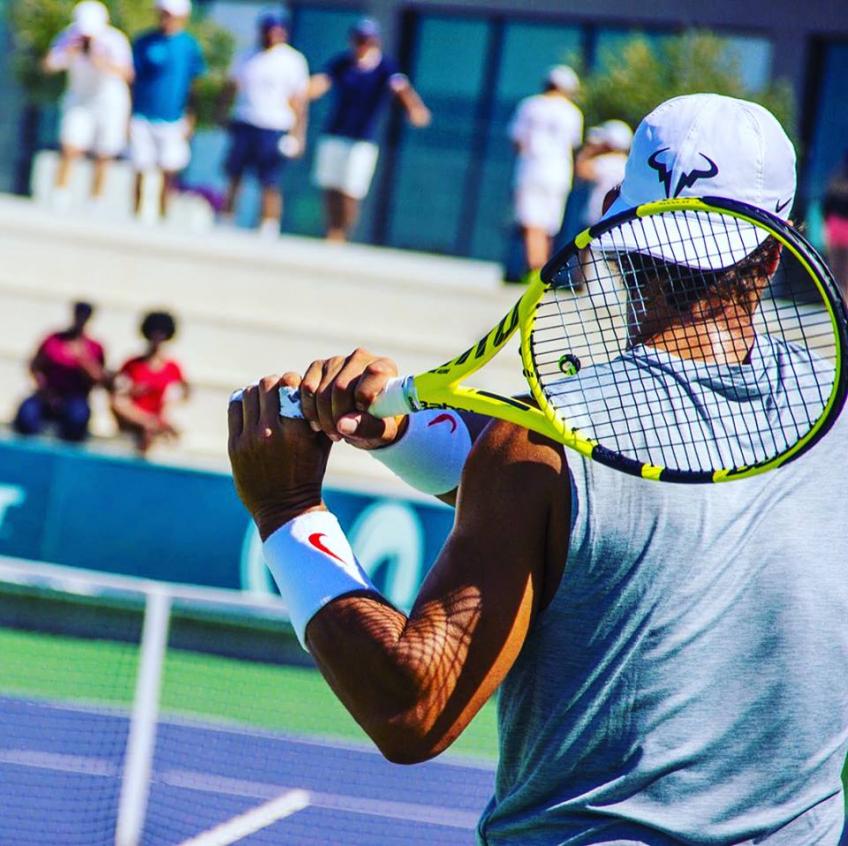 You can't create a list with the top ten tennis racquets right now without starting with the category of easy-to-use racquets for a wide group of players. These racquets can suit pretty much anyone, from beginners to advanced players. If you need more weight on your racquet, you can always buy a roll of lead tape
 (Amazon link) and customize the racquet yourself (link to a self-help article on How To Customize a Tennis Racquet).
What power racquets help you with is to get a bit more easy power and spin on your shots in case your footwork is not top notch (beginners to intermediate) or you hit with a good amount of topspin (active juniors and more advanced players). These racquets offer a bigger sweet spot and are generally easier to use.
Babolat Pure Aero – the racquet endorsed by Rafael Nadal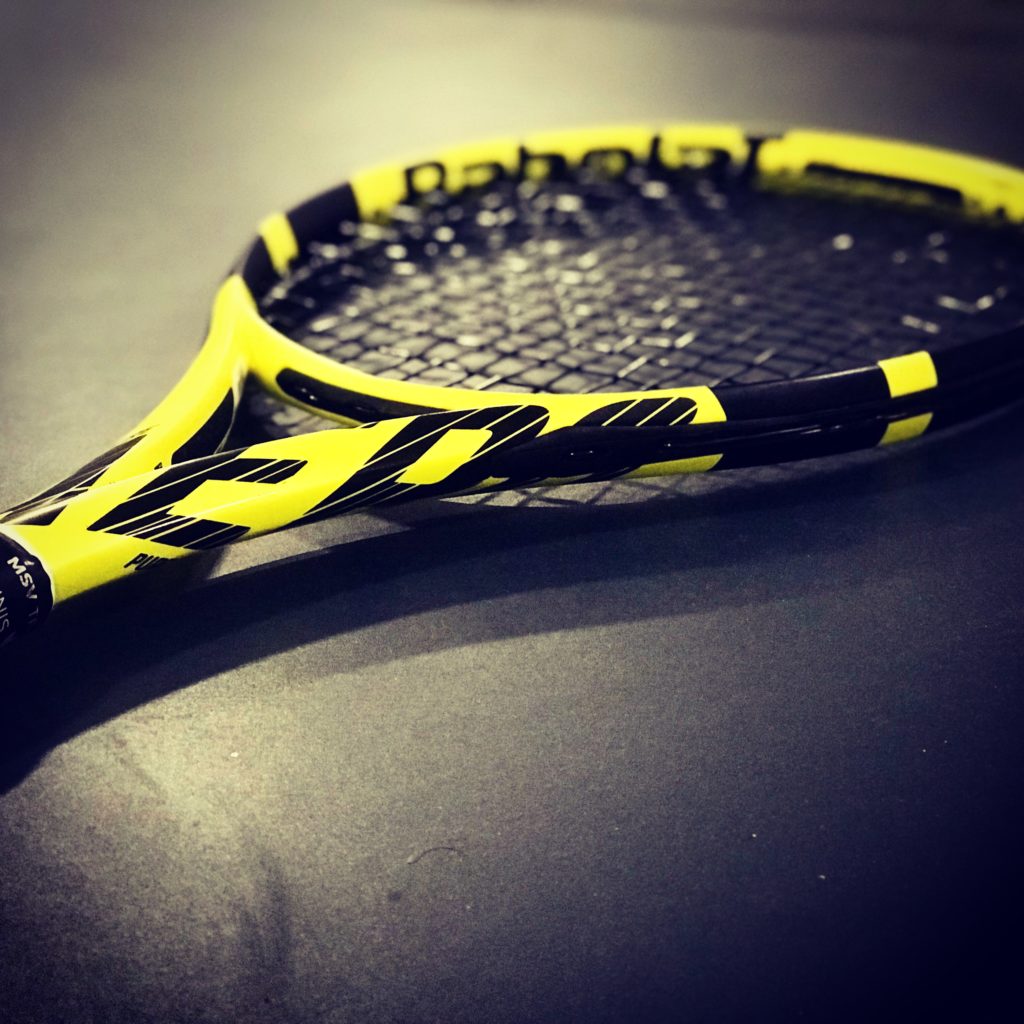 Rafa endorses this racquet and uses the first version of the Babolat Aero Pro Drive Original that came out in 2005. You can read about the actual racquet of Rafael Nadal here. The latest version of the Babolat APD, called Babolat Pure Aero was just released and is a great weapon for the baseline player who wants a bit of extra spin and power on their shots. It is quite easy to use and looks striking in its yellow and black color.
Wilson Clash – labeled as the "Racquet revolution"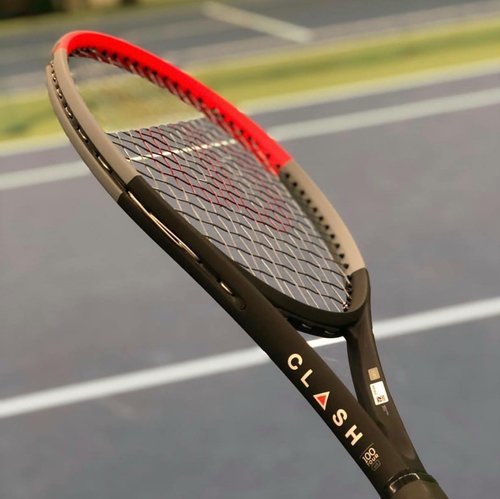 I was fortunate to test the Prototype edition of the Wilson Clash and I was impressed by its plush feel, yet that it still gave decent power and spin for its weight and stiffness. A very versatile racquet with quite a unique feel. Pro player Nicole Gibbs has already switched to this racquet and I think we will see upcoming juniors enjoying the plush and controlled feel,
HEAD Graphene 360 Extreme MP or Pro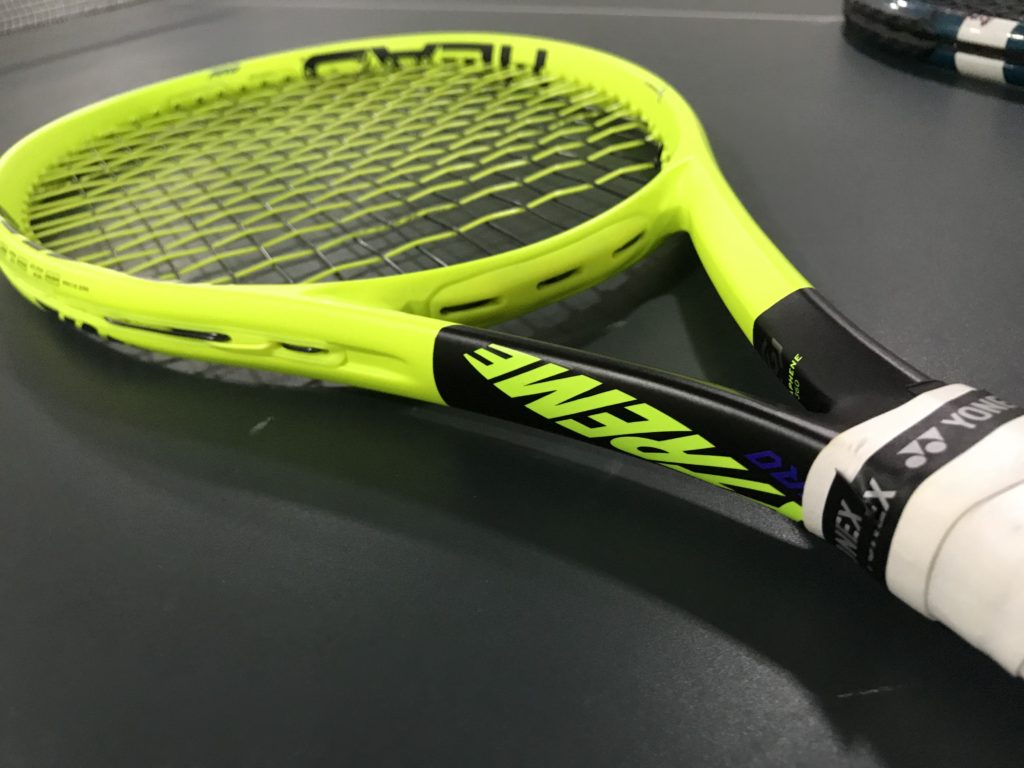 German pro player Jan-Lennard Struff endorses this powerhouse of a racquet that reminds me of the Babolat Pure Aero. If you go with the Pro version you get a high swing weight that really blasts the ball to the other side of the court. This racquet is really a WEAPON. Sometimes I find the ball hard to control, but when I put enough spin on it, it was quite intoxicating to play with.
Donnay Formula Hexacore 100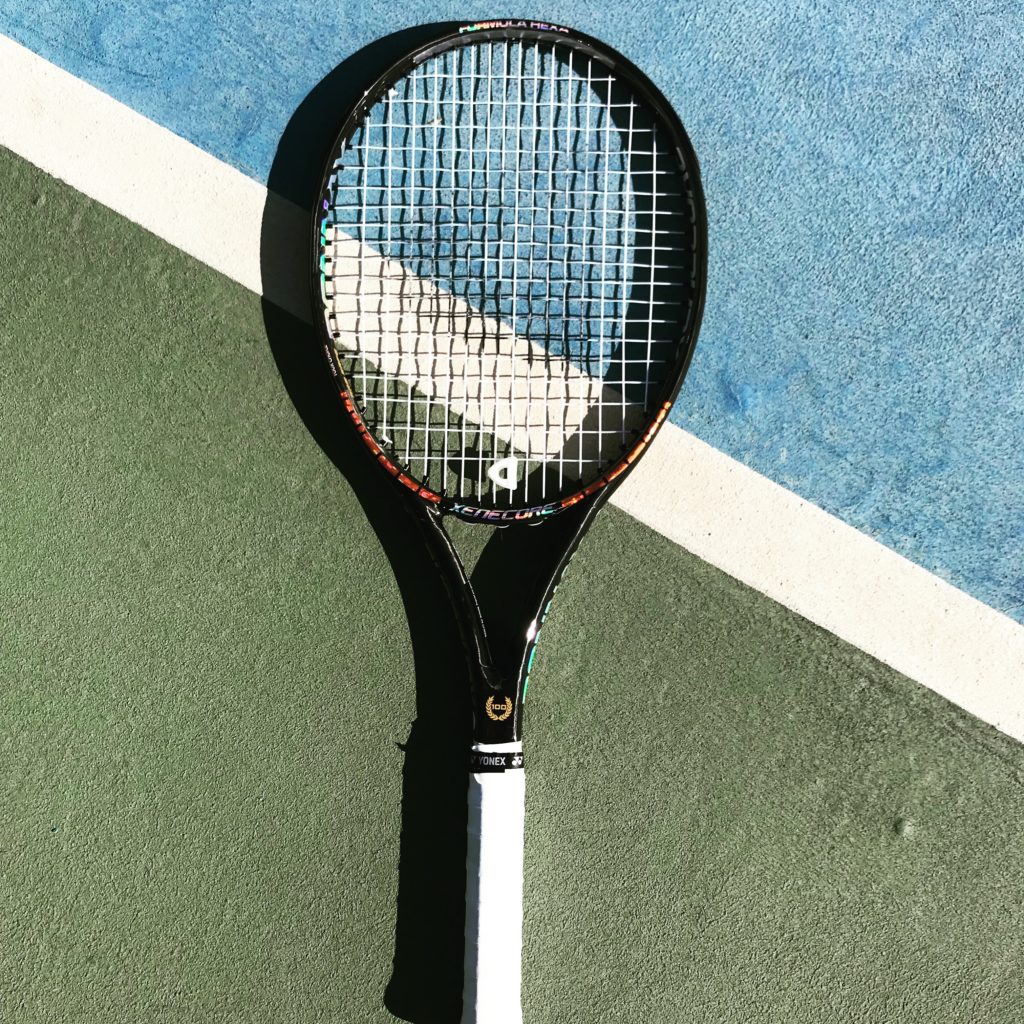 If you are looking for a more comfortable racquet than the HEAD Extreme or Pure Aero, you should check out the Donnay Hexacore Formula 100. This racquet is easy to use and offers a really nice plush feel and still decent power and spin. I was surprisingly impressed by this play-test.
Top Ten Tennis Racquets Right Now – Tweener racquets for intermediate to advanced players
So what is a tweener racquet? Well, it is not quite a power racquet and not quite a control racquet, but something in-between. Hence the word "tweener". Here you will usually find slightly heavier and slightly less powerful racquets than the category above.
Prince Beast 98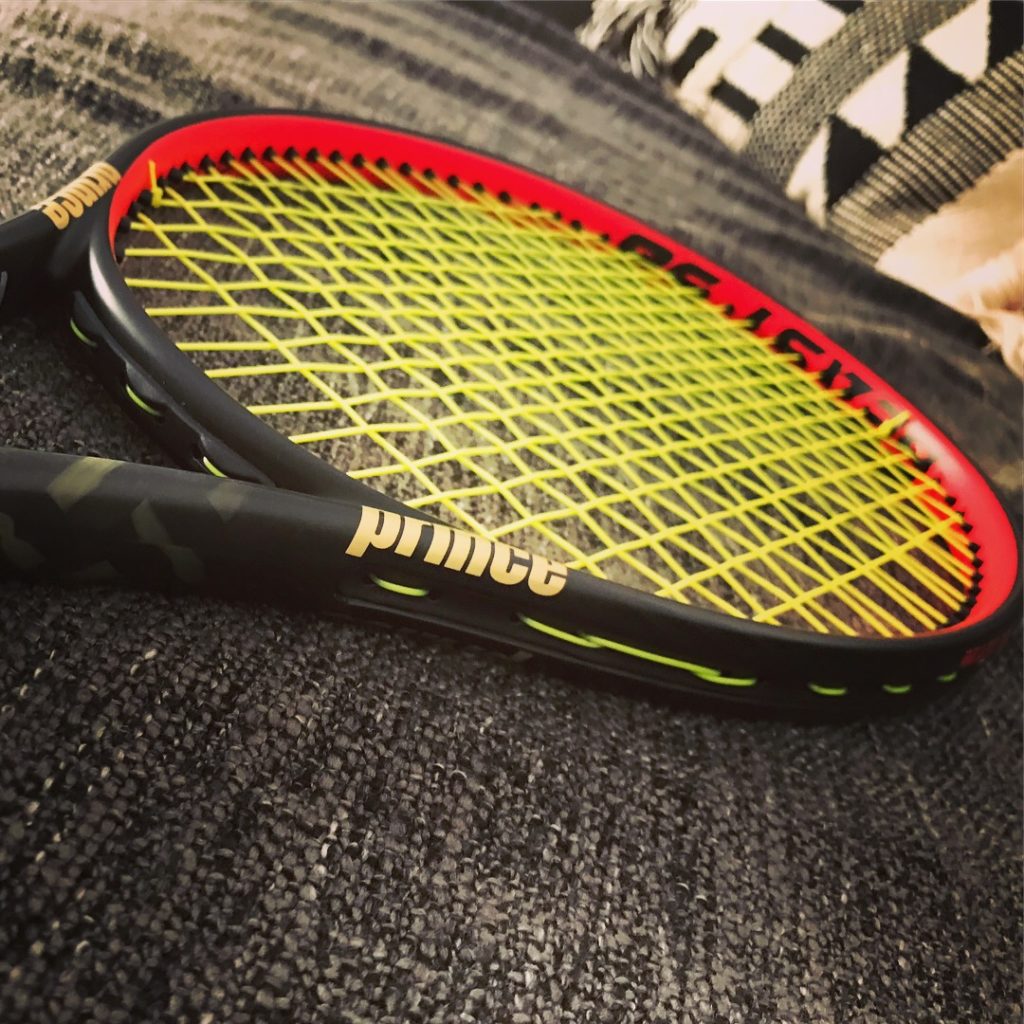 A tweener racquet should do everything pretty well and that is the case with the Prince Beast 98. A llarge and forgiving sweet spot, decent power, decent spin, good control, swings pretty fast, etc. Just a really nice and versatile racquet.
Tecnifibre Tfight XTC 305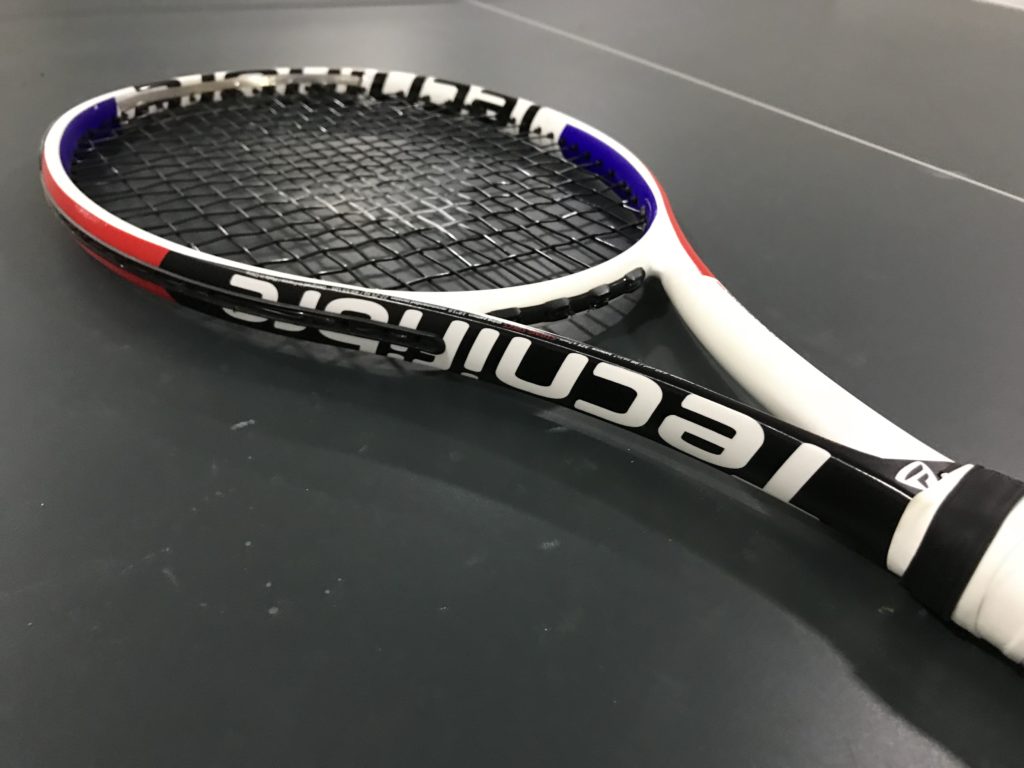 A racquet that is said to be used by Jeremy Chardy. Although a lot of pro's play with pro stock racquets and heavily customized frames, the swing weight of the Tecnifibre Tfight XTC 305 makes the statement possible. A really nice and stable frame with crisp but not uncomfortable feel. I simply love the 18×19 string pattern as a good blend between spin and control.
Diadem Elevate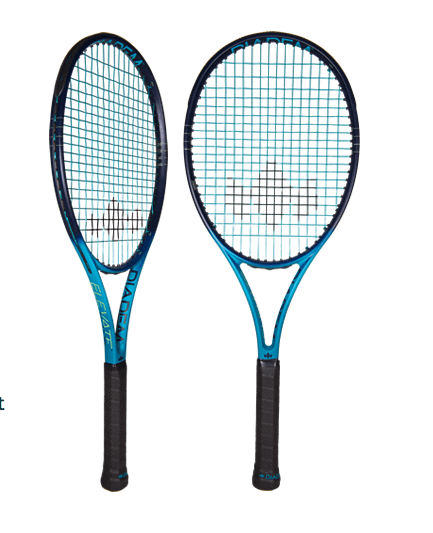 Some smaller brands are popping up and challenging the top dogs! Diadem is one of them. They have not created a lot of frames yet, but the Diadem Elevate is sure to suit a lot of players. Nice control and good spin from the 16×20 string pattern. Just a solid, all-round frame that is also available in a heavier Tour version.
Top Ten Tennis Racquets Right Now – Control-oriented racquet for advanced players
If you are an advanced player you are probably looking for control and feel. You don't mind adding some lead tape to get the weight and balance you need and you don't need any extra power or spin to work with.
Angell K7 Lime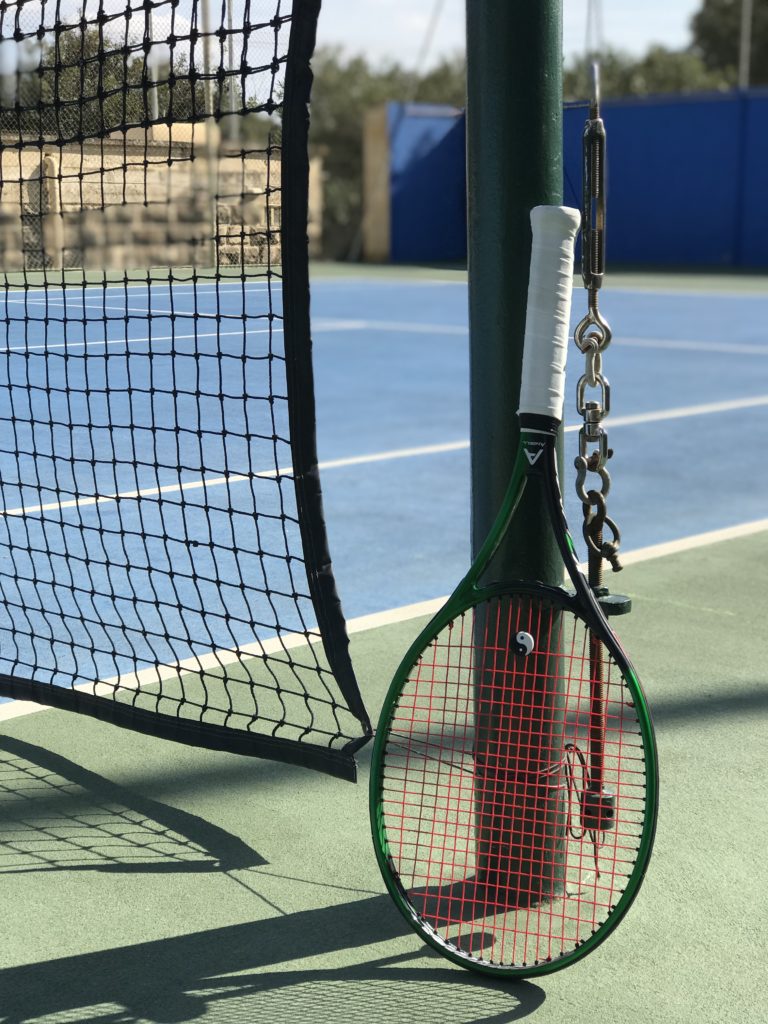 Angell is another small brand that creates stellar products, such as their custom line of racquets. I loved the Angell K7 Red when it came out as it gave a great blend of spin, control, and comfort, but personally, I like a heavier spec. So I was very impressed when Angell released the K7 Lime with a tighter string pattern and heavier weight.
Pacific X Tour Pro 97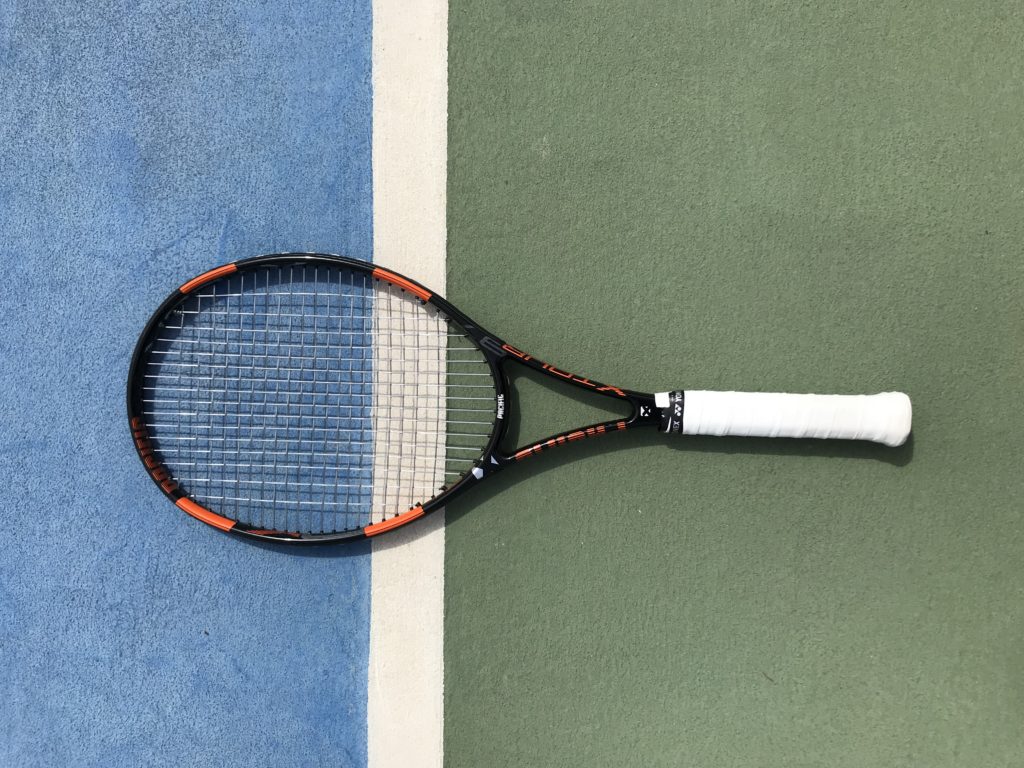 Pacific bought the classic Fischer racquet molds some year back and are now branding them as Pacific racquets. This was a good idea. Fischer created some really classic racquets with amazing feel and this is still present in their re-launched racquets. I fell in love with the Pacific X Tour Pro 97 and really appreciate its control and feel when you hit the sweet spot.
Dunlop Srixon CX 200 Tour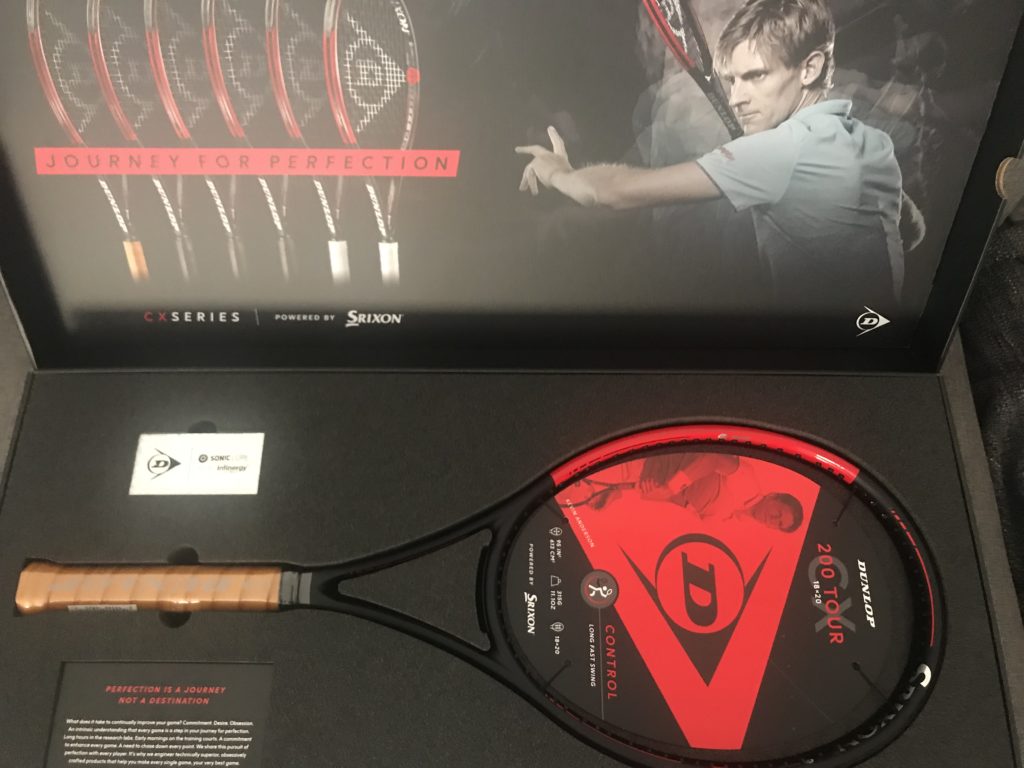 Dunlop is a classic brand that has been bought by Japanese company Srixon and relaunched a new line of racquets called CX. I play-tested the Tour versions called the Dunlop CX 200 Tour in both 18×20 and 16×19 string patterns and they were simply outstanding control racquets. If you are open to smaller head sizes you really need to test the Dunlop Srixon CX 200 Tour.
Yonex VCORE 95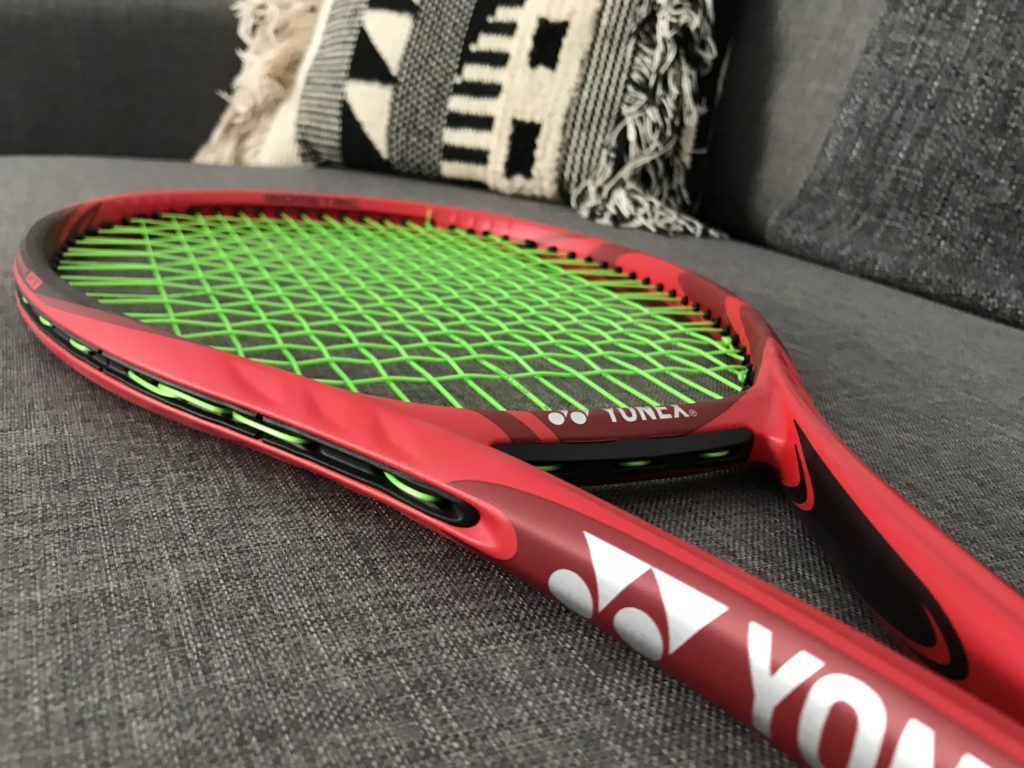 I can't have a list of top ten tennis racquets right now without mentioning Yonex. They do create a lot of nice racquets and the VCORE 95 is an excellent players' frame that has a bit of extra pop and spin compared to many other 95 sq inch racquets.
Prince Phantom Pro 93P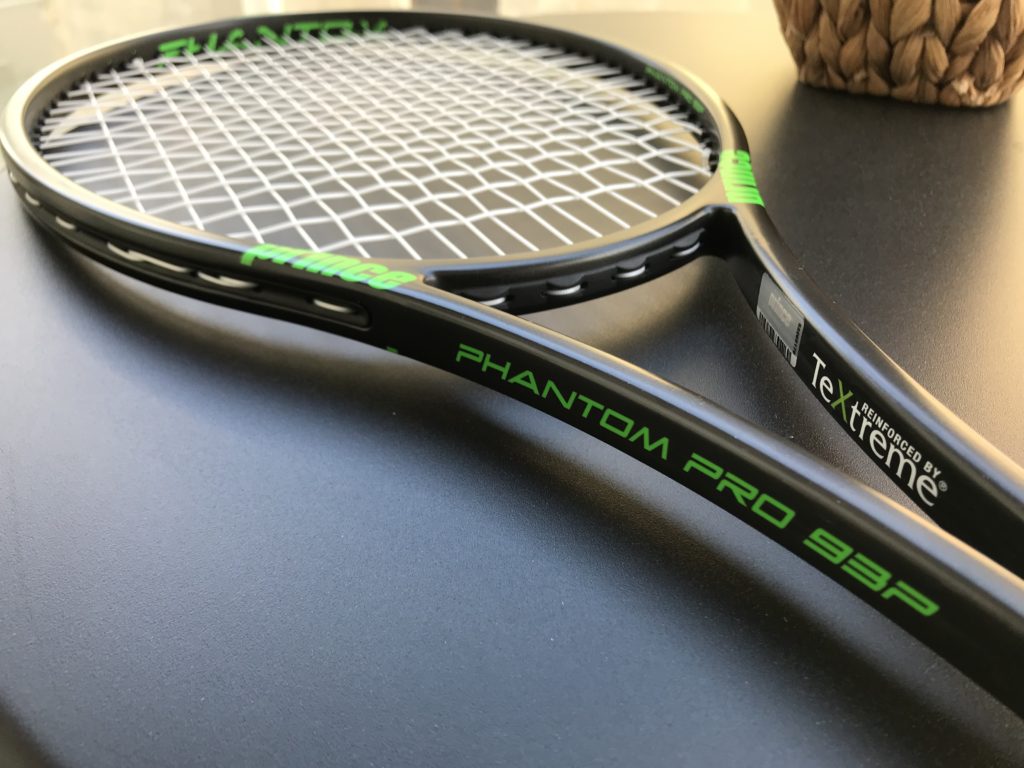 I had to mention this midsize players' frame that has a lovely response from its ultra-thin beam and 93 sq inch head size. It plays more like a 95 sq inch racquet thanks to the round head shape so players looking for a racquet packed with control and feel and are not scared away by the smaller head size should give this one a go! Now it is also available in a control-oriented 18×20 pattern and a spin-friendly 14×18 string pattern.
***
Okay, that was not really "Top Ten Racquets", but more like Top 12 racquets…However, there are so many good tennis racquets on the market right now it was hard to limit it to ten! This is a good thing of course. No matter what, I hope this post about my Top Ten Tennis Racquets Right Now gives you an idea of what your next racquet could be. If you can't test or demo racquets in your location, you can always buy one racquet (new or used) and then sell it used without losing too much money. What works for one player, might not work for you, but be patient and test each racquet for a week or two (depending on how much you play of course) before you decide whether it could be your next match racquet.
Good luck on finding that "extension of your arm" and keep working on your tennis game!
Tennis greetings from Tennisnerd (Jonas)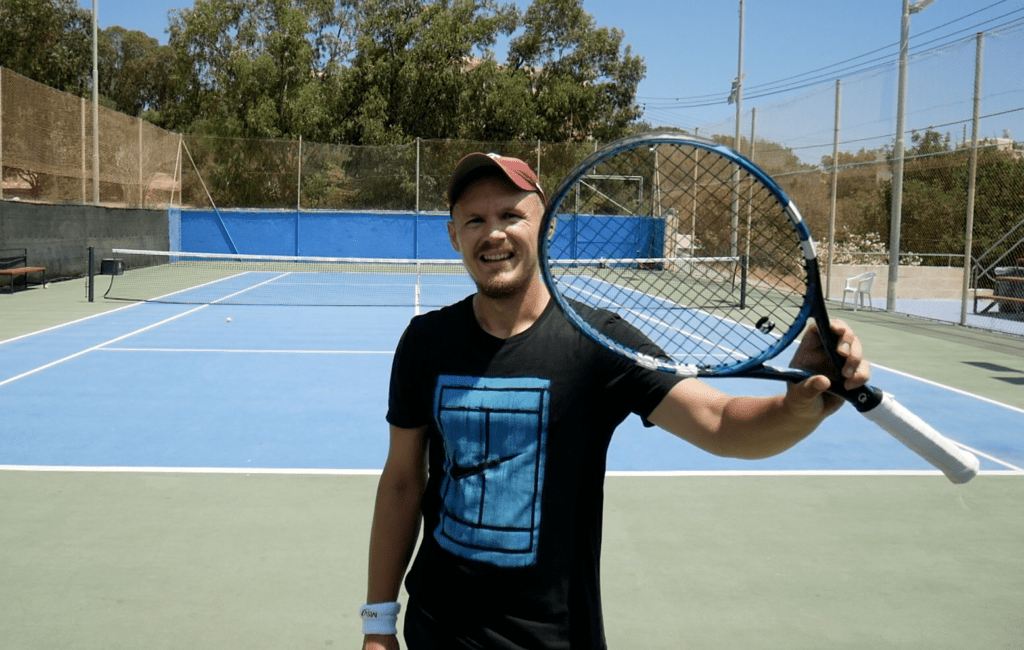 Do you like Tennisnerd? Please also follow and share our other channels. Every like, share and follow is deeply appreciated!

Patreon – Support and get VIP content
YouTube – In-depth video reviews and vlog
Instagram – Racquets, racquets, racquets
Twitter
Facebook Page – New content daily
Facebook Group – Join the discussion with other tennis nerds
Amazon Influencer
About tennis racquets
All racquet reviews
Here is a great racquet buying guide to get you started.
What tennis racquet should I buy?
Top tennis racquets to buy right now
The Gear of the Year 2018
The Gear of the Year 2017
The Gear of the Year 2016
Tennis racquets for juniors
Tennis racquets for kids