I've been playing with the HEAD Liquidmetal Tour for a while and I thought I'd give you an update on the racquet. The LM Radical Tour is from 2003 so not available in the store sadly…
The HEAD Liquidmetal Radical Tour (abbreviated LM Radical Tour) is first and foremost a stable racquet. It sits at around 335 grams unstrung and a decently head light balance of 32 cm (5-6 pts) strung. It is labelled to be 98 sq inches because older HEAD racquets are measured from the outside and not the inside like most other brands. This means the actual real estate in the racquet face is 95 sq inches. Similar to most player frames on the market.
What is liquidmetal? Liquidmetal is a technology that doesn't only appear inside the frame, but also outside in a easy-to-identify ridges on the racquet placed at 8, 10, 2 and 4 o'clock on the frame. Liquidmetal is a strong substance and helps to add stability. The LM Radical Tour feels comfortable to me even strung with poly, but I've heard that some people call it a little firm. It has a stiffness rating of 63 however so it is by no means a harsh racquet. The LM Radical Tour also includes previous Head technologies such as TwinTube frame construction and Intellifibres.
If you want to know more about liquidmetal, here's a part copied from Wikipedia:

Liquidmetal alloys combine a number of desirable material features, including high tensile strength, excellent corrosion resistance, very high coefficient of restitution and excellent anti-wearing characteristics, while also being able to be heat-formed in processes similar to thermoplastics. Liquidmetal was introduced for commercial applications in 2003. It is used for, among other things, golf clubs, watches and covers of cell phones.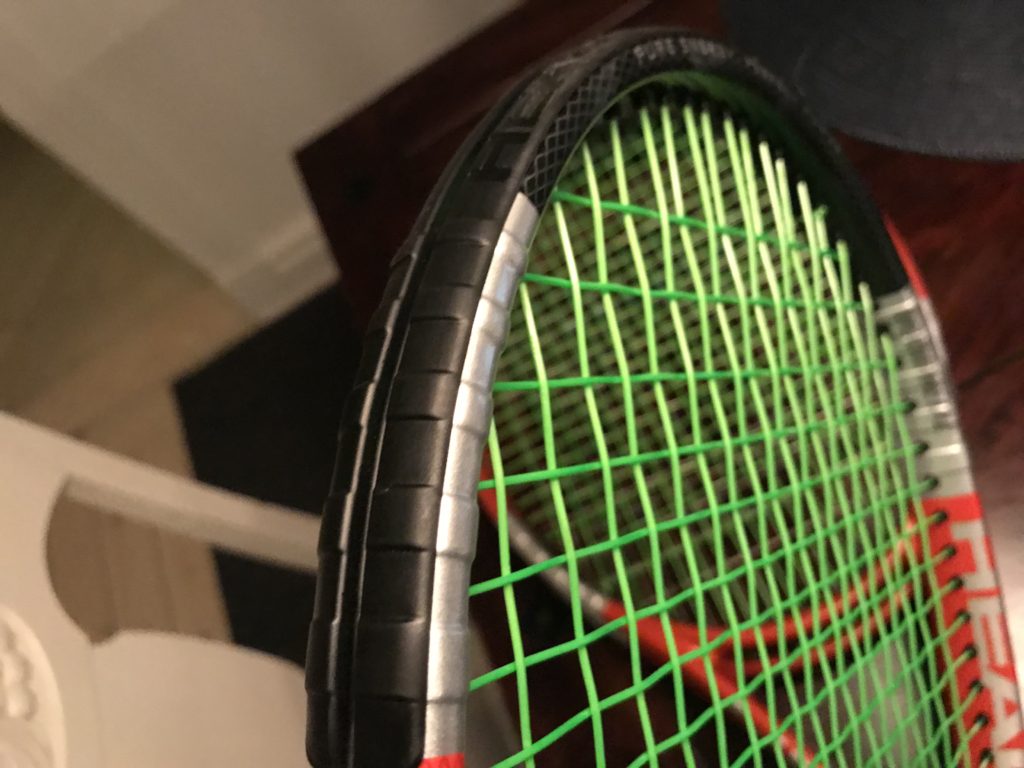 I've been enjoying my LM Radical Tours ever since I got a hold of them. They have a dense 18×20 string pattern that gives you utmost precision, but thanks to their high static weight (and swing weight) they still pack a punch. With its weight I wouldn't call it a "fast", spin-friendly frame, but if you have flatter, aggressive shots or play serve-volley tennis, the LM Radical Tour could be wonderful for your game. I particularly enjoy it on my serve and forehand.
In short, the LM Radical Tour has been working out nicely for me and plays very similar to my beloved Six One 95. The racquet gives a heavy ball that penetrates the court. Since it's control-oriented, I wouldn't call it particularly string-sensitive and although I rarely use multifilaments or synthetic gut strings, I think the LM Radical Tour responds well to pretty much whatever string you put in it. I would say this is good news for you who try to avoid harsh polyester strings.
If you're a player who likes to stay back and roll back heavy top-spin shots that bounce up to the shoulders of your opponent, I think there are more suitable racquets out there, but if you play with flatter shots and like to attack your opponent from the baseline or at the net, the LM Radical Tour can potentially be your next best friend.
Please remember however that it is a little heavy to swing if you're used to more modern, lighter racquets and it does require solid technique.
This is a quote from the TW Playtester that I agree with: 
A heavy solid racquet that can be demanding, the LM Radical Tour can take massive flat swings and really punish the ball. The ball had lots of weight behind it. My opponents commented on how the ball I was hitting felt like they were returning a steal ball. Angle shots were very easy to hit. Again there was "substance" behind every shot I was hitting. The weight distribution felt like you were swinging a sledgehammer. Groundies were penetrating deep and had massive kick. If my shots were landing on the service line they would kick to well behind the baseline. This racquet was a bit on the stiff side and even though I fancy flexible racquets, I really liked this one very much. Volleys were awesome and solid. Serves were very big with amazing kick. Only gripe with this racquet is touch and comfort. If you can handle the weight and do not care much about touch/feel, then this is the best racquet on the market.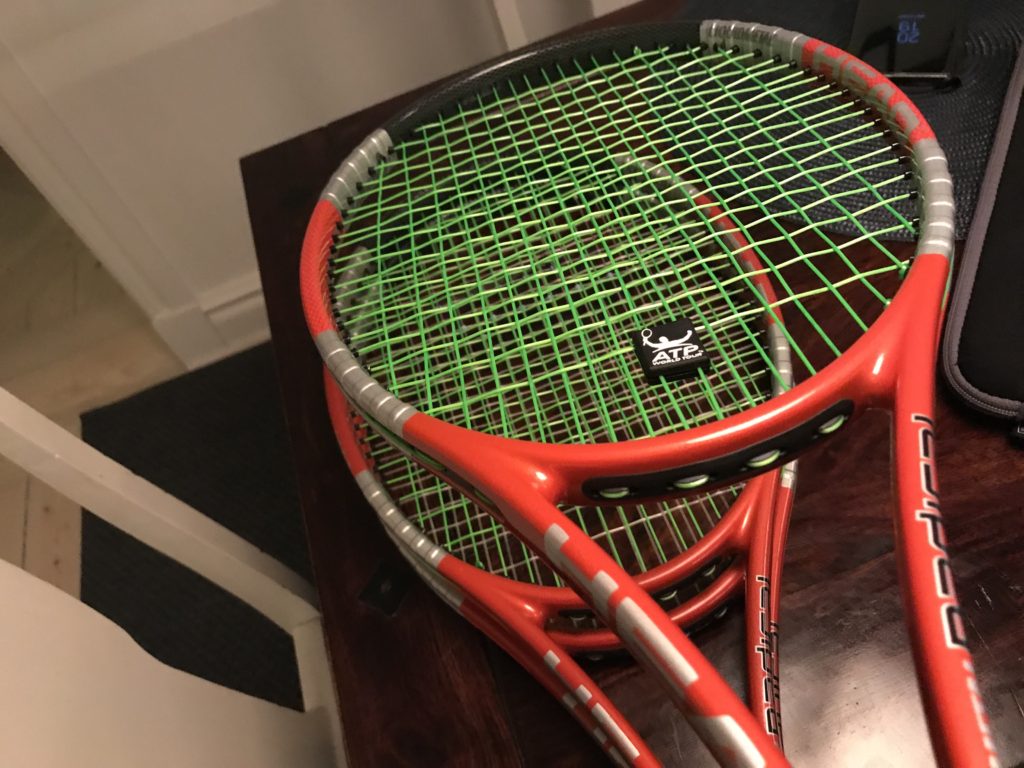 The LM Radical Tour is really hard to get a hold of these days, but if you're lucky you might find one or two at eBay or why not buy my racquets? Comment with your e-mail if you're interested or send an e-mail to helloATtennisnerd.net and I'll send you some more pics and price. I currently own three racquets in good to great condition.
LM Radical Tour specs:
Headsize: 98
Length: 27
Strung Weight: 12.3 oz (350 grams)
Balance: 6 pts hl
Stiffness: 63
Swing-weight: 332
Beam width: 21mm
Pattern: 18X20
Do you like heavier racquets? Why? What do you currently use? Please comment below!
What racquets do the ATP pros use?

Racquet buying guides
Here is a great racquet buying guide to get you started.
What tennis racquet should I buy?
Top tennis racquets to buy right now
The Gear of the Year 2016
Tennis racquets for juniors
Tennis racquets for kids
Buy the Wilson Ultra Tour and other tennis gear.
EU
Racquet Depot
Pro Direct Tennis
USA
Tennis Express
Do It Tennis
Amazon.com
Do you like Tennisnerd? Don't miss a word or video by stalking us on social media. Every like and follow is appreciated!

YouTube
Instagram
Twitter
Facebook Page