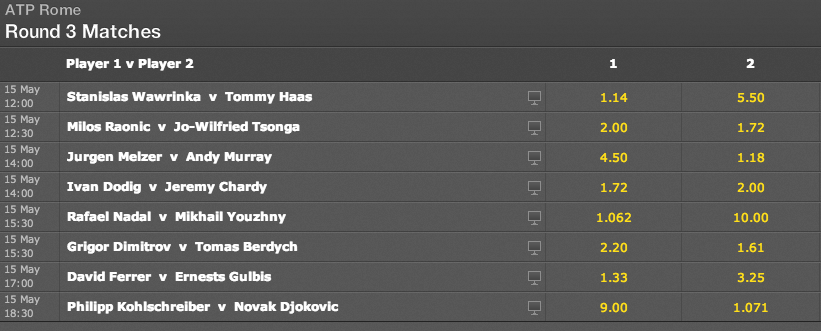 Screen from Bet365
So. For you who like tennis betting we have some interesting matches in this round's Tennisnerd upset alert (insert trademark sign). Here are my predictions for round 3 of Rome Masters with my match winners in bold.
Wawrinka – Haas = Wawrinka is playing well as demonstrated in his 6-3 6-0 demolition of Riba, but I still have a feeling Haas has a better chance of winning than 5.50. It's one of those "you never know". But in the end, gut tells me Wawrinka.
Raonic vs Tsonga = Tsonga has been as solid as melted butter in 2014 and Raonic seems to be handling the dirt surprisingly well for a tall serve cannon. I think he can edge this one out in three tight sets.
Melzer vs Murray = Upset alert! Melzer is back in business after a period of lacklustre performances and injuries. Murray is not yet up to scratch.
Dodig vs Chardy = Dodig is better than you think and Chardy is still a bit shellshocked after winning against Federer.
Nadal vs Youzhny = Youzhny has beaten Nadal in the past, but not on clay and not today.
Dimitrov vs Berdych = Interesting match! Berdych won in Madrid, but it wasn't scot-free. Somehow I think it's time for some Bulgarian revenge.
Ferrer vs Gulbis = Another reprise match-up from Madrid Masters. That time Ferrer outlasted the hard-hitting Latvian and this time he'll do the same. Ferrer is looking better and better as we're nearing Roland Garros and remember that he was a finalist there last year.
Kohlschreiber vs Djokovic = Upset alert! Kohlschreiber has beaten Djokovic on clay and Djokovic isn't a hundred percent back from his injury.
What are your picks? And am I crazy? Please comment below.