It's not a good idea to obsess over pro player racquets, but knowing them can be fun. So here are the racquets of the ATP Finalists 2020.
I don't know the exact details for all the racquets of the ATP Finalists 2020, but this is what is known among stringers and customizers. If you are curious about other pro player specs, check out this page.
At the time of writing, we are gearing up for two fantastic semi-finals at the ATP Finals in 2020. Djokovic vs Thiem and Medvedev vs Nadal. I picked Medvedev to win the tournament before it started, so I will stick with that prediction as he is a streak player who won the Paris Masters and still hasn't lost a match at the O2 this year. But on the other hand, we could be seeing a Djokovic vs Nadal final like we did at the French Open in September.
Over to the racquets of the ATP Finalists, going by order of rankings.
Novak Djokovic's Racquet
You can read more about Novak Djokovic's racquet in a couple of different posts on Tennisnerd. I will list them below. I have been fortunate enough to hit with Novak's actual racquet a couple of times. From back when he used the 18×20 to now when he's using the 18×19.
Novak endorses the HEAD Speed line but prefers the dominant black Ltd edition X paint job over the current predominantly white one.
Novak's HEAD pro stock goes by the code of PT346 and is heavy, control-oriented, and suits his defensive all-court game.
Read more about Novak's new racquet here
Rafa Nadal's Racquet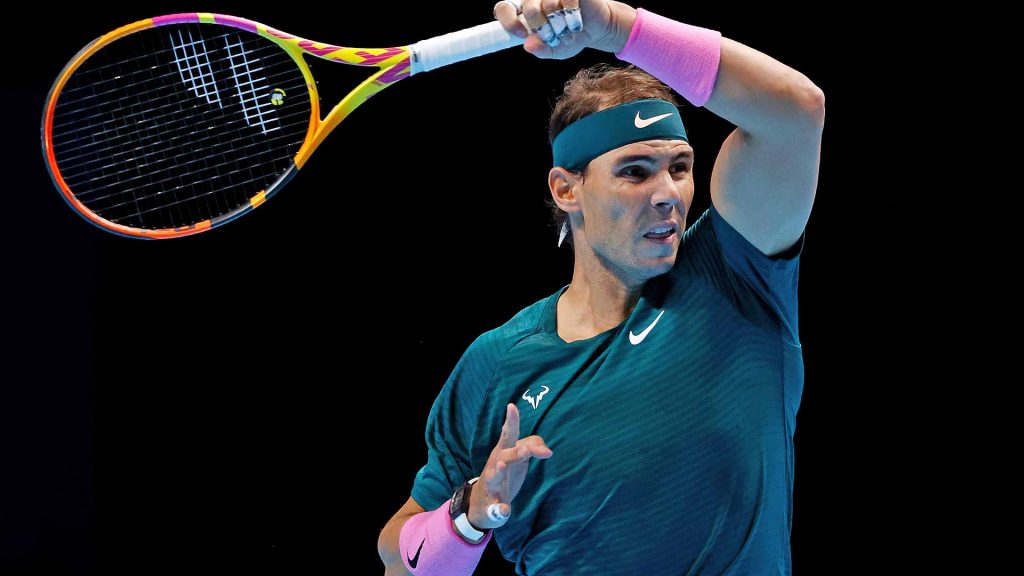 Nadal has been a loyal Babolat user for all of his career. He started with the Soft Drive, went over to the Pure Drive and then Babolat created the Aero Pro Drive (Pure Aero) for him in 2004. He has then used the original version in various paint jobs and his latest paint is a tribute to his native Mallorca.
Nadal adds plenty of lead tape to his frame at 12 o'clock and plays with a higher swing weight than most club-to-advanced level players could handle effectively.
His racquets suits and amplifies his aggressive topspin baseline game.
Read more about Rafael Nadal's racquet here
Dominic Thiem's Racquet

Dominic Thiem started out swinging big with more control-oriented racquets. When he was a junior, he used a customized Wilson Six One 95 Team, then he moved to a HEAD Prestige MP, but he is famously known to be the ambassador for the Babolat Pure Strike line.
He is using the Pure Strike 18×20 and adds some weight to it to increase stability, power, and swing weight. There has been some debate about whether he is using the first generation Pure Strike or the 3rd generation, but it does look like he actually did switch to the most recent version, but it's hard to tell for sure.
Read more about Dominic Thiem's racquet here
Daniil Medvedev's Racquet
Daniil Medvedev is a formidable tennis player when he is in form, but 2020 has been pretty challenging for him on the tennis court (and for everyone off the tennis court). He seems to have finally found his stride towards the end of the season, though.
Medvedev uses a Tecnifibre 305 from a few generations back (actual head size 95 sq inches) and adds plenty of weight to it to get it similar to the Wilson Six One 95 that he grew up playing (around 360g). The heavy control racquet works for his ultra-solid baseline game, which is backed up by a powerful serve.
Read more about Medvedev's racquet here
Stefanos Tsitsipas' Racquet
Tsitsipas didn't have quite the year he had hoped for after winning the ATP Finals in 2019. The talent and the game are arguably there, but he hasn't been able to bring it all the way in the slams yet.
Tsitsipas uses a customized pro stock Wilson Blade 98 (supposed to the kBlade model), which gives him a controlled form of power that works well with his aggressive game. Tsitsipas is refreshing to watch as he often attacks the nets and has a solid volley game for a "next-gen" player.
Read more about Tsitsipas racquet here
Alexander Zverev's Racquet
Zverev was pretty solid in the shortened 2020 season and seem to find some stability in his game again after being at a loss in 2019, especially around his serve. He won a couple of tournaments and reached his first slam final (US Open where he lost to Thiem).
Zverev is the ambassador for the Gravity line. It is not a hundred percent sure whether he uses a pro stock version of the Gravity Pro or the Youtek Speed MP, which are very similar racquets.
Read more about Zverev's racquet here
Andrei Rublev's Racquet
Rublev became a solid winner at the ATP 250 and 500 level in 2020. He won five (!) tournaments and ended the year in the top 10.
He is another player that used the Wilson Six One 95 up until last year. He started trying Wilson H22 and Wilson H19, but couldn't really find a home in those racquets.
In 2019, despite being under a Wilson contract, he tried Zverev's racquet and fell in love. I don't know his exact specs, but I have heard from sources that it is very heavy, similar to the Six One 95. I think we will see Rublev be a HEAD sponsored player in 2021 after his contract with Wilson has expired. If so, the Gravity line will have two strong ambassadors in Rublev and Zverev!
Read more about Rublev's racquet here.
Diego Schwartzman's Racquet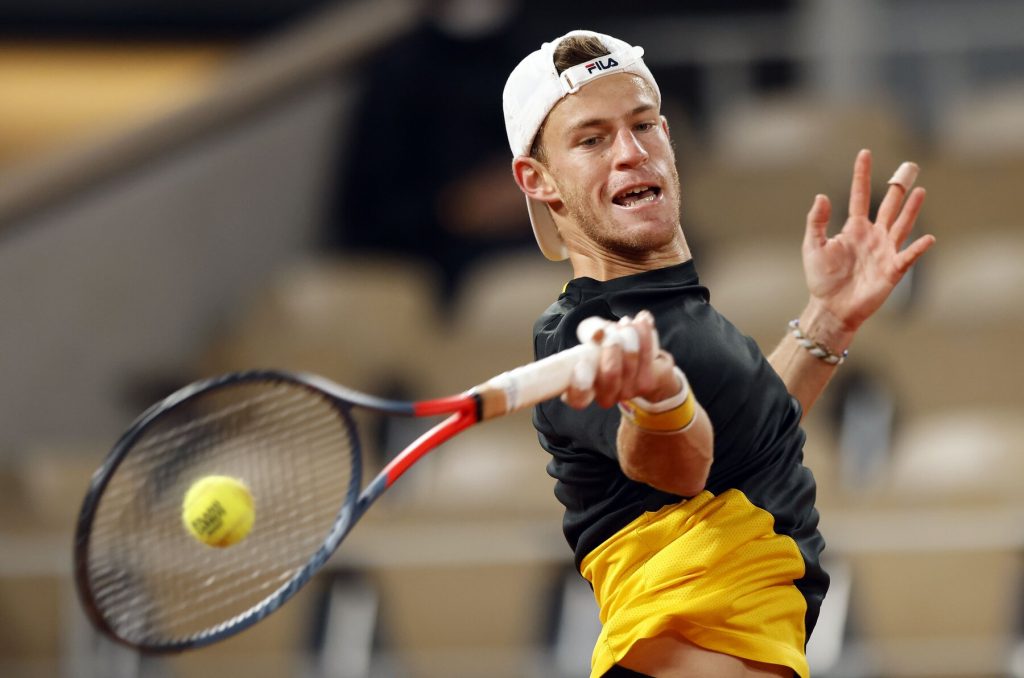 Diego Schwartzman is a solid performer on the tour that had a bit of breakout success in 2020 when he reached the Rome Finals (lost to Djokovic) and French Open Semi-finals (lost to Nadal). He is one of the shorter players on the tour (5'7) but still manages to go toe-to-toe with the best players in the world.
Schwartzman endorses HEAD Graphene 360 Radical MP, but is using the HEAD IG Radical MP XL (28 inches) which gives him good control from the 18×20 string pattern, but also some power and leverage from the extended length and high swing weight.
Read more about Schwartzman's specs here
Summary
It's always interesting to know what racquets the pro players use but it shouldn't influence what you play with. Yes, we can take inspiration and learn from them, but using most pro player specs is not feasible in the long run on the amateur level. But you can use some of the information for your own game.
If your game is similar to Rafa's or at least based on heavy topspin – a Pure Aero style racquet is likely a good choice. You should likely look into the following racquet lines: Babolat Pure Aero, HEAD Extreme, Dunlop SX, or possibly a Wilson Clash.
Aggressive players like Tsitsipas and Thiem should definitely check out the Pure Strike 98, Tecnifibre Tfight RS 305 or the new Wilson Pro Staff 97 V13. For custom specs, the Angell TC 97 is interesting.
Let's say your game matches up to Medvedev or Djokovic, then I think you should consider a Wilson Blade 98 V7, a HEAD Radical 2021, or a Heysil Tour 98.
And if you like to hit big and relatively flat from the baseline like Rublev and Zverev, perhaps a racquet like the HEAD Gravity Tour/Pro or Prince Phantom 100P is a good choice if you enjoy control. While racquets like the Dunlop FX 500 or Babolat Pure Drive work better for players who need a bit more help with power.
So you can take some cues from what racquets the pro players use, just don't try to match their specs to yours. I hope you find this stuff interesting. If you need further help finding the right racquet for you, consider getting a Tennisnerd consultation.