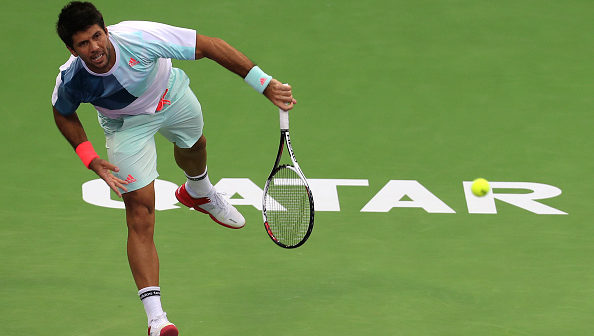 One of the players most prone to switch racquets on the ATP Tour is Spaniard, lefty, ball-basher, Fernando Verdasco. Most racquetholics usually hover around 3.0-4.5 NTRP rating, but Verdasco has been ranked as high as nr 7 in the rankings (in 2009).

It's always a joy to watch Verdasco hit his forehand, but too often his head gets the better of him and he has had problems with his serve at times. Whether that's due to his racquet, his mental ability or something else, remains to be said, however.
Verdasco was a long-time user of Tecnifibre racquets (previously called Major) but is currently using the same mold as Djokovic, a PT113B in a Head Graphene Touch Speed Pro
paint job strung with Luxilon Alu Power
and power pads
. We will see how long his relationship with this racquet remains because not long ago he was using a Head Graphene Prestige Rev Pro (with, I'm sure, obscene amounts of lead tape
to make it play more stable).
Sadly, I don't have Verdasco personal specs when it comes to lead tape placement, weight and balance etc. If you do have that information, please write in the comments or send me an e-mail. Djokovic's specs you will find in this post.
What do you think of the new Head Speed Graphene Touch Pro
paint job? Looks pretty nice to me.