I often get questions about popular racquets among the pros, usually meaning pros that use commercially available retails molds
The problem with the question of pros using retail racquets is that few to no high-level pros use racquets from the shop. They get so-called pro stock racquets sent to them from the brand they are sponsored by. It's often the same mold of a certain retail racquet but might have a different layup (for example a softer flex). Most pro stock racquets come with a certain code (check out some HEAD codes here) which gives you information about that particular mold/layup. There are seemingly infinite variations, but in general, there are certain models that you see more frequently. So let's look at some popular racquets among the pros.
They are not many pros using pro stock racquets based on molds that are currently available at Tennis Warehouse for example. But there are a few.
Pros using current racquet molds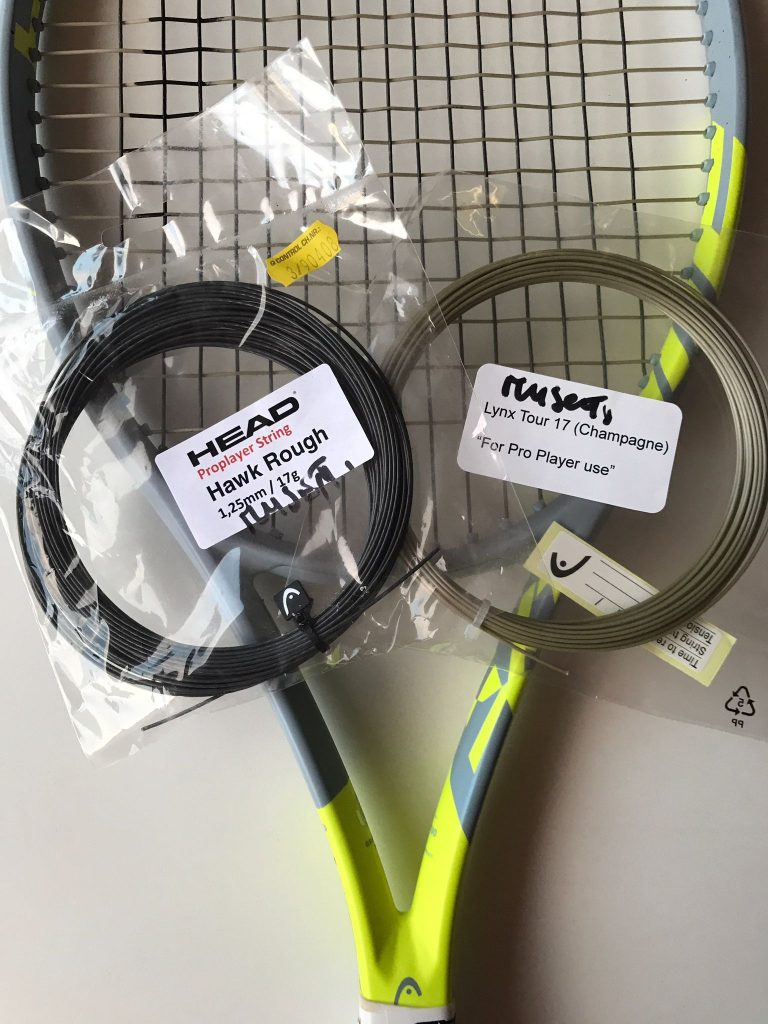 Lorenzo Musetti is a young and exciting player to watch with a spectacular one-handed backhand. He uses the HEAD Extreme Tour with the retail code PT 348.1. Stringer Pier Paolo "Jambo" Melis spoke to SuperTennis in this article (in Italian) where he gave some specs and stringing info of Musetti and Matteo Berettini. Musetti's racquet weighs 345g, has a balance of 32 cm, a stiffness of 60 RA, and a swing weight of 317. He strings it with a hybrid of HEAD Hawk Rough 1.25 and HEAD Lynx Tour at 24 kg or 53 lbs (38 DT).
The stiffness is lower than the retail version of the Extreme Tour (64 vs 60 strung). Musetti uses the PT 348.1 layup, which is softer than the retail TGT 348.1. The swing weight sounds like it's given as an unstrung metric here because 317 for a pro sounds very low, which is why I think it's around 347 with strings.
Before I move on to other popular racquet molds for pros, I want to point out Berrettini's and Sonego's racquet specs from the article.
Berrettini's Racquet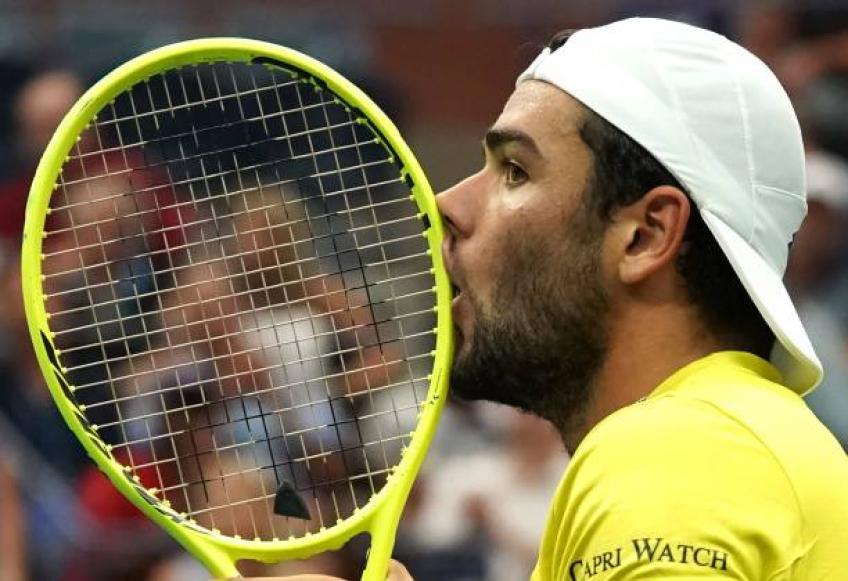 According to "Jambo" Berrettini's racquet weighs over 352 grams has a balance of 33 cm and a stiffness of 72 RA. The swing weight is 327 (must be unstrung with those specs, which makes it 357 strung!) As far as I know, it's an older HEAD Extreme mold (IG) that he strings with Signum Pro Firestorm 1.30 at 24/23 kg (53-51 lbs) DT 36.
Berrettini uses a grip 3 with over grip.
Like that's not enough, Jambo also gives us Lorenzo Sonego's racquet specs, which he says is a Wilson Blade 98 18×20 (we knew that already :)), with Luxilon Alu Power Soft with the tension of 18/17 kg (41/39 lbs!). In my post about Sonego's racquet, I wrote 20 kg, so this probably varies depending on surface, weather and so on.
Popular racquets among pros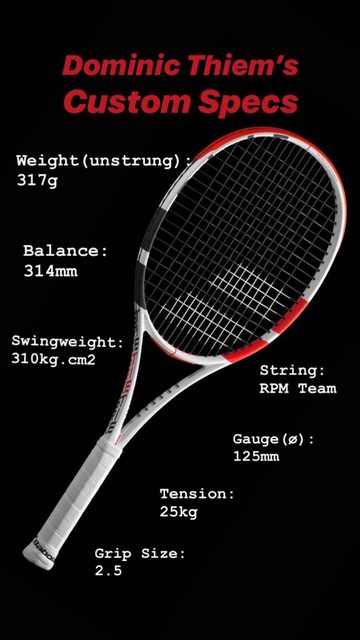 Going back to the topic at hand, another player that uses the HEAD Extreme Tour is Juan Manuel Cerundolo.
Otherwise, it's not easy to find high-ranked players that use current retail molds (that they then customize). One such player is Dominic Thiem, that is allegedly using the new mold of the Pure Strike 18×20 (he did switch some time back from gen 1 to gen 3).  He never used gen 2 however.
Jannik Sinner uses a recent HEAD Speed MP (Graphene Touch version) that is still available in some stores. Marton Fucsovics is said to use a Yonex DR 98 in stock form (might be customized now, but I think he used it stock for a while).
There are probably a few lesser-known pros that use the DR 98 as well as that was a very popular model. I review the latest Ezone 98 and talk about some of the models in the line-up here.
A general rule is that the younger the player, the more likely they use a recent mold, like Sinner. There are of course outliers like Alexei Popyrin that use a 25-year-old racquet mold in an open pattern that was never available to purchase.
Bestsellers among pros and club level players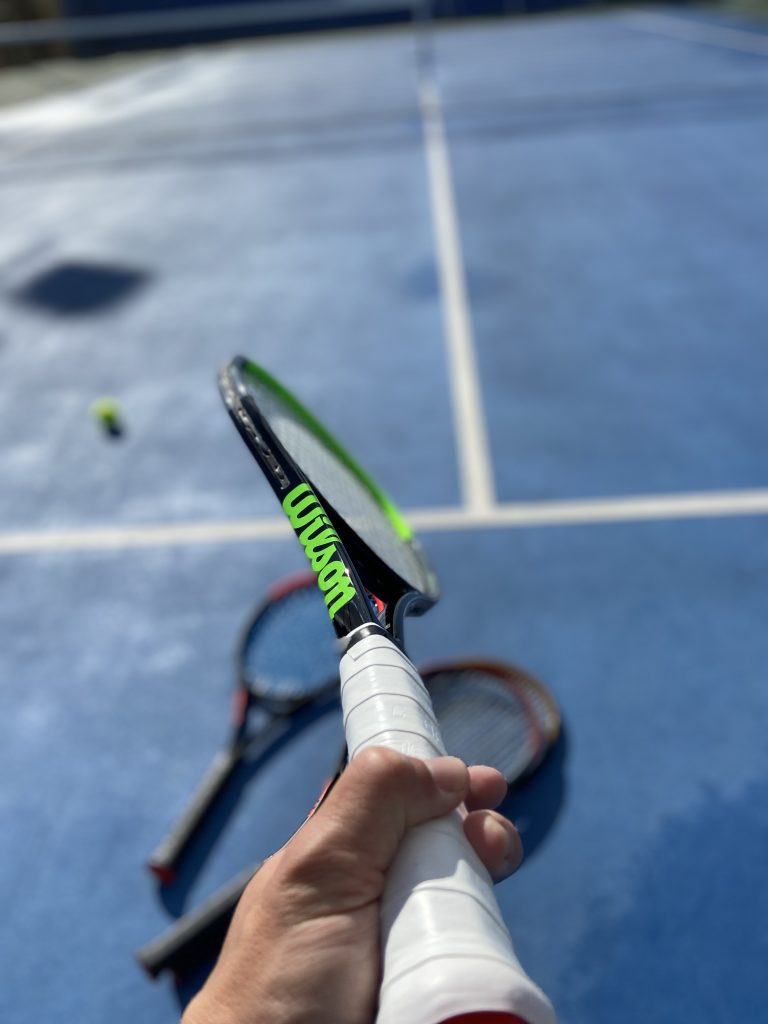 There are racquets that you see over and over again on pretty much all levels (perhaps not among beginners, but from intermediate to professional).
The Wilson Blade 98 (this racquet is due for an update soon) is extremely popular on all levels. Just a user-friendly frame with a nice blend of control and power and a more old-school connection to the ball. Also available now as the Blade Pro which is based on the H22 pro stock that is also a favorite among pros. I mentioned Sonego as a Blade user, but you also have players like Tsitsipas and Goffin using this popular racquet mold.
The Babolat Pure Drive. You see this racquet more on the WTA Tour, but there are also players on the ATP that use it. Fognini is one example, Ramos-Vinolas, Jordan Thompson, Karolina Pliskova, Garbine Muguruza, Kim Clijsters, Sofia Kenin. The list grows long…
The Yonex Ezone 98 is going strong on the tours. Osaka, Kyrgios, and Fucsovics as mentioned. And plenty of players that use the Ezone 100 as well such as Casper Ruud (DR 100+) and Lloyd Harris.
HEAD has so many different racquet options that the variations are hard to wrap your HEAD around. One of the most popular molds is the PT57A where you have a mix of young and old using this legendary racquet. Karatsev, Popyrin, Murray Ivashka, Simon, it's a pretty long list. Among younger players the HEAD Speed family of racquets is growing in popularity and the HEAD Gravity is also growing with players such as Ash Barty, Alexander Zverev, Andrey Rublev and Nikoloz Bashilashvili using some form of the Gravity Pro.
Well, let's not forget…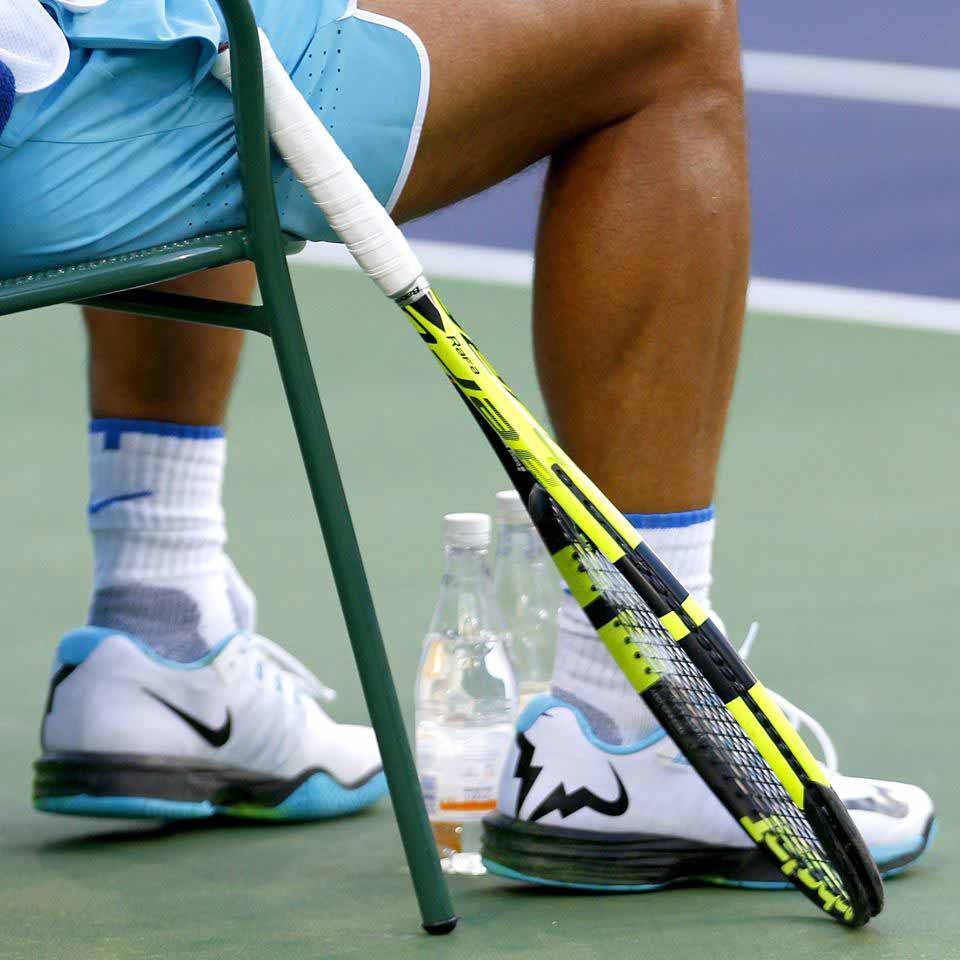 The Babolat Aero Pro Drive or the Pure Aero as it's now called, is also popular among pros in various formats. Rafa uses the original as devoted readers of Tennisnerd knows, but there are plenty of pros that like the 2013 GT version such as Benoit Paire and Adrian Mannarino.
The more controlled Pure Aero VS is not as popular, but you have young pros like Felix Auger-Aliassime and Carlos Alcaraz Garfia using this one.
The Wilson Six One 95 is a racquet I have talked about a lot on Tennisnerd. There are so many pros using a variation of this racquet mold. Del Potro is the most famous one, but you also have Dan Evans, Roberto Bautista-Agut, Reilly Opelka and a bunch of ones I can't think of right now. You can still get this racquet in the Hyper Pro Staff mold (Delpo) as a part of the Wilson Pro Labs program. The Wilson Pro Labs also include popular racquet molds among pros such as the Wilson Ultra Pro (H19) and the Wilson Blade Pro (H22).
There are also a group of high-ranked players enjoying the Yonex VCORE Pro 97 line of racquets. Players such as Frances Tiafoe (310g customized), Hyeon Chung (what happened to him?), Hubert Hurkacz (330g version). There are excellent control frames and I think we will see more of these on the pro tour in the coming years.
Pros put control first
This article grew bigger than I intended when I first wrote "Pros using retail racquets" as a headline. I hope this gives you an idea of what racquet lines are popular among pros. Is there a common thread? Not really. They like a racquet and start using it as a junior and then likely stay with that racquet (perhaps adding weight here and there) over their career. Racquet switches happen but are rare. I recently mentioned Iga Swiatek as one example.
I think the main thing I keep seeing over and over is that pros want control. Not necessarily a lower stiffness (although it seems more common than not), but on average they prefer tighter string patterns. Open patterns can launch the ball in unforeseen angles at times and that's not desirable for most advanced players. That's why we see pros gravitating towards racquets with 18×20 patterns or tighter 16×19 patterns. Even if they use a power/spin frame like the Pure Aero, many likely prefer the tighter patterns of the older generations.
Take Sonego for example, he prefers a soft poly at a low tension in a tight pattern. Thiem gets his spin from his swings, not his strings and that's why he uses an 18×20. Even most Pure Drive users, like Muguruza, seem to prefer the more closed patterns of the older generations (she uses a GT 2012).
In general, I would put it like this. Most pros prefer power from weight and spin from their own technique – not an open string pattern. It's all about being able to influence as much of the shot as possible. Then it all varies with what style, technique, and preferences they have, but they need to have 100% confidence in their setup outputting their input (if you know what I mean).
I hope you found this interesting!
I hope you found this interesting. I would appreciate you supporting Tennisnerd in some form so I can create more content like this. There are various ways you can support Tennisnerd.
Get a racquet consultation – soon at 100 five-star reviews. Make sure you play with the right racquet/strings for your game.
Join Patreon – It starts at $2 a month for lots of exclusive content only available to Tennisnerd patrons.
Donate to Tennisnerd – Just send a small amount (a coffee, whatever) and you will help sustain Tennisnerd.
Purchase something from one of our affiliates:
Tennis Warehouse
Tennis Warehouse Europe
Tennis Only
14-day trial for TopCourt
Try Swingvision
Your Super Superfoods
Angell racquets
Tennis fitness courses
Any purchase through these links sends a small commission to Tennisnerd.
Thanks a lot for reading! Make sure to subscribe to my YouTube channel and turn on notifications so you know when I upload.