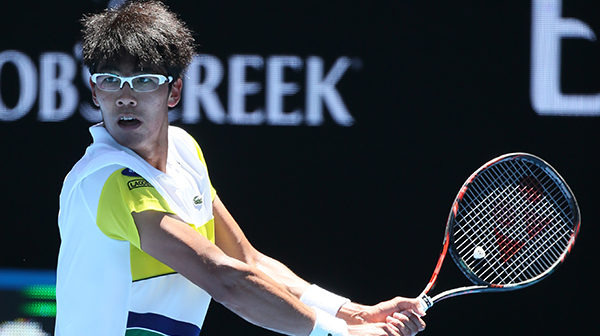 Hyeon Chung beat Alexander Zverev 6-1 6-4 in the Barcelona ATP tournament and the question immediately came in – what racquet and strings does he use?
Hyeon Chung endorses the Yonex VCORE Duel G 97
 and very likely plays with it too. There has been some speculation on the forums whether he uses a custom racquet and looking closely at pictures it is a 16×19 string pattern while the Yonex CORE Duel G 97 is a 16×20 pattern. Custom drill patterns is not a huge thing in the pro stock world, so I wouldn't be surprised. It could even have been a Yonex DR 98 painted as a VCORE Duel G 97, sometimes the world of tennis racquets is that strange. But in this case, the shape is definitely a Duel, not a DR 98
.
Chung uses the Luxilon Big Banger Alu Power
, one of the most popular strings on tour and previously used the play Dunlop racquets. Dunlop is becoming a scarce brand and the only player I know on high up on the men's tour is Tommy Robredo.
On another note, another player endorsing the Yonex VCORE Duel G 97
(which by the way is an excellent racquet in two different weights 310 and 330 grams) is Stan Wawrinka.
If you want to know more about Hyeon Chung's rocket career, read this article.